At its Digital Marketing Summit, held during the last week of March in Salt Lake City, Adobe presented its stance on the future of digital marketing with little ambiguity: "Digital Roadblock: Marketers Struggle to Reinvent Themselves." At the conference, Adobe presented statistics from its recent survey of 1,004 U.S. marketers, reporting that 30% of those surveyed cite lack of training as a barrier to "becoming the marketers they aspire to be."
At its Digital Marketing Summit, held during the last week of March in Salt Lake City, Adobe presented its stance on the future of digital marketing with little ambiguity: "Digital Roadblock: Marketers Struggle to Reinvent Themselves." At the conference, Adobe presented statistics from its recent survey of 1,004 U.S. marketers, reporting that 30% of those surveyed cite lack of training as a barrier to "becoming the marketers they aspire to be."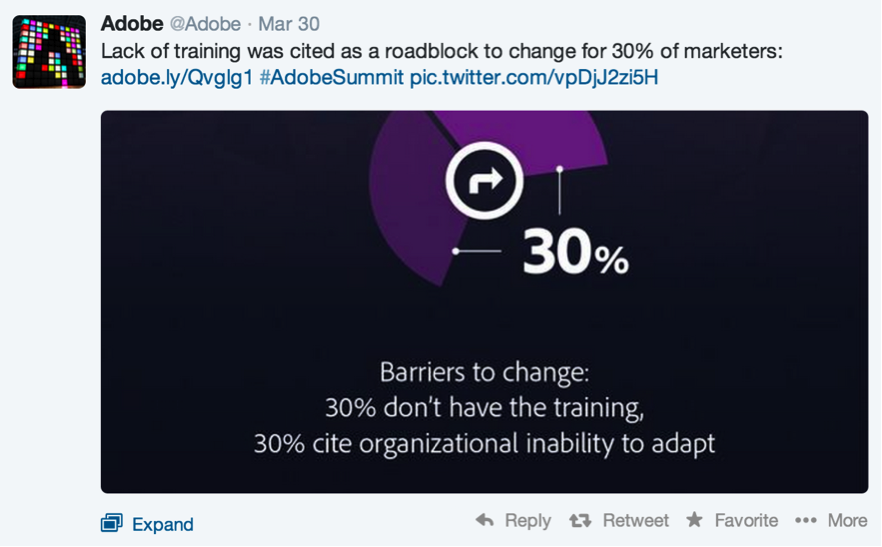 Working in a rapidly evolving world dominated by complex technology and messy data, today's marketers feel more pressure than ever to become analytically savvy, or risk being forced out of their jobs. Expanding one's skill set is always advantageous, but is the pressure felt by these marketers due to an actual capability shortfall, or is it just because most of the analytics tools and marketing platforms on the market today are too difficult to operate?
The question comes down to what is expected of digital marketers as companies build out increasingly more data-driven strategies. "Big data" is all the buzz right now, but it's not universally understood what it means to apply big data to your marketing operations. It's a constantly moving target for what a successful strategy looks like, let alone what skills are required to execute it and measure its impact. It's no wonder many marketers are feeling overwhelmed — a field that historically was driven by "gut feeling" is starting to demand a working knowledge of data science.
There's no universal curriculum or planning agency for data-driven marketing. This means there is no standardization of skill sets and no measurable stance of what the "basics" include, like what PMP, PE and CISSP certifications provide for their respective industries. Not only do many of today's marketers not have a clear understanding of what they need to do in order to succeed in a more data-focused role, but they have even less idea of how they would go about getting there. This is where there's an opportunity for technology to empower non-technical marketers to access and apply data that they wouldn't be able to otherwise.
To orchestrate even the most basic strategy at scale requires an automation solution, so it's no wonder that's a crowded space. The tools on the market have tried to keep up with the industry's new obsession with data, releasing suites of new features that enable progressively more complex logic and analysis. Problem is, most of them can't be fully utilized the way they were intended if the end user is non-technical.
Granted, it's not a simple task to aggregate data spread across disparate systems, make sense of it, and turn it into something actionable. But as technology platforms become more sophisticated, it is possible to hide these processes in the backend and surface them through a simple interface that doesn't require a mathematician to operate. Designing with the end user in mind — today's marketer, who doesn't know SQL, statistics or decision trees — should be the goal of every marketing automation platform.
I'm curious what widespread exposure to a simple, intuitive user interface for marketing automation would do to Adobe's 30% figure and the number of marketers who feel more empowered.