FROM IBEACONS AND SENSORS TO AUGMENTED REALITY – HOW INNOVATIVE RETAILERS ARE REDEFINING SHOPPING
The digital revolution has accelerated global change in multiple industries especially finance, healthcare, entertainment, sports and retail. For retail and consumer goods companies in particular, while the challenges may be daunting, the revenue and growth opportunities are too big to ignore. Customers now expect to be able to shop 24×7, discover and buy products on multiple online and offline channels, look for ideas and inspiration on brands' social media channels, increasingly shop on mobile devices and demand more customized experiences when they walk into a store. Now, more than ever before, retail brands need to become more customer-centric and analytically driven.
According to a report by McKinsey & Company, despite the e-commerce boom, brick-and-mortar stores will still account for approximately 85% of U.S. retail sales in 2025. While slow to catch up with the digital revolution, retail brands are starting to rethink business models and leverage technology to reinvent the in-store customer experience. Interactive digital displays, touchscreens, digital storefronts, magic mirrors, virtual dressing rooms and in-store kiosks (to order out-of-stock items) are transforming how consumers interact with products in physical stores. Retail brands realize that to win and retain loyal customers, they need to focus more on the customer relationship than the products, and access to big data and new marketing technologies are helping make that transition easier.
Using Customer Data to Personalize Experiences & Drive Loyalty
A 2014 Infosys survey reported that 78% of consumers said they'd be more likely to purchase from a retailer again if they provided offers targeted to their interests, wants or needs. A majority of customers (86%) said they'd be willing to pay up to 25% more for a better experience. In a 2012 Accenture study, 64% of respondents said it is more important that companies provide relevant offers, as opposed to 36% who said companies should stop tracking their online activity.
Today's customers typically search online before buying a product in-store so retailers can use their digital channels to test the interest in new brands and products before they even show up on store shelves. With new technologies like sensors, iBeacons and self-service screens, brick-and-mortar retailers will find many additional opportunities to engage with customers. Many companies like Walmart, Nordstrom, Sears and Target, have invested heavily in innovation labs to drive their digital transformation efforts. Consumers will make their purchase decisions even faster in the future and retailers need to find new and more effective ways to quickly convince potential buyers.
To stay ahead of their competitors and gain market share, retailers are starting to invest in a customer data platform like Umbel to leverage their customer data to drive targeted real-time marketing, tailored and localized offers, effective pricing and product design. Here are 13 retail brands already using data and technology to revolutionize online & offline shopping experiences:
1. Nordstrom
Over the last few years, Nordstrom, one of America's best-known fashion retailers, has been investing in innovation and data-driven, personalized customer experiences online, and at their 225+ stores. For example, their marketing team tracks Pinterest pins to identify trending products and then uses that social data to promote those popular products in their brick and mortar stores with signage that induces shoppers to buy them. The company spends more than 30% of its capital budget on technology, and has set up the "Nordstrom Innovation Lab" in Seattle to develop and test new products. Nordstrom was able to merge online and in-store shopping experiences via interactive touch screens in fitting rooms. Some stores allow customers to see Instagram images and reviews of specific products that they like on a large screen.
The retailer wants to push their "co-shopping" concept where customers and sales staff "shop together" at all their stores. The company uses big data to enhance customer experiences and is continually experimenting with data-driven initiatives. By using new technologies like sensors and Wi-Fi signals, the company tracks who comes to their stores, which parts of the store they visit, for how long, and other customer behaviors inside their stores. Other major initiatives include the integration of online and in-store inventory so customers know exactly where and when they can find items and choose how they want to purchase them. The company also collects and analyses deep social data generated by their 3 million Facebook fans, 4.4 million Pinterest followers and 584,000 followers on Twitter. By heavily incentivizing customers to use Nordstrom's credit card and sign up for their Fashion Rewards Program they're able to collect extensive data on customer purchases and preferences that helps them improve marketing and product design, and optimize ad spend.
2. Rebecca Minkoff
Rebecca Minkoff has been in the news a lot lately and is touted as a digitally-savvy company, years ahead of its competitors in using data and technology to create unforgettable customer experiences. In many of the luxury retailer's stores, customers can browse and select products on augmented reality touchscreens embedded in "magic mirrors" in their interactive fitting rooms. Customers click on the mirror to have items sent directly to fitting rooms and pay for them in seconds using their mobile phones.
Rebecca Minkoff's stores feature cutting-edge and timesaving features like "magic mirrors," beacons, RFID technology, and interactive displays. Customers who share their phone number can order a drink and browse the store till they receive a text message that lets them know when a fitting room is available. By using sensors and cameras, the company tracks customers inside their stores and used the data to improve their store layouts, inventory, pricing and window displays.
3. Bonobos' GuideShops
Bonobos is one of the first online brands to successfully launch "off-line" brick-and-mortar stores. A lot of other online stores have followed their example including Warby Parker. What sets Bonobos apart from other fashion retailers is that their physical stores are only meant for showrooming and don't actually have many products that customers can take home with them. They're primarily places for customers to try things on and get expert fashion advice. The items they buy at the store are then shipped to them creating a rare combination of both, a digital and a physical shopping experience. The company's goals are helping customers (primarily male) find better-fitting clothes and providing an easier way to shop. By not having to stock inventory of any of their products at the stores, they are able to save on space and money and showcase a wider range of products in a small space. Plus customers rave about their customer service, and the convenience of not having to carry their purchases home with them.
4. TopShop
Since 2010, the British retail chain has been pushing the boundaries on implementing new technologies to merge augmented reality and shopping experiences. Many TopShop stores include "virtual fitting rooms" so customers can select specific garments and see how they would look wearing those garments on a large screen. TopShop also made news for their "Future of the Fashion Show"campaign in which the retailer partnered with Google to offer customers a front-row view of the catwalk at the London Fashion Week, and allowed them to instantly buy many of the products they liked from those shows.
5. Warby Parker
Since 2010, Warby Parker has been selling designer eyewear at low prices with a focus on philanthropy and giving back to the less fortunate. Originally launched as an e-commerce store, the technology-based lifestyle brand now has brick-and-mortar stores across the country creating the perfect mix of physical and digital shopping experiences. From the very beginning, Warby Parker has been focused on using data to provide amazing shopping experiences that make their customers into their biggest champions. Their core team includes a head data scientist who heads up the "Consumer Insights" and "Customer Experience" teams. These teams mine data and use algorithms to continually innovate and A/B test, and personalize offers and messaging to improve customer experiences. For example, the company has an algorithm to predict demand from the "Home Try-On" program.
The company focuses heavily on the quality of content on their blog and social channels. Plus their app offers tons of great features like letting a customer know when a frame they like (that may be sold out) becomes available again for purchase. Warby Parker designs and manufactures their own frames and sells them directly to customers for as low as $95, which is significantly lower than what comparable products cost at other eyewear stores. The $95 also includes lenses, shipping, and a charitable donation to select non-profits making it an economical and feel-good option for clients. Customers love the company's home try-on program, where five chosen frames are shipped to a customer's home for free and the customer can return the ones he or she doesn't like. The company plans to offer more specialty products lines like children's frames, and is also working on new, disruptive ideas like a services that could potentially allow them to conduct eye exams online.
6. Shiseido
Japanese beauty retailer Shiseido is using new technology to create digital shopping experiences in their Tokyo stores. Their much-hyped "cosmetic mirrors" are digital screens that a customer can use to scan product barcodes and see a virtual image of her faces with that product virtually applied to it. This amazing new way of digitally trying on makeup, without having to actually apply it on their faces, allows customers to sample multiple products without the hassle of removing the sampled makeup multiple times. Their "cosmetic mirrors" also provide beauty advice, product recommendations, printouts of before-and-after photos, and shopping lists. While these digital mirrors are already being used at multiple stores in Japan, they're yet to be introduced in their U.S. stores.
7. IKEA
The world's leading furniture retailer, IKEA, prints more than 210 million catalogues in 60+ languages each year, driving thousands of people to their websites and physical stores. In 2013, the IKEA catalog featured image recognition and Augmented Reality for the first time ever offering personalized digital content and product views to customers, and merged the benefits of in-store and online shopping. Via IKEA's image-recognition technology, readers can scan the catalog with their mobile devices to see relevant content including 360-view furniture displays. More importantly, customers can "virtually" place IKEA furniture pieces in their own homes to choose the products, colors and sizes that work best, without having to actually go into a store.
8. Walgreens
Walgreens is the most digitally-savvy and mobile-focused drugstore chain in the world. More than 60% of the retail chain's online traffic is on smartphones and their mobile app offers features like prescription transfers, refill by scan (one-second refill) and QuickPrints (ordering photo prints via smartphones). Walgreens is also partnering with MDLive, to provide patients with round-the-clock access to doctors via smartphone cameras (currently available in California and Michigan).
Since 2008, the company has focused on a digital-first strategy and hired hundreds of people worldwide to help with this push. Walgreens launched their Web Pickup program on their website in 2013 allowing customers to order online and pick up at local store (already rolled out in 650+ locations) including curbside pickup options. Walgreens has also partnered with Google and eBay on same-day-delivery in some cities. An internal study showed that customers who shop both online and in their physical stores spend 3.5 times as much as a customer who only shops at their stores. And customers who shop with online, on their mobile devices and in their physical stores spend six times as much.
9. SportChek (Canada)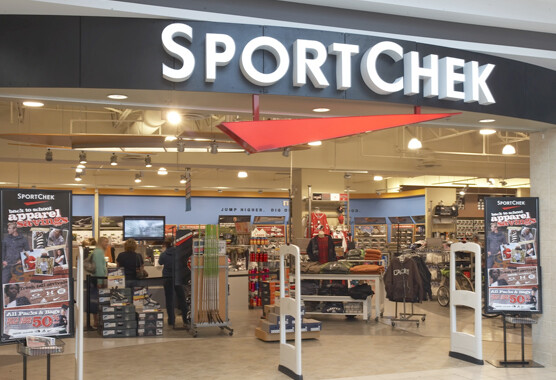 Canada's largest sports retailing chain, SportCheck is known for digitally-enhanced stores that dazzle and wow customers. In one Toronto digital lab store alone, there are 700+ digital screens built into shelves, tables and above clothing racks displaying hundreds of product images and special offers. Their stores also offer multiple personalized services. For example when a customer walks on their specialized treadmills, the monitor recommends shoe sizes, types and special offers. Multiple TV screens in-store show local sporting events and updates. Their marketing team's goal has been getting "phygital" which involves merging physical and digital. Many of their stores also offer free services like valet parking (with a minimum purchases of $25), and a curbside concierge service. Some SportChek stores even have Reebok kiosks where customers can custom-build the shoes they want, and Oakley kiosks that allow them to custom-build sunglasses.
10. Target
Target's digital and data initiatives have been in the news a lot recently, but not all the coverage has been positive. The retail giant has collected deep data on their customers purchases and behaviors for years, helping them truly understand their customers, their preferences and shopping habits. Data and analytics is an increasingly big priority for the company which plans to build an in-house "data analytics center" which would help them develop more personalized content, promotions and offers for their mobile app. Target's Cartwheel app, which was launched in 2013, now has more than 13 million users, and 60% of Target.com traffic over the holiday season came from mobile users. The company is continually working on improving its mobile app to offer better in-store navigation, quick and easy mobile payment integration and offers via sensors like iBeacons. Target plans to start testing iBeacons in stores in late 2015.
11. Neiman Marcus
Neiman Marcus' SoLoMo App (social, local and mobile) helps connects customers and sales associates like never before, helping the retailer create truly unique "co-shopping" experiences. By using sensors to track customers throughout stores, their app lets them know about preferred sales associates currently in the store, store events, new products, promotions and the latest trends. Customers can also select favorite products, make appointments, leave messages for associates and scan QR codes in the store to get product information. The benefit to sales associates is that they can access information on customers like a Facebook photo (to identify them easily), purchase history, favorite items and other valuable data that allows them to offer more personalized service.
12. Kate Spade
American fashion apparel and accessories brand Kate Spade has been at the forefront of digital innovation in retail over the last few years. The company has invested time and resources into building a large and loyal following on Facebook (2 million likes), Twitter (825,000 followers), Pinterest, Instagram, Tumblr and YouTube by giving customers fresh, fun and inspirational content and imagery. The company has spent years researching what kind of emails, subject lines, images, videos and ads their customers truly love
The company's biggest digital initiative was the "Kate Spade Pop-Up Stores" concept of walk-up, shoppable interactive windows in formerly vacant retail stores which they tested in New York City. These 24-hour pop-up stores weren't actually stores you could walk into. They were huge, bright yellow display windows showcasing new products, and a touchscreen that allowed people to place orders. The checkout process was simple and fast (no payment needed) and a messenger delivered the products within an hour for free. Customers just paid for the items at the time of delivery
13. Sephora
Makeup brand Sephora has been an innovator and disruptor since its launch in 1998 merging digital and in-store shopping experiences. Most recently the company launched the Sephora Innovation Lab, with the goal of "envisioning the future of retail for Sephora, and making sure they're staying ahead of their clients and the different trends that are out there." In an effort to enhance Sephora's digital future, the company also recently launched a "virtual beauty makeover" and an augmented-reality app. Their Innovation Lab will also include campaigns that sources ideas from employees across the company, to convert them into solutions.
Sephora plans to roll out iBeacons in stores across the U.S. to give their customers personalized offers, event updates and recommendations. Sephora and Map My Beauty, launched a virtual, mobile-only make-up tool that analyzes a customer's photo, helps her identify the shape of her face, and offers step-by-step tips on how to apply make-up for a contoured look. Sephora is also launching Sephora Flash, an Amazon Prime-like service for frequent shoppers who get free two-day shipping or overnight shipping for $5.95 on all products ($10 a year for non-Rouge Beauty Insider members). Sephora and ModiFace launched an app in their Milan store in March 2014 that can simulate cosmetics on a user's face in real-time and in 3D (via an augmented reality mirror). It is yet to be rolled out in U.S. stores.
Collecting, unifying and analyzing data to understand buyers and identify high-value consumer segments has never been more important to retailers. But there's more to data insights than just driving product sales. Data can help retailers predict changes in customer interest, plan optimal distribution routes and inventory levels, ensure on-time delivery and enhancing that the overall customer experience is the best it can be.
Stay connected to your favourite shopping and other important Windows Applications with a desktops in the cloud by CloudDesktopOnline.com. For more Cloud related software, check Apps4Rent.
Photo Credits (in order): Nordstrom, Bonobos, TopShop, Warby Parker, Shiseido, RetailNetGroup, SportChek, Target, Neiman Marcus, Kate Spade