Flipboard Harnesses Social Data to Individualize Online Media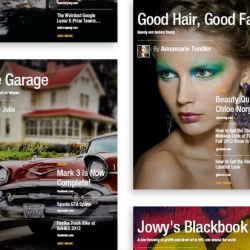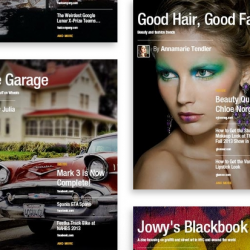 Flipboard is a social network online aggregation magazine originally designed out of a brainstorming session between founders Mike McCue and Evan Doll. They posed the question to each other, "What would the web look like if it was designed from scratch?" Flipboard rolled out as a digital magazine app in December, 2010 and now has over 56 million viewers with 50% of 2.0 readers on it eve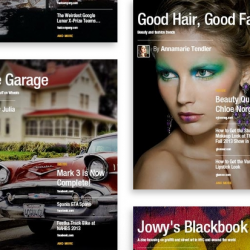 Flipboard is a social network online aggregation magazine originally designed out of a brainstorming session between founders Mike McCue and Evan Doll. They posed the question to each other, "What would the web look like if it was designed from scratch?" Flipboard rolled out as a digital magazine app in December, 2010 and now has over 56 million viewers with 50% of 2.0 readers on it every day flipping through 6 billion pages each month.
It was reported in December that the other tablet magazine, News Corp's The Daily, folded under speculation of old school approaches to online media and not utilizing analytics as a performance metric to 'speak' to their readers. icrunchdata reported this past December that Flipboard already had recognized the importance of viewer data and had a small army of Data Scientists crunching online behavior. The Daily charged readers $40 per year where Flipboard, right now, is free. Wait, The Daily charged $40 per year and closed, and Flipboard is free? McCue was asked at TechCrunch Disrupt NY how they make money or planned to and his response was simply, "We're growing at a record pace and adding new partners all the time," and we guess with 56 million readers they will figure it out.
Flipboard now sits as the only major aggregate content site housing articles, photos, audio and video and on March 27th 2013, the 2.0 update changed everything. The update allows users to create their own magazine and within the first 30 days, it's being reported that over 1 million digital magazines were created. Selena Larson with VentureBeat posted an infographic detailing the ginormous rise of individualized magazines in the first 2 weeks highlighting a few in the top 10 titled The Interesting Things, AppFreakz, Startup News and Encyclopedia of Life. Top technology news sites including TechCrunch, TheVerge, Slashgear and icrunchdata – Big Data created tech content magazines designed for their audience.
So how tough is it to create a Flipboard magazine? Mia from Flipboard has a 3 quick minute video that shows you just how simple it is. Add articles, photos, videos, audio and blog posts directly to your magazine from Flipboard or from your computer with the '+Flip it' bookmarklet added to your Toolbar.
But it's not all perfect news regarding Flipboard 2.0. Right now it's only available on the ipad or iphone with "Android 2.0 coming very soon." McCue is still tasked with generating revenue but it's starting to look like Flipboard has changed the game in online media with the introduction of 2.0 and now web magazines can be as beautiful as print.
(image: Flipboard & social data / Flipboard.com)
You must log in to post a comment.