Data analytics is becoming increasingly important in marketing for many businesses. Companies are using big data to better understand their target customers and optimize their strategies accordingly.
One of the ways that big data is coming into play is with LinkedIn marketing. A growing number of companies are using data analytics to streamline the delivery of their LinkedIn ads and optimize their organic LinkedIn marketing strategies.
Are you looking to improve the effectiveness of your LinkedIn marketing strategy? Are you wondering what secrets and tips LinkedIn pros are using? In this article, you will discover what data-driven strategies they practice to improve the effectiveness of their LinkedIn marketing in 2021.
6 Best Ways to Use Data Analytics to Optimize LinkedIn Marketing
Any industry that relies heavily on data analytics technology is undergoing major changes year after year. Marketing is one of those landscapes changing so quickly that it is difficult to keep up with the best practices. However, knowing the rules of the game, you will always stay up-to-date.
Here are some ways that you can utilize data analytics to get more value out of your Linked In marketing strategy.
1. Create and Optimize Your LinkedIn Company Page with Machine Learning Tools
Your company page is the first thing people see. Their first impression will depend on how interesting and impressive it is.
Where to begin? First of all, you should add all the necessary information about your company. Then, do not forget about all contact details, including a link to the company's website. The most attention should be paid to the description because it will tell all your potential clients how you differ from other competitors and why they should choose you.
After that, download the logo of your company and proceed to the optimization of your LinkedIn profile. Add keywords, and every time someone makes a similar request, your page will appear in the search results. Do your research and choose the keywords that characterize your business best of all and feel free to indicate them.
This is where machine learning is going to become very useful. You can use machine learning tools to provide actionable insights on your profile, so you can make tweaks that will make your page more appealing to your customers.
2. Create Engaging Content with AI
Thousands of people come to LinkedIn every day not only to search for fresh vacancies but also to spend time discussing topics of their interest and reading valuable content. This gives you an excellent opportunity to show yourself as an expert in a particular field. Post interesting content and express your unique opinion.
It won't take too much of your time because there are great programs to help you make the whole process easier, like Buffer. This service allows planning your publications, automatically posting them, and tracking the performance of your content.
There are two types of content you can publish:
Share your opinion on the latest news in the world or news regarding the field of your company. This can help you engage people in the discussion. Educational content is at the core of any strategy. Your potential clients always have many questions. If you can answer them with your quality content, people will start trusting you, feeling sympathy and respect. After a while, they will get emotionally attached to your brand.
Share what's happening in your company, details of the workflow, and plans for the future. It's also a good idea to increase your personal influence. You can be a simple and funny person, and your team can be the sweetest in the world. But if your potential clients only see your logo, they will never know about it and perceive the company as a lifeless machine.  At the same time, if your competitor shows off their face and social media experience, they will have the upper hand. People are more likely to trust them than you. That's why most successful online businesses have faces. Try adding Gifs. Giphy database has millions of 2-second videos that will revitalize the company's image and help humanize the brand.
Share user-generated content. Your customers can sell more efficiently than your best salespeople. If you have satisfied clients, share their honest reviews or purposefully survey them. They will always be happy to help you, so feel free to ask.
Do you know how you can visually improve your LinkedIn profile? It is easy to do by adding photos, videos, related articles with images or screenshots. You will be amazed at how rich content can set you apart from the gray mass. If you want to stay up-to-date with content trends and create the most engaging visuals, Movavi Blog can help. `
Here are three driving forces behind great content marketing:
Individuality. Many modern bloggers already just turn on the camera and talk about everything within their profile.
Deepening the details. Give your audience helpful advice. You shouldn't just point out the problem but try to show a specific solution.
Sincerity. 90% of the content on the Internet is faceless copy-paste. Don't repeat what people have already heard a million times. Approach the subject from your point of view.
AI can be very helpful with all of these factors. A lot of companies have started using AI to create more useful content for their social media funnels.
You can use AI to come up with unique designs that will be more appealing to target customers. It can be very useful when you want to make sure that your content really resonates with the people that you are engaging with.
3. Discover Relevant Groups with Data Analytics
LinkedIn groups are sometimes impressive. There you can find even the most niche audience that will share your opinion and may be interested in the product or services you offer. In groups, it is possible to discuss all sorts of topics, ask your own questions and help find the solution to other people's problems.
However, in order to get noticed and find new potential clients, you should be an active member of the group.
This is another area where data analytics can be extremely helpful. You can mine databases of valuable LinkedIn groups to discover ones that will be more relevant to your target audiences.
4. Sponsor Your Posts with Data-Driven Insights
Unfortunately, not every post will be equally popular on your page on LinkedIn. Therefore, you can use the ones that have attracted the most attention to expand your audience. Sponsor them!
Sponsoring content is like naive advertising and will allow you to show your best content to even more people. It is a great way to attract new readers to your blog.
Big data can be particularly useful here. You can use LinkedIn data to discover the most relevant customers and make sure that your ads are in front of them.
5. Invest in Ads
When it comes to LinkedIn Ads, you can choose among two variants: self-service advertisements and managed campaigns. It doesn't matter which of these options you choose – they will help you show your posts to new people or focus on those who have already taken an interest in your company. Explore each ad type and choose the one that best suits your goals.
6. LinkedIn Analytics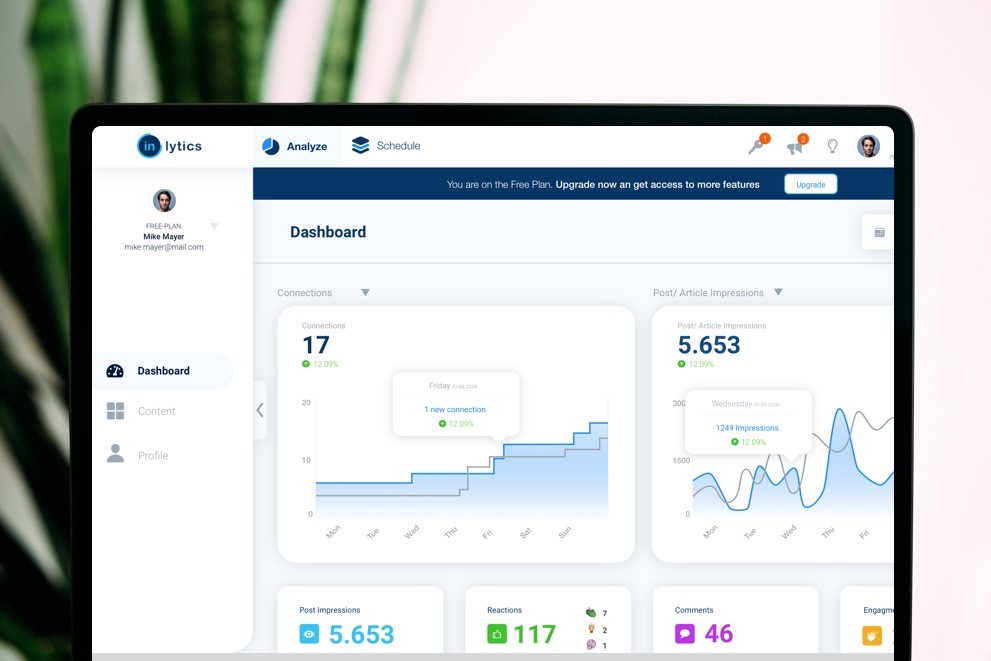 In order to see what changes are taking place in your blog and track the effectiveness of its development, use LinkedIn Analytics. Advanced business analytics can cut costs! It is a great solution for analyzing which of your marketing steps have been successful and which failed. Such analytics tools as inlytics can simplify the whole process and help you analyze your LinkedIn data 10x faster.
Big Data is Key to Successful Content Marketing Strategies on LinkedIn
Now, you have a ready-made plan, and content marketing in LinkedIn will no longer seem like something difficult from now on. It will be even easier if you merge your data analytics and LinkedIn marketing strategies. If you are ready to take your company to the next level, use these useful data-driven tips, and you will definitely see a positive result very soon. They are all pro-tested and will surely help you in 2021.