As you have garnered by some of our past posts, we believe that big data is particularly important in the digital marketing profession. Many industries rely heavily on big data, but the benefits are most obvious for marketers.
A number of companies have discovered the benefits of using big data in their email marketing campaigns. One of these companies is known as Johnny Cupcake.
Johnny Cupcake used data segmentation as part of their email marketing strategy. They noticed that their revenue increased by 141%, due to the superior targeting capabilities. Other marketers should take note and use big data to improve the ROI of their email marketing as well.
How Companies Use Big Data for Impressive Email Marketing Results
Johnny Cupcake isn't the only company that benefits from data driven email marketing. B2B companies can do the same. B2B (business-to-business) marketing is altogether a different ball game than that of a regular, consumer marketing. Irrespective of the type, emails are still at the top-of-the-list when it comes to marketing communication. In fact, B2B marketing emails observe a 23% higher click-to-open ratio than B2C emails. The results can be even better when used in conjunction with data segmentation and other big data strategies. If you are a company offering services or products that might help other companies to perform better, this article is for you.
Unlike B2C email marketing campaigns like Johnny Cupcake, B2B email campaigns aren't designed for shorter sales cycles. It's a gradual process comprising various stages until the final purchase is made. This doesn't mean that data-driven marketers can't see similar results to those witnessed by Johnny Cupcakes – they just need to follow a different approach. Let's understand how business marketing emails have different touch points than B2C emails.
B2B emails are sent with a vision that can help the other company with improved ROI, efficiency, and expertise.
The major purchase motivator here will be a financial incentive of the entire firm rather than individual purchase.
Customers seek learning and sources that may help them overcome whatever challenges they are facing. Thus, B2B email marketing is a lot about educating the companies.
The emails should hold long term value when sent to an organization. Customers here are looking for business solutions that can help them in the long run, thus emails should also focus on providing value.
B2B emails are process-driven with the ultimate goal of forming lasting relationships.
However, email marketing still revolves around the buyer persona and customer lifecycle stage. The inbound marketing principles still apply in B2B email marketing with a more logical, practical, and rewarding approach. That said, it is a blessing how you can take advantage of big data advancements like email automation for your B2B email campaigns as well. Let's learn how email automation works for B2B email exchange.
B2B Email Marketing Automation
Email automation is a widely used technology, so much so that over 52% of the marketing influencers vote email and CRM to be the most effective advancements. B2B emails are commercial communications between two companies where an exchange of business communication takes place.
Just because these are formal or business emails, they don't have to lose the personalized touch! Utilizing automation capabilities into B2B email marketing is a process of sending lucrative, targeted, and relevant emails based on defined action triggers.
The automation game isn't new, Salesforce email automation, Mailchimp automation services, and Marketo email campaigns are few of the leading email service providing tools for both B2B and B2C email marketing campaigns. Let's get started with how you can leverage email automation for your business communication.
1. Send Drip Campaigns
Drip campaigns are integral in email automation. Setting up autoresponders, welcome emails, follow-up emails, and more are its features. When it comes to B2B emails, the awareness, consideration, purchase, and post-purchase stages of inbound marketing remain the same, but the purpose and approach have a different direction. Drip Campaigns are a series of pre-designed emails that are sent over specified actions, pushing the prospect further down the sales funnel. Big data tools allow this approach to be automated more easily.
As mentioned earlier, B2B sales cycles are comparatively longer. The emails should comprise a lot of nurturing hence, drip campaigns act as reservoirs. Based on the buyer journey stage, you can automate sending emails with relevant content and CTA via email automation. You can use pre-designed business email templates provided by the ESPs or opt for the customized templates; the mainstay of these campaigns is its ability to connect! Here are a few examples of B2B automated emails.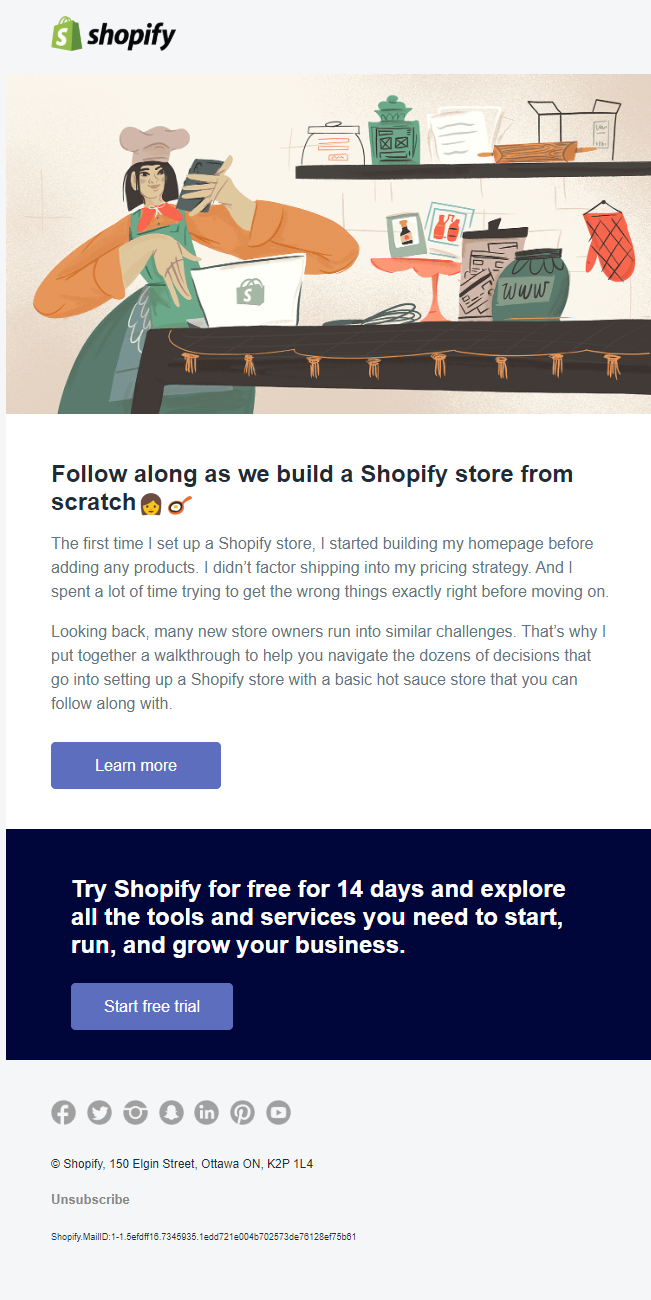 This email by Shopify educates while promoting its free trial. It provides a guide to set-up a business while triggering the free trial action. As a service provider, you need to bring value to the table as how engaging with your brand will benefit your prospect's business. There are a lot of email analytics tools that big data marketers can use as well.
The drip campaign workflow will then depend upon the user's response. In this case, if the prospect starts the free trial, the next set of emails will be welcome emails, tutorials, and benefits about the service. If the prospect leaves the email unattended, email automation will conduct follow-up email campaigns.
2. Keep Adding Value
B2B email automation is not restricted to just welcoming and converting leads. With personalization and smart-segmentation, you can keep your customers more engaged with your offerings. Email automation tools are built for hyper-targeted campaigns. Once you onboard a customer, you can send automated emails explaining your uncommon features, upgrades, and special services you proffer.
Based on the buyer journey stages, you can set email automation that can add value to users' current position. For instance, a prospect who is about to complete your free trial may be informed about the features of your pro version, while someone who is already using your pro version should be targeted with your most-used features.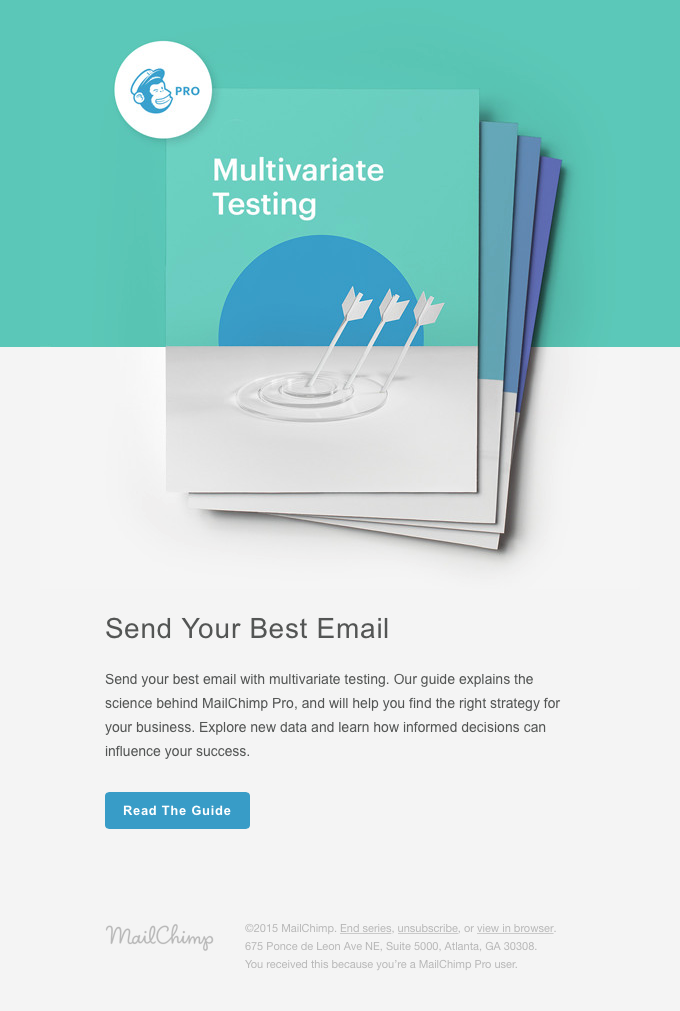 The Mailchimp email template above is an email message sent to its existing subscribers who can make the most out of its multivariate test feature. Similarly, for each stage, you can design an automated email or email series that is relevant to the users.
It is daunting to send targeted emails to a larger list and email automation makes it savvy to design different campaigns for different segments.
Don't refrain to send cold-emails
Email list segmentation and trigger-based emails can definitely result from email automation, but, when your target audience is B2B, the chances of your emails being ignored is high. Due to busy schedules, multiple decision-making members, already in-use services, or simply getting lost into the clutter, your business email might get a low engagement rate. Just like the win-back emails in B2C or cart abandonment emails in eCommerce, you can set automation that targets non-openers.
Sending free/limited-time special service or occasion-based emails to increase engagement is a great way to use email automation. These emails are considered as cold approaches as they are sent to entice the users to take actions irrespective of their buying journey stage.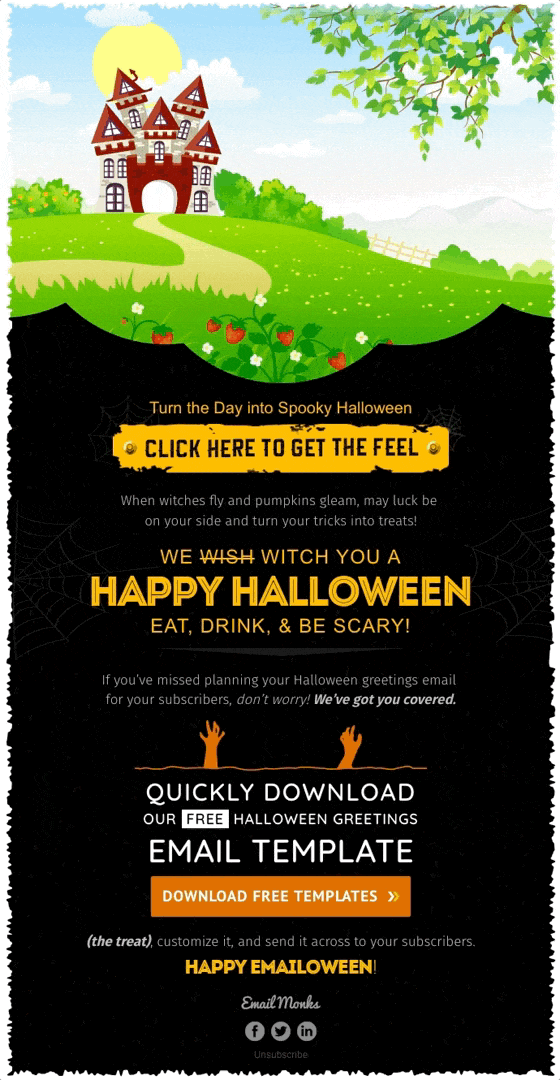 This sweepstake email by Email Uplers (erstwhile EmailMonks) is a perfect example of how you can attract the non-email openers. A free template for festive email campaigns is a deal that any business would be inclined to take. These are the emails that can be sent to prospects as well as an existing consumer base to encourage an action.
More B2B Email Marketing Examples
You should use the right email tracking tools to get the best results. We have a post on some of them, but you can learn more below.
(1) Campaign Monitor

(2) Email Uplers

(3) Smartsheet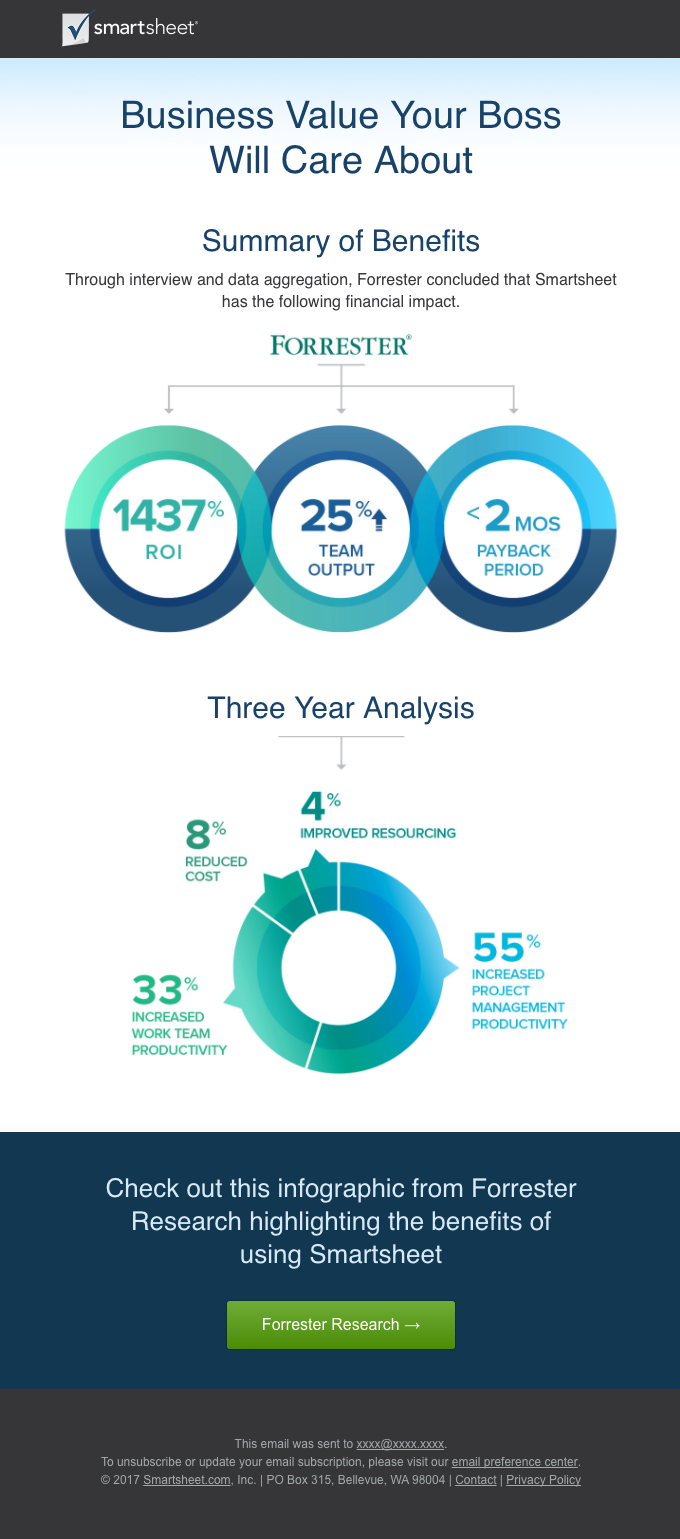 (4) Salesforce

(5) Booz Allen Hamilton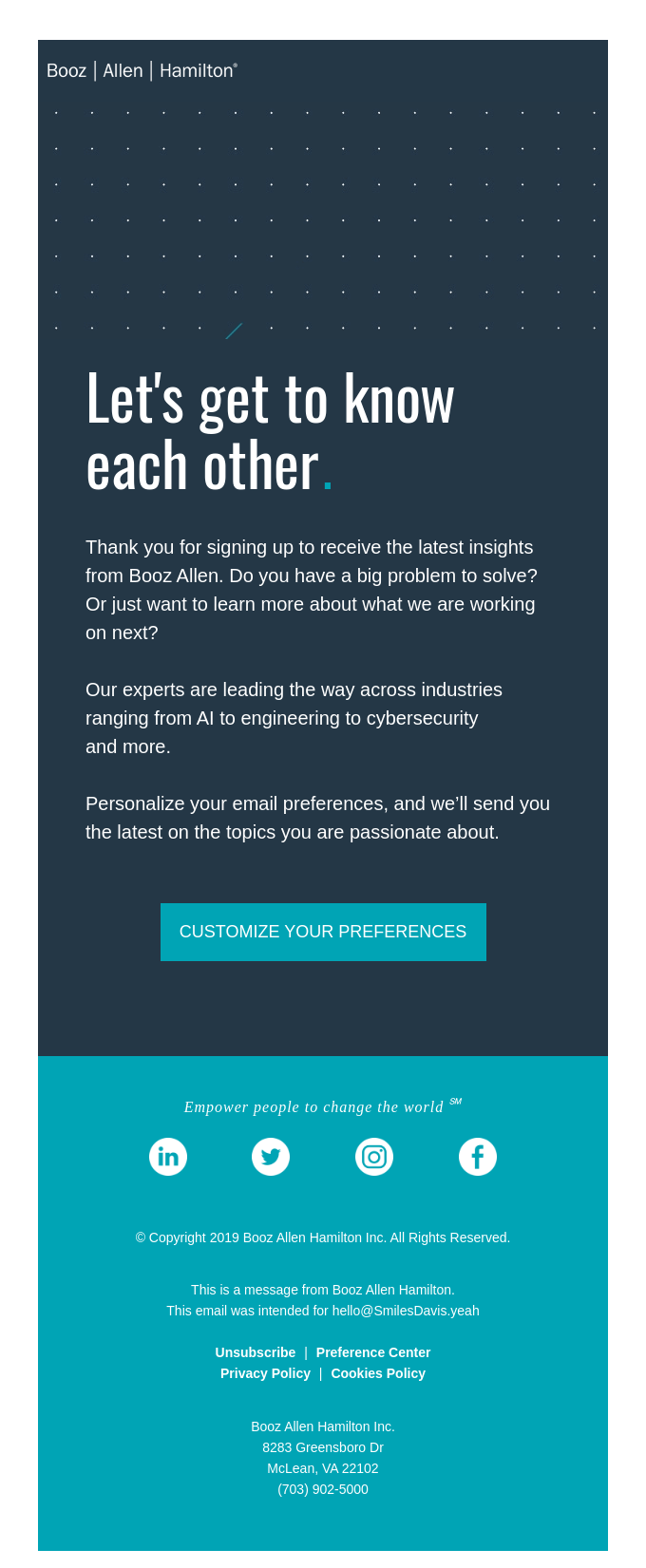 Big Data is Crucial for Email Automation Strategies
Email automation is the smart way to conduct your B2B communication. It wouldn't have been possible without major advances in big data. Data segmentation, Personalization, Campaign Management, Hygienic email list building, ad Targeted and Relevant email correspondence are few of its many advantages. From welcome to post-purchase, you can automate for every stage of the funnel. Take cues from the mentioned email template design examples to ace your B2B email automation game!