Artificial intelligence (AI) is a generic phrase used to describe computer systems that can analyze their environment. These systems can learn and act in reaction to what they are recognizing. It is predicted that 20% of healthcare organizations will experience 15-20% productivity gains by 2021 through the use of AI technologies. Machine intelligence has a beneficial effect on the healthcare workforce, not by replacing jobs, but by acting as a co-pilot in treatment and routine processes. AI is an indispensable assistant to verify patient insurance or improve clinical documentation.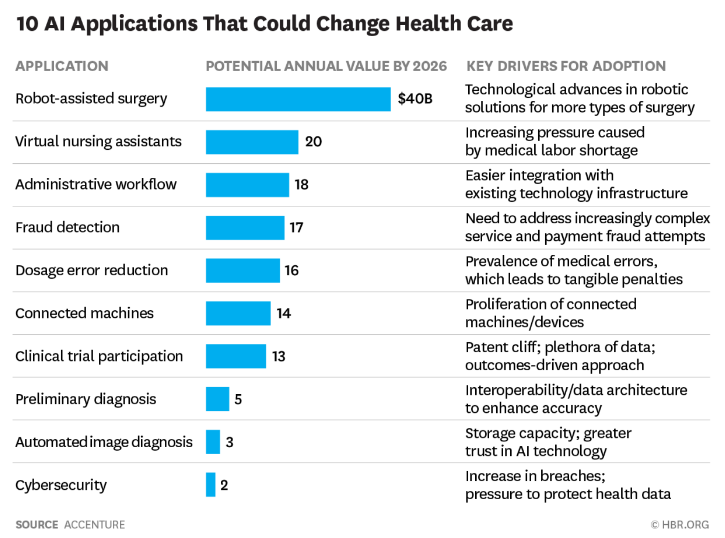 How AI is transforming healthcare: real-world examples
We refer to 5 ways that showcase how health IT transformation is currently underway.
One of the biggest potential benefits of artificial intelligence is to help patients stay healthy so they can reduce the number of doctor?s appointments. Thus, technology apps encourage healthier behavior in people and help with the proactive management of a healthy lifestyle. It puts users in control of health and well-being. Aura, for example, is an AI-driven app for users interested in reducing stress and anxiety, improving focus and sleeping better. The main method is to provide daily mindfulness meditations, life coaching, stories, and music. All content is personalized according to a user?s mood.

Virtual nursing assistants
It is estimated that software agents could save the healthcare industry $20 billion annually. Being available 24/7 to answer and support, monitoring health conditions and drug admission, AI virtual nurse assistants are convenient to 64% of patients reported. Just over 70% of respondents would prefer to see a digital helper with a realistic voice and professional warm tone rather than with a human face.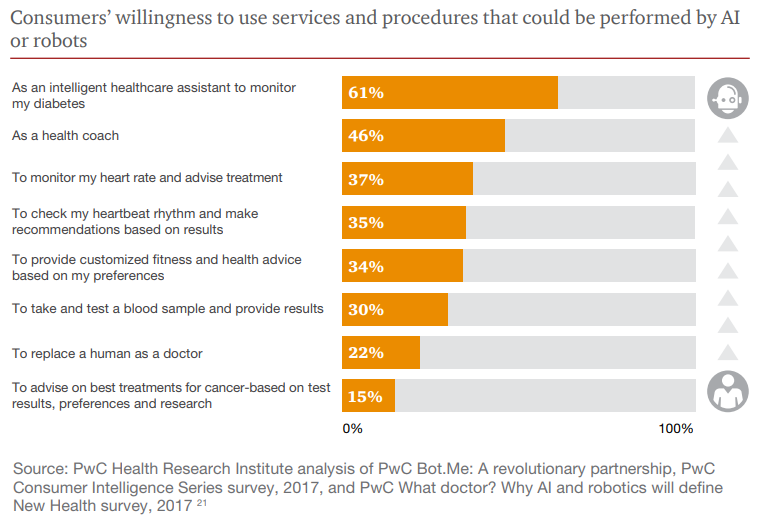 Contemporary virtual nurse apps enable more regular communication between patients and healthcare providers between appointments to prevent hospital readmission or unnecessary doctor?s visits. San Francisco-based virtual assistant Sensely has raised a total of $11.8 M in funding to deploy AI-powered nurse avatars to hospitals and patients. The company?s most frequently referenced nurse is Molly. She acts as a patient monitoring tool which clinicians can personalize to different treatment and recovery plans. https://www.youtube.com/watch?v=AU1nGpOmZpQ Ada is another example of virtual assistant software. It is a personal health companion that uses AI to help patients to understand and manage their medical conditions.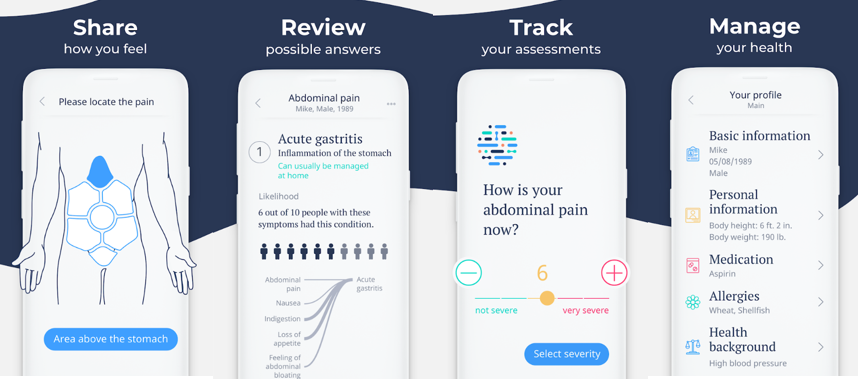 Ada asks simple, relevant questions and compares feedback to thousands of similar cases to find possible explanations for users? symptoms. After the assessment, the chatbot suggests what users can do next. This may include a visit to a doctor, pharmacist or to seek emergency care.
The ways to predict mortality using machine learning may transform the future of palliative healthcare. This topic is not about playing God and deciding the fate. Rather, it is doctors being able to help patients die as comfortably as possible, having received the most appropriate care. According to Stanford University, about 80% of Americans would prefer to die at home. In fact, however, 60% of the population die in acute care hospitals, 20% in nursing homes and only 20% at home. It was estimated that less than half of the 8% of patients who need palliative care actually receive it. All because clinicians make overly optimistic prognosis about a patient and do not request these specialists? aid.
?Doctors may not make the referral [for palliative care] simply because they?re so focused on managing their patients? health issues that palliative care doesn?t cross their minds,? Kenneth Jung, a research scientist at Stanford University School of Medicine, said.
A Stanford pilot program uses machine learning to help doctors better understand who could benefit from end-of-life care while there is still time. Their new AI algorithm can calculate the probability that an inpatient will die within 3 to 12 months with over 90% accuracy. This time period is considered to be most useful for palliative care. The prediction is based on comparisons of the past year of a patient?s medical history with records of millions of other patients. The system also considers such factors as the number of hospital admissions, disease classification, and prescription codes. Early detection of critically ill patients allows them to get treatment and remain at home, and not within the hospital?s walls, during their final days.
Disease identification and diagnosis
AI is already being used to detect diseases more precisely and in their early stages, especially in high-need fields like cancer detection and treatment. Scholars from Texas Houston Methodist Research Institute found that AI can interpret mammograms and translate patient data into diagnostic info 30 times faster than a human doctor, with 99% accuracy.
?This software intelligently reviews millions of records in a short amount of time, enabling us to determine breast cancer risk more efficiently using a patient's mammogram,? Stephen T Wong, chair of the Department of Systems Medicine and Bioengineering at the institute, said. ?This has the potential to decrease unnecessary biopsies."
No wonder large players were among the first to jump on the bandwagon. Thus, for example, Google?s DeepMind Health combines machine learning and systems neuroscience to create and maintain powerful general-purpose learning algorithms into neural networks that mimic the human brain. Recently the company has announced multiple UK-based partnerships for developing technology to address macular degeneration in aging eyes. https://www.youtube.com/watch?v=2HIcloy_OYk AI is helping detect tuberculosis in remote areas. A study is based on the accuracy results on AlexNet and GoogleNet. The two models (with a net accuracy of 96%) had a disagreement in 13 of the 150 test cases. For those controversial histories, the researchers invited an expert radiologist who was able to interpret the images, diagnosing 100% of the cases. Thus, the workflow resulted in a net accuracy of close to 99%.
?An artificial intelligence solution that could interpret radiographs for the presence of TB in a cost-effective way could expand the reach of early identification and treatment in developing nations,? study co-author Paras Lakhani, MD, from Thomas Jefferson University Hospital in Philadelphia, wrote.
Workflow and administrative tasks
One more way AI can affect healthcare is to automate administrative tasks. This solution will result in $18 billion in savings for the industry as machines can help clinicians save time on clerical tasks. Employees function best when they?re able to practice at the top of their abilities. If AI tools help with repetitive tasks (e.g. analyze routine pathology or radiology results), clinicians can focus on more important activities, working smarter instead of harder.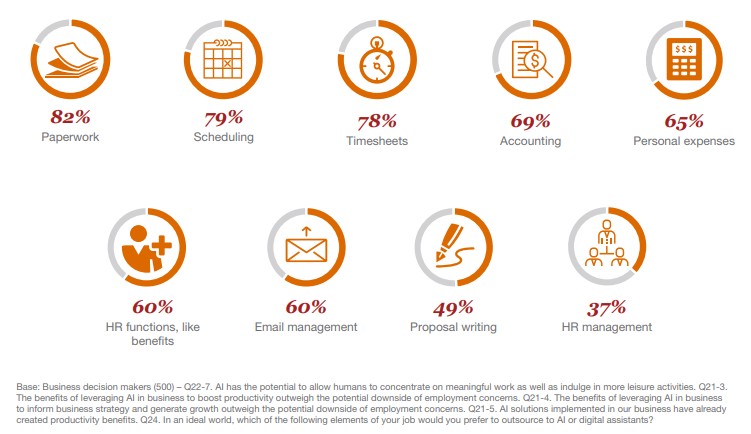 Some AI-enabled apps include voice-to-text transcriptions that automate non-patient care tasks like prescribing medications, writing chart notes, and ordering tests. Cleveland Clinic, for example, has partnered with IBM and used Watson to mine big data and help clinicians provide a more personalized and therefore efficient treatment experience. Watson?s natural language processing capabilities accelerate the medical documents analysis, thus allowing care providers to reduce operational costs.
?These emerging technologies are poised to provide significant value for healthcare organizations and patients alike,? James Hoshor, senior mobile strategist and solutions architect at Propelics, said. ?As such, healthcare organizations are looking to adopt these technologies to create better patient experiences.?
A matter of trust: how to enjoy the confidence of patients and care providers
Leveraging explainable and responsible AI is essential to winning trust with potential users. For healthcare to realize intelligence?s full potential, each organization must be transparent about their rationales for using data. Companies might consider being perfectly clear about how they will use sensitive data by sharing an open statement around AI trustworthiness. Besides, doctors and other clinical staff must trust AI to use it. Doctors need to believe AI is dependable to rely on it.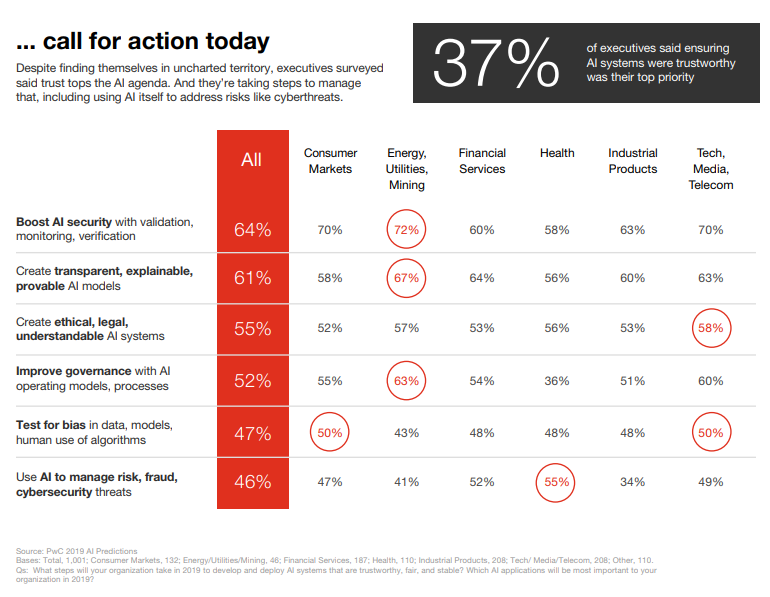 Demonstrating outcomes is one way to gain physicians? trust in AI-enabled systems. Thus, for example, Health First (Central Florida?s largest fully integrated delivery network) released nearly $2 M in savings within less than 3 months. By using Jvion?s Eigen-based cognitive computing machine, they prevented over 800 unnecessary readmissions for some of the community?s most vulnerable and at-risk patients. So, basically, new solutions empower healthcare organizations to be more clear in how AI makes decisions. However, not all models have the transparency level required to better understand machine?s actions and predictions. Pega?s customer decision hub allows organizations to set transparency thresholds for machine learning. The solution helps users (whether clinicians, administrators or patients) to see the inner workings of an AI model along with contributing factors to why a decision was made. Moreover, transparency feature is especially important for compliant AI in a view of Europe?s GDPR, which includes the ?right to an explanation of decisions made by automated systems.?
Conclusion
The primary aim of health-related AI apps is to assess links between prevention or treatment techniques and patient outcomes. AI-enabled software has been developed and applied to practices, including diagnosis, personalized medicine, patient monitoring and care. Some medical-related processes may be more easily dehumanized than others, but even partial automation can help clinicians make better use of their time and expertise.