It's an excellent idea if you have decided to move your business operations to the cloud. Cloud computing solutions can help your business reduce operational costs, gain unlimited scalability and improve external and internal collaboration.
As a matter of fact, worldwide spending on public cloud services is forecasted to reach around $494.7 billion by the end of 2022, growing at a rate of 20.4% in a year. Moreover, by 2023, the figure might reach nearly $600 billion.
There are many great reasons that the cloud computing market is growing. As a result, the market is growing remarkably.
Cloud computing is the ultimate powerhouse that drives every digital business today. Therefore, utilizing cloud consulting services to migrate your workload to the cloud is not a matter of "If"; it's a matter of "when" and "what cloud architect solution" you should be using.
This article guides you through your journey of choosing the exemplary cloud architecture for your business. Let's begin with understanding how cloud architecture works.
Components of Cloud Architecture You Need To Know
Cloud Computing architecture is divided into two parts: frontend and backend.
Both parts communicate via the internet or a network. Here is a diagrammatic representation of the cloud architecture: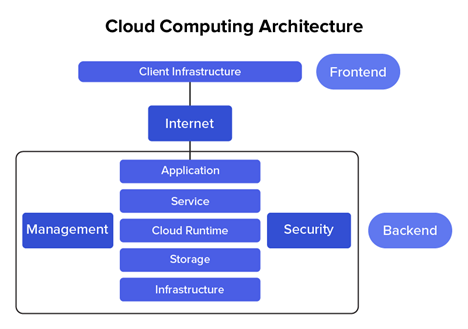 Key features of the frontend cloud architecture:
It is responsible for the interfaces and applications required for the cloud-based service.
Also known as the client infrastructure, the frontend consists of client-side applications in the form of web browsers like Google Chrome and Internet Explorer.
Cloud infrastructure is the only component in the frontend architecture of the cloud where software and hardware components, such as virtualization software, server, data storage, etc., function.
Frontend also offers a graphical user interface for the end users to perform multiple tasks.
Key features of the backend cloud architecture:
What else is included in the backend?
The application can be used as software or a platform
Service, another essential part of the backend, is responsible for providing utility in the architecture.
Storage for storing and maintaining data over the network. Some of the popular storage services are Oracle cloud, Amazon, Microsoft Azure, etc.
Management to allot specific resources to specific tasks and coordinate the cloud resources.
Security, the most crucial aspect of the backend, to maintain management in the cloud server with virtual firewalls.
Now that you are familiar with the essential components of cloud architecture let's move to the significant cloud architecture types.
Types of Cloud Architectures Available for Your Business
You can base your cloud architecture development on one of the various architect types mentioned below:
1. Single server
Single server is the least preferred cloud architecture due to multiple security risks. Here, only one server can be used, either physical or virtual, that is, a web server, database, and application. Single-server architecture is typically used for development projects since it helps developers create functionalities in a short time.
2. Single site
Single-site cloud architecture still operates based on one server, where all the layers are split to create a three-tier architecture. There are two types of single-site cloud architecture:
Non-redundant three-tier architecture- You can utilize this architecture to manage operational costs and other resources; however, if a single failure occurs in any component, all traffic flow in the environment might get disturbed. An ideal time to consider this architecture is while building an ecosystem for testing and development.
Redundant three-tier architecture– Here, you will find another set of the same component added, which enhances the architecture complexity; however, it's secured and designed for recovery protection.
3. Multi-cloud architecture
You must consider multi-cloud architecture if you have a medium or large-scale business where you require a reliable and highly scalable application.
Now, an essential question : how to identify the right cloud architecture?
How To Choose The Right Cloud Architecture For Your Business?
There is no systematic approach to choosing the right cloud architect except by strategizing your business requirements. You can start by partnering with an experienced cloud consulting service to guide you throughout the process.
Apart from this, the below tips might support you in identifying the right cloud architecture:
1. Defining business IT needs
Before signing up for any cloud computing plan, list down the stock of your businesses' long-term and short-term IT needs.
Your requirement list must contain the following:
Regulatory compliance needs
Data storage requirements
Estimated number of users
Remote or mobile capabilities
Level of performance or uptime, etc
Moreover, document the existing infrastructure and resources to state your budget to your cloud development team.
2. Understand the cloud architecture solution
Make an informed decision based on various cloud architect solutions, market research, and data statistics. Run through the features and applications of public, private, hybrid, and multi-cloud to understand pricing, capabilities, performance, and arrangement of your business needs.
3. Choose the option that meets your objectives
Choose a public cloud service if your team needs to work on collaborative projects. It is easier to verify every project on the public cloud and deploy it later on the private cloud.
Use a private cloud if your primary need is to store sensitive business data. Although keep in mind that every cloud architecture comes with different pricing models where choosing a private cloud might cost you more than the other available solutions.
Choosing the right cloud architecture for your business can result in savings, productivity, efficiency, and security. So what are you waiting for? Get started by finding reliable cloud consulting companies.