With individuals and their devices constantly connected to the internet, user data flow is changing how companies interact with their customers. Big data has become the lifeblood of small and large businesses alike, and it is influencing every aspect of digital innovation, including web development.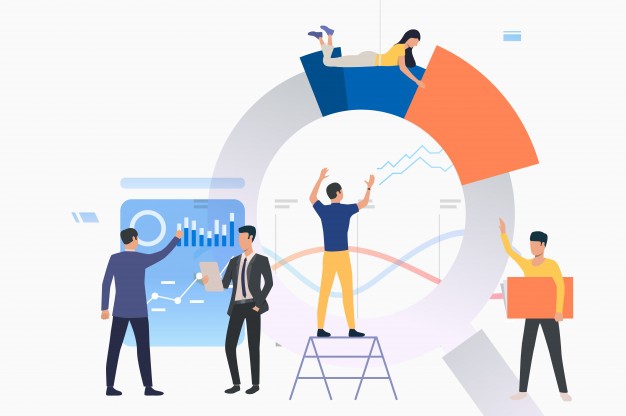 What is Big Data?
Big data can be defined as the large volume of structured or unstructured data that requires processing and analytics beyond traditional methods. To put it into a measurable perspective, the unit of measurement of data storage is not just limited to terabytes or petabytes but has moved beyond to zettabytes which is equivalent to one trillion gigabytes.
Today, big data is the buzzword that has gripped the attention of digital analysts and business developers who have understood the importance of data. These data are collected from innumerable sources from the internet, which primarily consists of user details. Upon analysis, these user data can be transformed into valuable metrics that can be used to understand and also influence human behavior.
Using Big Data for Web Development
Data-driven innovation is known for creating personalized experiences for consumers, which are based on their choices, accessibility, and preferences. Apart from creativity and aesthetics, developers have turned their attention to how data-driven design can affect their website viewership, engagement, and return on investment.
Here are some of the techniques that can be used to collect data and create a data-driven web design.
1. Site Search Analysis
Site search analysis is a common analytical technique adopted by web developers to check how a site is performing amongst the consumers and competitors. While designing a website, it is necessary to allocate resources for site search analysis through an in-built site bot or a dashboard to analyze data and make modifications. This analysis would allow the designers to make changes to the website considering consumer preferences and behavior.
2. Web Traffic Analysis
Deploying a web traffic analytics tool while designing a website allows the developer to keep track of the site clicks, engagement, and if it is delivering the needed conversions. The analysis provides metrics on overall site visits, consumer segments, bounce rate, page views, and retention time. Depending on the user data, web design and modification can be done as per consumer needs to create a competitive advantage.
3. Built-in Testing
Users over the digital network expect a quick response to their queries, and it is up to the developer to match that up to the speed. Built-in tests provide real-time data to the developers about the website performance, functionality, usability, accessibility, compatibility, and security. A/B testing is another technique that can be used to get user responses on the design modifications made on the site.
4. Heat Map Analysis
Tracking user interaction over a webpage gives crucial information about user behavior, which aids in creating a web design that has the highest consumer retention. Heat map analysis uses an eye-tracking feature, indicating where a user is primarily looking for information over the screen. Designing a website as per the heat map pattern improves site design with less drop-offs and bounce rates, higher views, and improved conversion rate.
5. Automating Updates
Data science is transforming the way web development and designs are created for more consumer satisfaction. With machine learning and artificial intelligence, web developmental updates can be done automatically, considering the data patterns and user flow. These auto-updates allow designers to focus on making modifications in the needed areas instead of rethinking the entire structure of the website.
Advantages of Using Big Data for Web Design
Big data enables high computing facilities for a web app development company and creates UX designs for consumers. Amongst the countless benefits, below are some of the prime advantages of big data for web designs –
Insight on Web Performance:
Big data provide insights into how a website performs amongst its viewers and competitors in the digital market. Business operations that rely on web performance can make smart choices and decisions to increase web views, customer retention, and conversion rates. For instance, if a web design causes an increase in the load time of a web page, there are chances that consumers would not wait or open the website again.
A website is prone to varying intensity of risks not just from competitors but also from negative consumer reviews. Analyzing big data while designing a website mitigates or eliminates risks related to customer defection, frauds, security breaches, and financial risks.
Reducing Cost of Web Development:
While allocating sufficient financial resources is necessary to create an optimal web design, big data analysis allows designers to invest wisely in customer preferences. With data analysis, web development costs can be reduced or made minimal, and only the necessary investments can be made when required. With predictable analysis through big data, risky investments can also be avoided for pages that might have lesser consumer demands in the future.
Generating ROI and Increasing Sales:
An optimal web design based on data-driven innovation can generate more investment returns and increase sales on websites. With data analysis and optimization, marketing techniques and promotional campaigns can be made as per consumer demand, which can be turned into sales through modern web designs. Ecommerce websites can provide search categories with filters for better navigation of discount offers during sales.
Improving Customer Experience and Engagement:
Customer experiences over a website depend not only on creativity but also on its user-friendly features, accessibility, the flow of information, and presentation. Real-time customer interaction data allows designers to improve UX designs, customer service, and personalized services to improve retention rate over the website. For instance, big data analysis would let the designers know if their consumers are comfortable with the interface or are looking for easy access through the site.
The Future of Web Design
Human dependence on digital services and the internet has risen to an unprecedented level, and there is no way for this phenomenon to stop. This dependence calls for more businesses to create websites that would eventually become the face of the corporates and organizations.
As much as creating a modern website with unique features is necessary, the smart way to go about it is to analyze user data to understand what consumers are seeking. Big data analysis would eventually shape the future of website development and how designs can be implemented for more customer growth, retention, and business profits. With numerous advantages, designers have the power to change marketing strategies and how consumers can be influenced towards a website.