Have you heard about Google making its unusual move from Software as a service (SaaS) to its BigQuery big data platform? Yes, with the help of the new BigQuery Data Transfer Service, the tech giant unveiled its general availability at the Google Cloud Next conference. Although, the service of transformation was announced in March aiming support for the transfer of data from several Google services, including AdWords, DoubleClick Campaign Manager, DoubleClick for Publishers, and YouTube.
According to a Google's blog post, the new service automates the migration of data from these apps in BigQuery in a scheduled and managed manner. So good so far, the service will support data transfers from AdWords, DoubleClick Campaign Manager, DoubleClick for Publishers, and YouTube Content and Channel Owner Reports and so forth. As soon as the data gets to BigQuery, users can begin querying on the immediate basis. With the help of Google Cloud Dataprep, users can not only clean and prep the data for that analysis but also further think of analyzing other data alongside that information kept in BigQuery.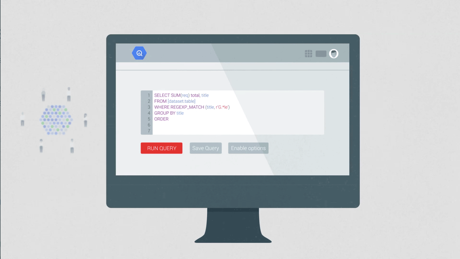 How long it will take for the data to get there?
The data will ship to BigQuery within a span of 24 hours, guarantees data delivery SLA. In case, if it doesn't make in that frame then Google will accept the daily charge for the transfer. In addition to this, customers will also be set the data delivery schedules of specific apps as well. By this, one can set up data transfers to occur at a regular interval or during a certain part of the week. Now many of you have this confusion that whether the new service will operate in the same location or not. Of course, it will do as the standard BigQuery product. In fact, it may quite interest you to know that companies like Trivago and Zenith have already begun using the service better get a handle on marketing data.
Patrick Kool, head of marketing solutions at Trivago says, BigQuery Data Transfer Service eliminates problems with timeouts, data accuracy, and granularity when ingesting data into our own database. We now receive highly granular data that is accurate and always there when we need it.
So, key features available with the BigQuery Data Transfer Service include:
Data Delivery SLA– This means users can expect that the service will send data to a user's BigQuery Project within 24 hours of it being received.
Customer-Managed Scheduling- Users can set custom data delivery schedules so that they can have the data they need when they need it.
Regionalization– Good news, Google's BigQuery service is now available across all regions of BigQuery. This step made pretty much easier for admins to configure data transfer regardless of which region they are in.
In addition to this, pricing for Google's BigQuery Data Transfer service depends on the particular SaaS applications that the data is being transferred from. For example:
Google AdWords – $2.50 per unique Customer ID
DoubleClick Campaign Manager – $2.50 per unique Advertiser ID
DoubleClick for Publishers – $100 per Network ID
YouTube – Free, through February 1, 2018 (Pricing will be announced at a date that is TBD)
More Cloud Machine Learning Services
Without a shadow of a doubt, Google is the market leader when it comes to machine learning. Recently we saw that leadership extend to analyzing video in fascinating demos. Touted as a first of its kind, Google showed Cloud Video Intelligence API (private beta) searching and identifying video content. In fact, one can easily test the video for themselves on the product launch page.
Cloud Vision API (GA) – It offers new capabilities for enterprises and partners in order to classify more diverse set of images. The API can now recognize millions of entities from Google's Knowledge Graph and offers enhanced OCR capabilities. These capabilities can extract text from scans of text-heavy documents such as legal contracts or research papers or books.
Cloud Machine Learning Engine (GA) – Yes, it is now generally available. This solution turns out to be apt for organizations especially the ones which want to train and deploy their own models in the Google Cloud.
Machine Learning Advanced Solution Lab (ASL) – Last but certainly not the least, the solution allows organizations to partner directly with Google staff to apply Machine Learning to solve high-impact challenges. For those who have no idea about ASL, it is a unique opportunity for technical teams to work side-by-side with Google's machine learning experts in Google dedicated facilities.
In a nutshell,
As you can see more and more data is generated and stored these days, organizations are able to gather quite a bit of information from the analysis of this data in order to make better business decisions. Perhaps admins can rest a bit easier as the solution offers ability to schedule data exports from several of Google's SaaS services into Google's BigQuery service.
So that's all for now! Keep watching the space to get a better perspective regarding the same.