Big data analytics has already had a transformative influence across a wide range of sectors, and it?s perhaps no more prevalent than in the world of healthcare.
With the sheer volume of information that patients are capable of producing and the heightened emphasis on the industry in the wake of the COVID-19 pandemic, big data may yet develop into one of the most significant tools in maintaining the health of individuals and even anticipating the emergence of conditions that are yet to manifest in patients.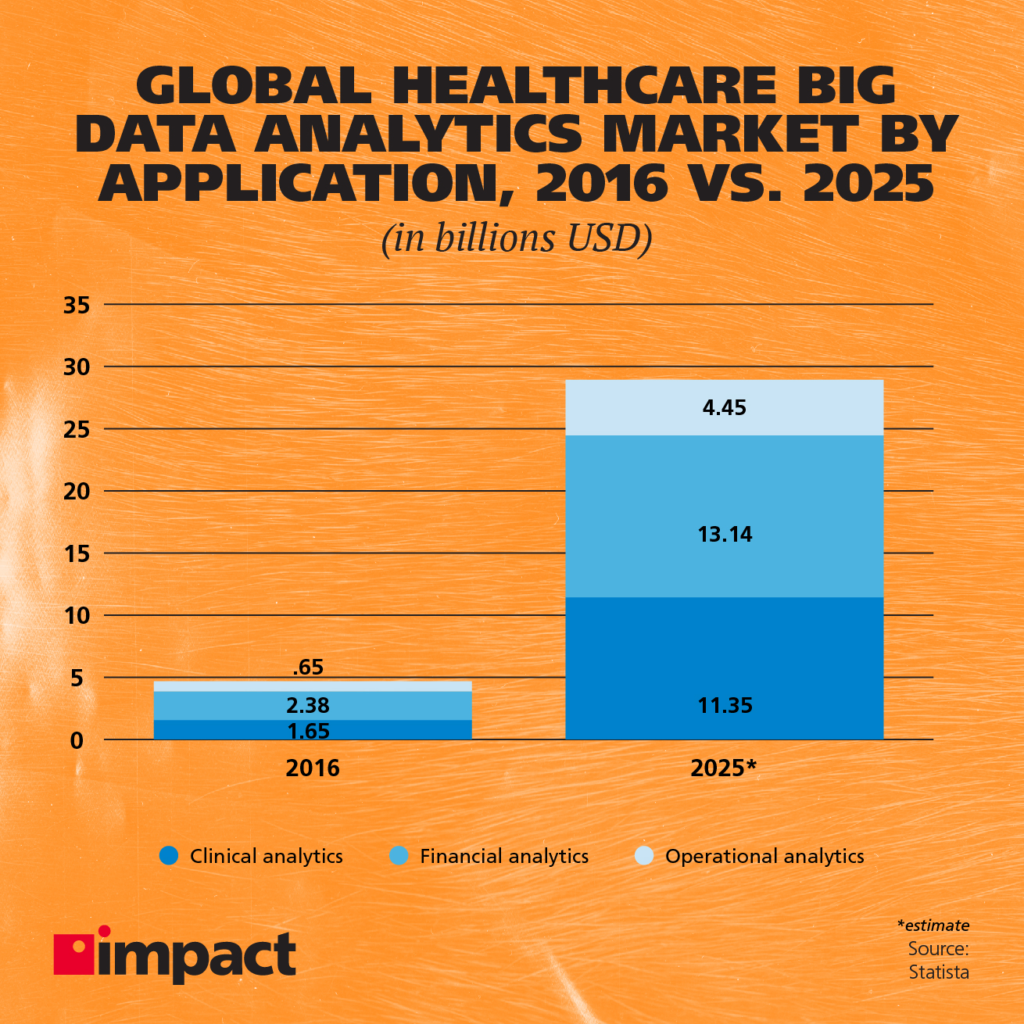 As the data above shows, the influence of big data across a range of applications within the healthcare industry is currently expanding at a rapid rate, with both clinical and financial analytics set to be worth nearly $25 billion dollars alone by 2025.
Big data has unlocked opportunities not only for professionals in healthcare but it?s also unlocked significant potential in public health, institutional health, research and patient care services. Let?s delve deeper into the applications of big data within healthcare and how the technology could hold the key to more comprehensive patient care over the coming years:
Holistic Healthcare
Big data analytics has enabled doctors to access a holistic view of a patient?s health history. Additionally, patients may find themselves more empowered with information and are taking charge of their personal health through big data insights.
This trend has enabled doctors to design accurate intervention programs to treat diseases long before they have the chance to progress to more complex advanced stages that can be expensive and difficult to treat. Big data analytics is actively shifting the paradigms of healthcare delivery away from a reactive approach and more to a preventative approach.
Big data is capable of producing volumes of data that can then be converted into valuable insights with analytics and AI to identify and address patients with multiple conditions, patients who are at a heightened risk of illness and patients showing symptoms of certain illnesses through their early stages.
Significantly, for insurance companies, holistic healthcare can help to provide a comprehensive view of a patient?s health history and tailored packages that can be specific to the needs of each individual.
Smart Glasses & Healthcare Delivery
Significantly, one of the biggest challenges of big data within healthcare is the interpretation and use of the masses of insight that?s created. Both augmented reality and virtual reality can bring strong benefits to the healthcare industry in terms of visualising data that?s deemed important and using it to improve the quality of service provided.
AR and VR eyewear can be used to improve healthcare diagnostics also. ?You can have a colleague or another practitioner thousands of miles away assist with diagnoses or use glasses as the vehicle for delivery of diagnostic data from an artificial intelligence consultant,? explains Dustin Brewer, principal futurist for ISACA.
With telemedicine rising to prominence in the wake of the pandemic, the use of AR glasses can be helpful in bringing up electronic medical records of patients on demand. Wearables could even potentially be used to collect and provide key health data among patients over the coming years.
While augmented reality is still very much a technology that?s still finding its feet, it could forge a natural partnership in visualizing scores of data that patients unconsciously generate in bitesize chunks, with AI working to filter only the more pertinent of data to prevent professionals from being overawed with information.
As the global eyewear market is expected to reach $210.8 billion dollars by 2025, it?s likely that we?ll see the development of more discreet, hybrid designs that incorporate AR technology arriving for both consumer and industrial use over the coming years.
AI & Big Data?s Applications Today
While early use cases for big data and AI technology have been focused largely on non-clinical processes, we?re seeing an increasing number of practical applications for data technology today.
Many organisations have looked to use AI as a tool for improving disease diagnosis. Notably, Tencent entered a partnership with Medopan in 2019 to trial the use of AI in interpreting data to diagnose Parkinson?s disease in patients, while Merck teamed up with Janssen in 2020 to create an AI diagnostics tool to improve the detection of neglected tropical diseases.
AI and big data have been driving forces in the world of pharmaceuticals, too. According to big data analytics company, GlobalData, ?AI has the potential to dramatically reduce the time and expense of taking a drug to market and can also improve the probability of a drug?s approval".
Partnerships looking to build on this potential have been increasing in recent years, with GlobalData?s study into the state of the biopharmaceutical industry claiming that the number of strategic partnerships in this area has risen from four in 2015 to 27 by the end of 2020.
The full potential of AI and big data within the world of healthcare is likely to extend way beyond what we?re capable of imagining today, and provided that investment continues to flow into this integral area of holistic healthcare, we may see more inspiring and exciting use cases crop up over the coming years.
As the world continues to move away from the confines of COVID-19 and towards developing healthcare technology to better respond to future pandemics, the arrival of newer technologies such as 5G may enter the fray to further accelerate the future of patient insights. With AI and big data continually expanding, we may be on the cusp of a golden age of innovation for the healthcare landscape.