Artificial Intelligence has the potential to revolutionize the social visibility of brands, paving the way for more incisive approaches towards marketing.
The huge potential of AI in social media has led to Markets and Markets forecasting that the industry of deep learning, machine learning and NLP within sales marketing, customer experience management and predictive risk assessment within social platforms will grow to more than $2.1 billion in value by 2023.
The rise of AI has been well documented, but how exactly can it enhance your social media marketing strategies? Let's take a deeper look into the role that AI is set to play in boosting our exposure on social platforms:
Exploring AI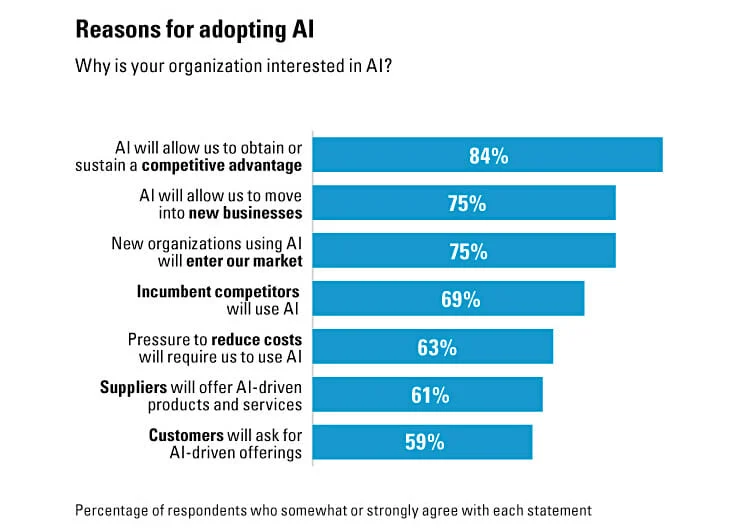 (Image: Single Grain)
The definition of AI varies depending on who you ask. But the chart above illustrates its value to various organisations. With as much as 84% of businesses believing that AI will aid them in obtaining a competitive advantage over rivals, the potential of the technology is clear.
While artificial intelligence is still greeted with an air of mystique among many, the technology is all around us, no matter where we are or what we do. If we're looking for customer support on a website, there will probably be a chatbot that will direct your message to a relevant department. Our smartphones, for instance, have dozens of applications and features that are powered by AI, such as voice assistants and GPS-powered navigation systems.
Entertainment services like Netflix and Amazon Prime also utilize the capabilities of AI to provide bespoke recommendations for users. Elsewhere, Gmail has started utilizing AI to anticipate what you're about to say when writing emails.

Machine learning is a driving force behind the impressive voracity of AI. It's a subset that allows machines to make intelligent predictions based on heavy levels of data. AI tools are entirely capable of automatically reviewing the accuracy of their predictions and improving on them over time.
This useful facet of AI technology means that tools can actively improve of their own accord, without the need for human interjection. This means that their respective performance levels can noticeably increase as time goes on.
Marketing software that you utilize today, whether it relates to PPC advertising or analytics or content, can be made more intelligent through the blend of AI and machine learning.
Such tools can be developed to recognize individual behaviors, preferences, ideologies and interests in order to deliver fully personalized experiences. They can potentially recognize where users have been, where they're likely to be going, what they've typed in emails and what they're previously asked Google Home. AI also has the potential to recognize the groups that target audiences belong and what physical stores they commonly visit, among other advanced applications.
Artificial intelligence can take on these innumerable levels of data to make accurate predictions about the products that people intend to buy next to what advertising campaigns could be most effective to run.
Essentially, AI deals in making smart predictions. It's these predictions that can make all the difference in getting ahead of competitors in social media marketing. Let's take a look at some of the ways in which AI-driven data science is working on revolutionizing the social visibility of brands:
Blending AI and UX Together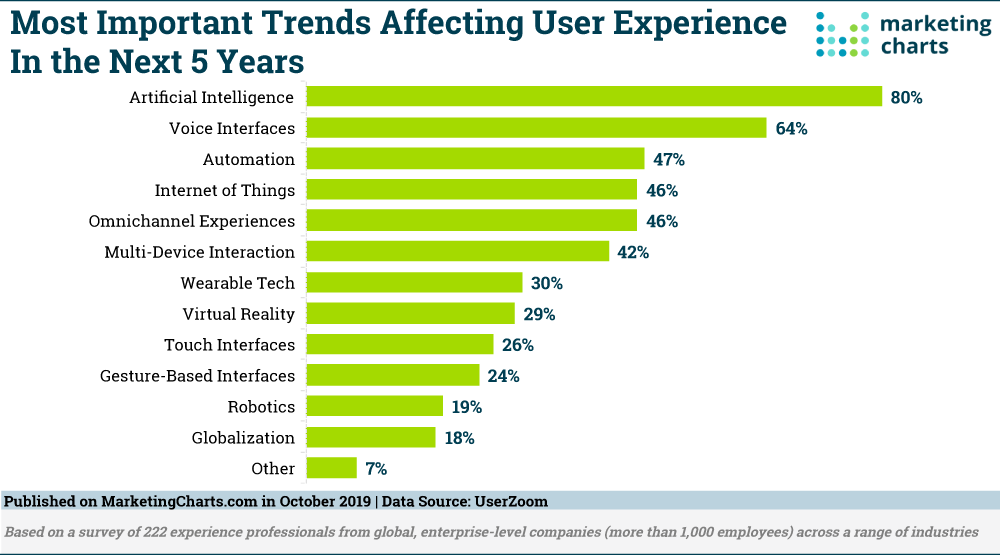 (Image: Marketing Charts)
Artificial Intelligence has already been pinpointed by the majority of marketers as the single most important trend set to influence the field of user experience over the coming five years.
AI opens the door for social media marketers to get unprecedented access to their audiences and better understand their preferences and behaviour. This can yield hyper-targeted advertising campaigns that can appeal directly to the interests of targeted users.
Tools like Finteza identify which pages do users view coming from social media networks, enabling marketers and website owners determine which social networks to focus on.
This can help build appealing and engaging content much more efficiently.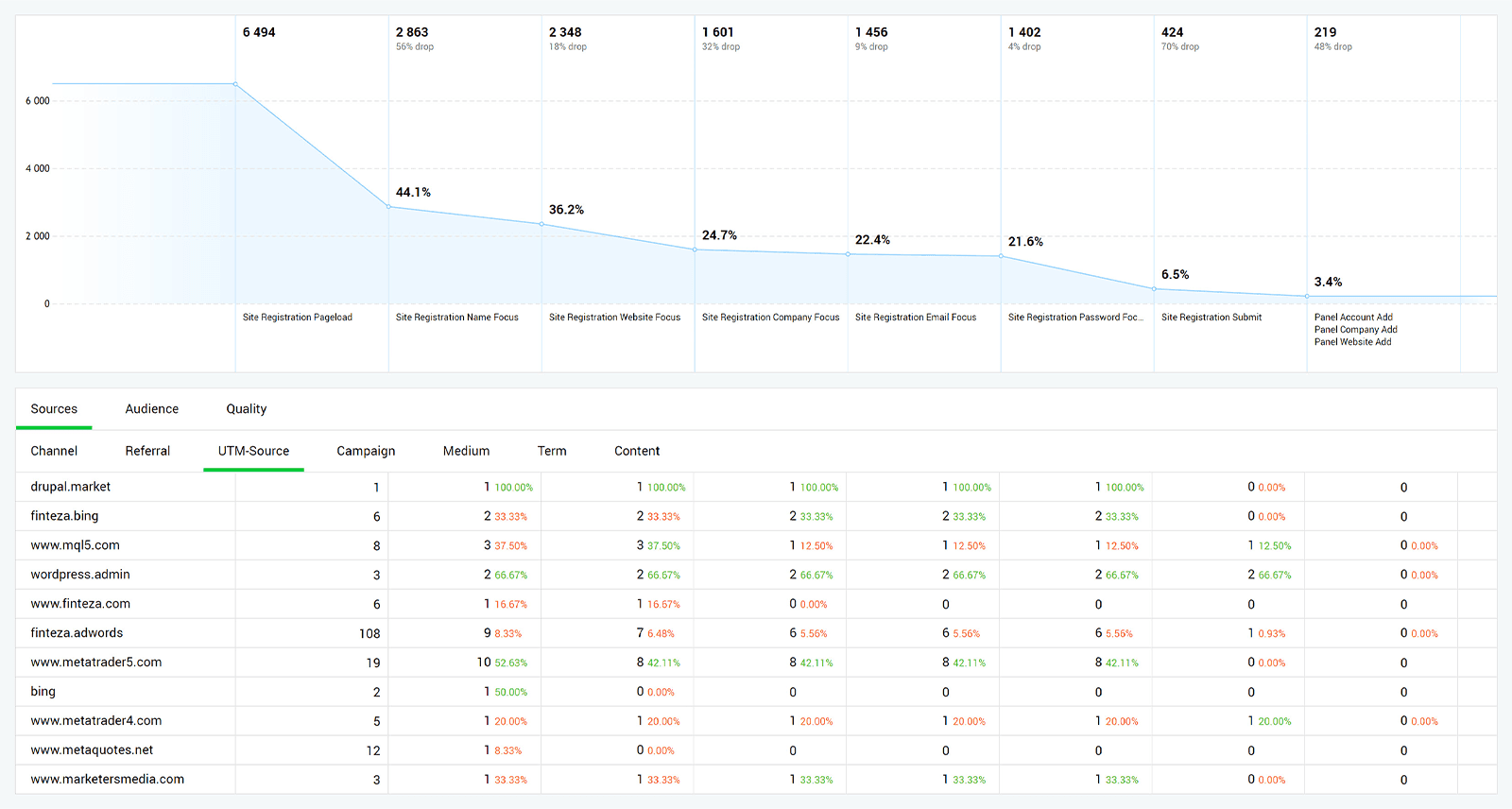 Unprecedented Performance Insights
Artificial intelligence tools can help marketers to track and trace the performance of every decision they make using social media platforms. User engagement and advertising campaign performance alike can be accurately analysed to provide deeper insights through data science.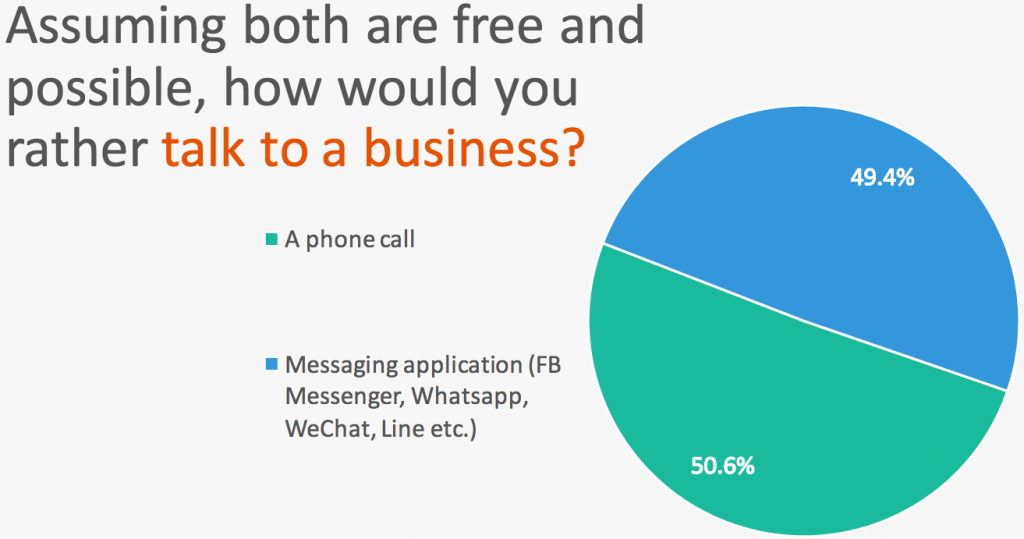 (Image: Acquire.io)
Already, the vast majority of social media platforms utilize a lot of AI and machine learning to make sure that ads are served to the right audience. Nowadays, it may seem like a standard option to offer, but just a few years ago, the data wasn't as accurate as it's now.
For instance, Facebook offers numerous options for advertisers to narrow down the audience and make sure that ads are served to relevant people.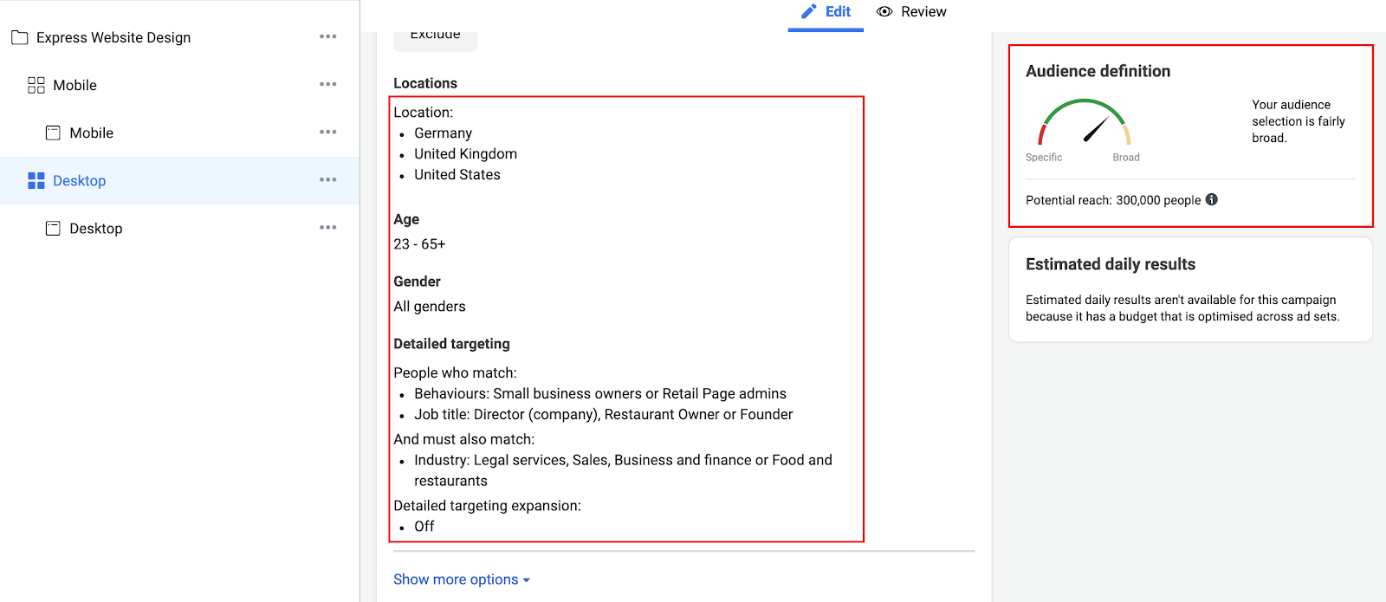 Of course, analyzing Facebook's 2.6 billion users manually would have been impossible to do.
As well as marketers, social media platforms utilise AI to keep regular users engaged, from recommendations to Facebook's memories.
Matching AI and Data Science With Social Media
When it comes to data science, Facebook is the social platform that tops all of its competitors. Each day as much as 350 million photos are added to Facebook's gigantic collection. While the social network isn't as pictorially oriented as, say, Instagram, Facebook is working to utilize its masses of data to create more personalized buying suggestions for users. The platform has created a neural network that's capable of using cues to analyse the type of conversations taking place on the site.
Advanced facial recognition technology is a significant development within Facebook's AI framework. Recognition software can provide people with tagging suggestions and identify friends in pictures.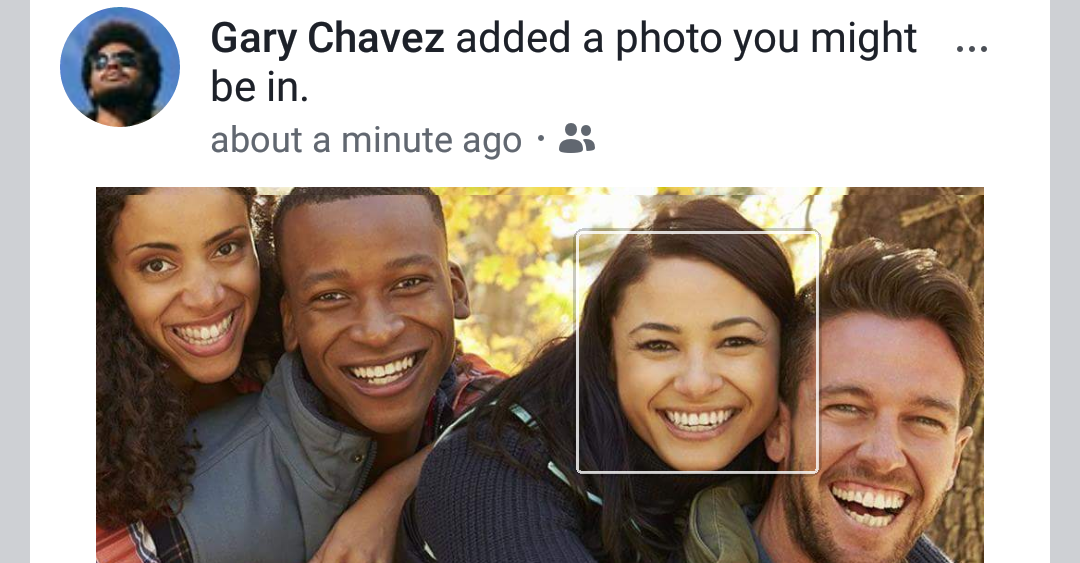 (Image: TechCrunch)
There's plenty of scope for advertisers to utilise facial recognition in their campaigns, and it's even possible for companies to set up competitions where Facebook users can attempt to recognise their faces with the business in order to win free products or discounts. Sadly, as the chart below shows, facial recognition within advertising still has a long way to go before winning the trust of the public.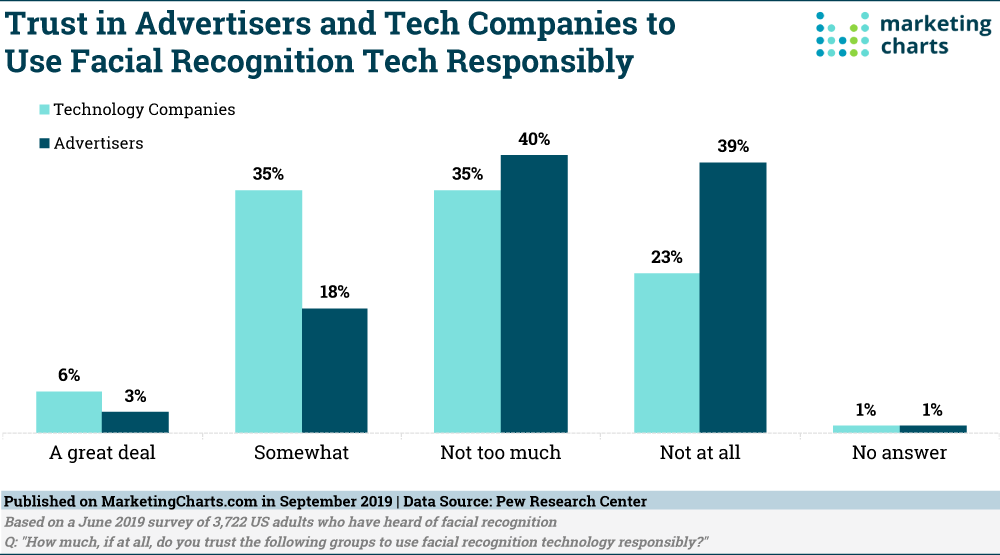 (Image: Marketing Charts)
Selected advertising using AI and data science is already developing at a pace among marketing departments around the world. This is another aspect of artificial intelligence that Facebook readily utilizes. AI can judge your interests and buying patterns and deliver adverts that comply with your online social presence.
Trending Data
Platforms like Instagram can bring plenty of opportunities for marketers thanks to how they pick up on trending posts and stories worldwide and add them to personalized explore pages. Much like Twitter and Facebook, Instagram effectively utilizes hashtagging to help messages go viral. This presents a great opportunity for marketers to reach broader audiences efficiently.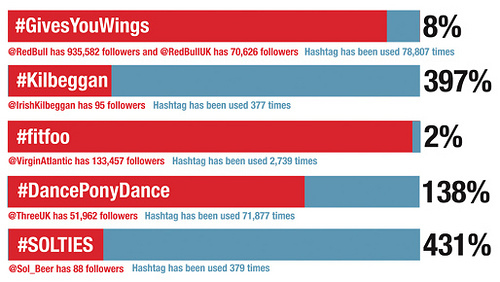 (Image: Econsultancy)
The chart above shows us that hashtagging can transcend brand familiarity and produce huge levels of engagement. In the example above, Virgin Atlantic's #fitfoo campaign was picked up by just 2% of users, while Three, with fewer than half the number of followers, managed to see 138% of their follower count engage in their #DancePonyDance hashtag.
With emerging trends categorized via data science and AI systems to be delivered to users who are estimated to be most interested in a post first, it's a great opportunity for marketers to broaden their appeal to like-minded audience members.
Value-based news feeds have been utilized to some effect on Instagram in recent years, too. While users were initially disappointed at the chronological ordering of their news feeds, the act of scrolling for significant posts has proved appealing over time. All news feeds on the social network are optimized in order to suit the preferences of their users. This is done through DeepTextAI, an algorithm that uses data science to automatically remove spam or irrelevant messages in order to optimize Instagram's content delivery.
The arrival of DeepTextAI has added more value to marketers looking to use Instagram to reach audiences. The AI within the platform has helped marketers to deliver content to more genuine accounts, with DeepTextAI whittling down spam accounts and banishing them from the network – leaving only genuine prospects.
The Lure of AI Solutions
While the applications of marketing are far-reaching, AI can help to interconnect various approaches into one wholly appealing entity. For instance, while SEO is an excellent way for businesses to deliver high-quality content to target audiences. It's not much use if the content you're crafting is irrelevant to those who mean the most to your business. However, the blend of data science, driven by AI on your social media accounts can help to identify and categorize your audiences based on wider interests and demographics – all of which can transfer into your campaign material.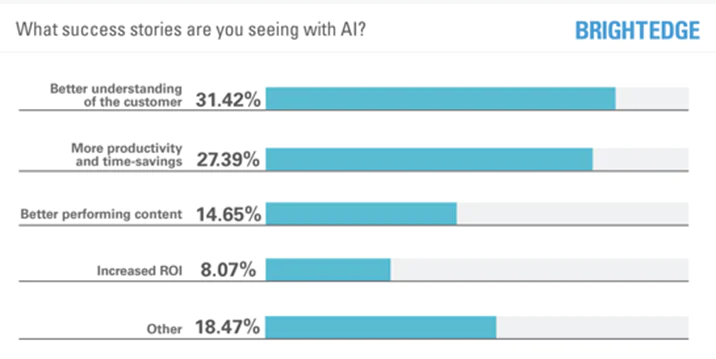 (Image: Econsultancy)
It's clear that, if effectively utilized, AI can provide marketers with a great opportunity to penetrate social media markets. Artificial Intelligence has the ability to enhance the connection your brand has with visitors and stakeholders alike. The technology can not only aid a better collection of data but also provide significantly deeper insights into the wealth of data that's collected.
There's little doubting that artificial intelligence has a huge role to play in the marketing approaches of businesses in the future. Its adoption may be so widespread that rather than it being a case of using AI and data science to gain a cutting edge, businesses will need to show sufficient agility to embrace the technology to prevent similarly minded rivals from overtaking them.
Fundamentally, both marketers and consumers alike are in for a new era of hyper-personalized advertising campaigns that can strategically deliver the right products and messages directly under the noses of the users that the data suggests will respond most positively – thus paving the way towards a future of campaigning without the added guesswork.