Artificial intelligence can be very important for online marketing. A growing number of marketing professionals are finding new ways to utilize AI to expand their reach.
One of the most important ways that marketers can benefit from AI is with search engine marketing. It is important to understand the role that AI is playing with new search engine algorithms. Google is constantly using new machine learning updates to change the way that it assigns SERPs.
Marketers can also use AI technology to improve their SEO strategy. You can use a number of new tools that rely on data analytics to improve your strategy. However, this new technology needs to understand the relevance of new algorithm changes, such as semantic search.
AI Redefines the Future of Semantic Search
Sometimes in the far-reaching world of organic search, terms are easy to make sense of. Phrases like 'long-tail keywords' and 'evergreen content' both tend to be self-explanatory and fairly straightforward to understand – however, in the case of 'latent semantic indexing', it can be another story entirely.
So where do we start with latent semantic indexing, or LSI for short? Although it sounds like an extremely complex topic to come to terms with, it actually represents a concept that most marketers are likely to already be familiar with to some extent – especially if you have a fair understanding of keywording and general search engine optimization.
Let's take a deeper look into what LSI is, how it's relevant to the world of organic search, and why LSI-driven keywords should become an essential consideration within your marketing strategy moving forward. You can get a better sense of how AI comes into play with organic search engine marketing through semantic indexing.
What is Latent Semantic Indexing?
Latent semantic indexing is a concept that search engines like Google use to discover how a keyword and content work together to mean the same thing. It's based on a series of mathematical equations that can be fairly complex to comprehend, but fortunately the process is easy to understand in essence.
Although the very mention of mathematics and equations may seem daunting, LSI is actually a concept that anybody who has entered a query into Google will be familiar with to some extent.
To understand how LSI works, it's important to appreciate that search engines are intelligent enough to identify the context of your content and the synonyms related to the keywords you use. While many people think that LSI keywords are effectively synonyms, this is a very reductive interpretation that doesn't give the full picture. LSI keywords are words that are frequently found together because they have been determined to share the same context online.
To further illustrate the point the LSI extends way beyond the parameters of synonyms, we have the two terms 'Ford' and 'Mustang' – these are LSI keywords because they share the same context and are frequently found together but they aren't synonyms.
If your blog post is about Mustangs, how will Google be able to tell whether you're talking about the car or the horse? The answer can be found in LSI keywords.
To elaborate on this example, if your post contains the words 'Mustang dealerships,' 'red Mustangs,' 'Mustang engine,' or 'Mustang bhp' the search engine will determine that you're likely to be talking about the car.
However, if your page contains phrases like 'mustang diet,' 'wild mustangs,' mustang breeding,' or 'mustang adoption,' Google will determine that you're most likely referring to the horse.
As this example illustrates, it's vital for marketers and content creators to understand which latent semantic indexing keywords will make a difference to your specific rankings in order to be successful, which can sometimes be a challenging task when covering more nuanced talking points.
Identifying LSI Keywords
Given that semantics play a significant role in identifying and understanding these keywords, let's take a look at LSI in action to better help you to spot them in real use cases.
There are plenty of ways in which you can access LSI words, so let's take a look at the key places that are sharing latent semantic indexing keywords:
Google
By far the most easy way of finding relevant LSI keywords is by going to Google itself. Perform any search on Google and you'll see which keywords or phrases are associated with the specific term.
For the benefit of this example, let's run a simple and broad search for 'coffee':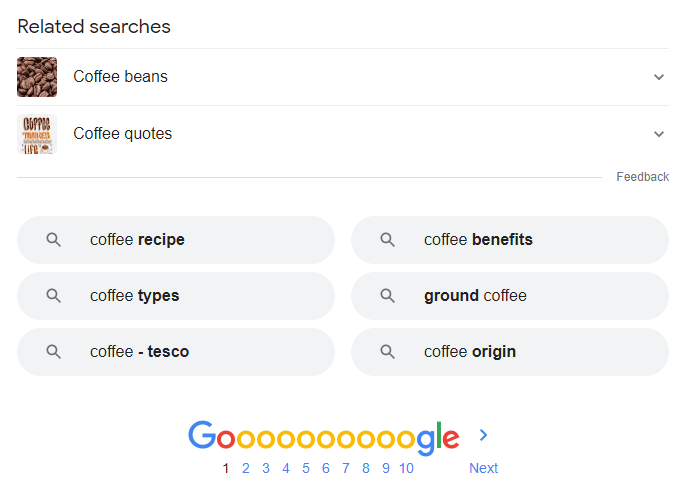 At the foot of the page, we can see Google has offered us a list of LSI keywords. The great thing about this approach is that we can see exactly what Google associates with the search term itself – allowing you to use these phrases or keywords as a jump-off point for your LSI consideration.
If you're able to incorporate these keywords into your blog posts or articles, then you can rest easy knowing that Google will have no problem interpreting the exact context of your content.
Google Keyword Planner
If you have a Google Ads account, you can access Google Keyword Planner, which is another excellent resource for spotting LSI words to use.
Once you get into the planner, you have a few options that you can choose. Click on 'Search for new keywords using a phrase, website, or category' and enter the relevant keywords before clicking 'Get ideas.'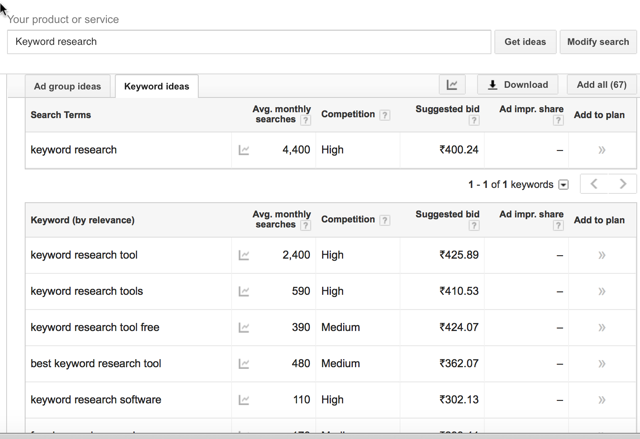 (Image: ShoutMeLoud)
As we can see in the image above, Google gets to work on listing out the words that it associates with the specific term you enter. You can also see data regarding how many searches are done during typical money and how competitive each result is to rank for.
LSI Keyword Generators
There are also plenty of dedicated LSI keyword generators out there to choose from which automatically offers up a series of relevant keywords for the terms you submit.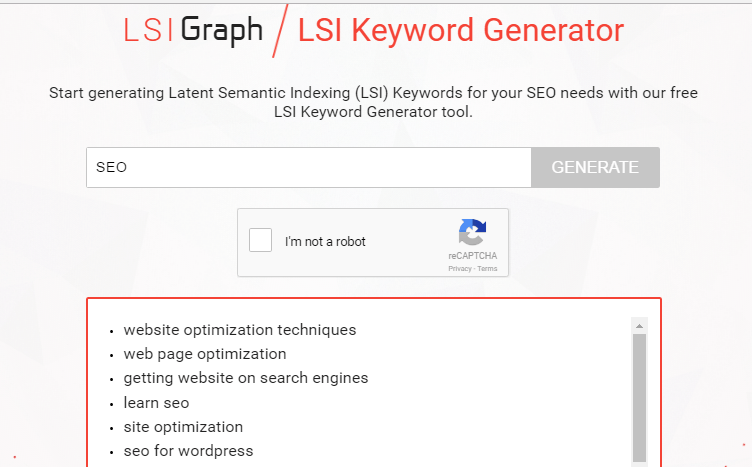 (Image: TheMaverickSpirit)
As we can see from the image above, LSIGraph is an example of a keyword generator that automatically displays a good list of relevant keywords to suit your search terms for perusal. Another strong keyword generator can be found in LSIKeywords. Much like with Google Keyword Planner and Google search, the results here can be highly useful for incorporating relevant terms into your content. 
Incorporating LSI Keywords Into Your Content
Hopefully by this stage you'll have a developing list of potential LSI keywords at your disposal. The best way of cherry picking the best keywords is to narrow your options down to the keywords that are best related to your content whilst retaining a strong level of search volume. As with much of SEO, the key is to spot those rare terms that have a high search volume and low keyword difficulty.
Here, it's vital that your LSI keywords help to answer any questions people may have about your primary keyword, so be sure to conduct some research surrounding your target audience to figure out the sort of information they'll be entering into search engines in order to find your content.
To help to bring this process to life, HubSpot highlighted the importance of search intent surrounding the term 'silly string.' The website lists out three different types of intent that people may have while running queries for silly string: 
Informational intent that generally works on a broader scale for queries like 'how does silly string work?'
Navigational intent that's more specific to the type of queries being asked. Here, someone could be asking Google what silly string is made of, or if it's non-toxic for pets.
Transactional intent which relates more to purchases. Naturally, in this example, the query would be directly related to purchasing silly strings.
When facilitating this level of intent, some people can misinterpret how many LSI keywords are needed within content. By stuffing your content with as many LSI keywords as you can, it doesn't help to change your post's ranking, and it could ultimately damage your SEO credentials if terms are repeated frequently.
Be sure to avoid overstuffing your content by proofreading your articles and posts – if words are appearing too often or your sentences are sounding unnatural, leave your terms out. Never sacrifice quality for the sake of attempting to hit the SERP jackpot.
It's also vital to monitor your LSI keyword performance, and this can be done with the help of analytics platforms like Google Analytics or Finteza, both of which are examples of platforms that are capable of tracking how traffic arrives on and interacts with your site.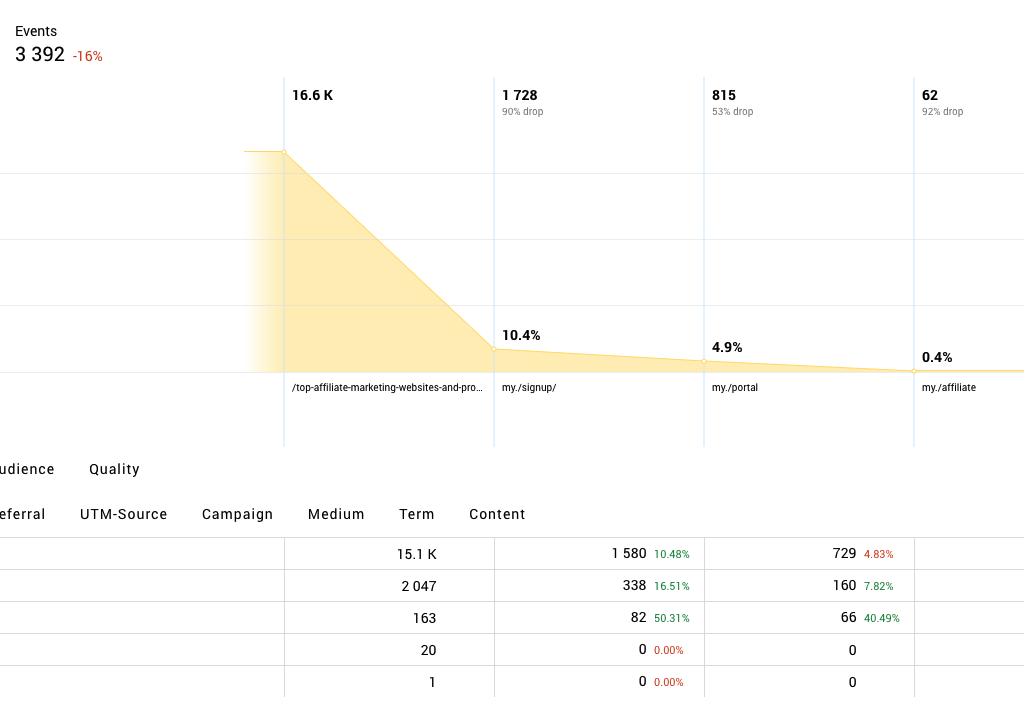 This means that you can directly spot relationships between your LSI keywords and the conversions – or you can see how certain LSI terms are generating traffic but no subsequent purchases, leaving you with the chance to alter your copy to encourage more purchase intent.
LSI keywords form an excellent starting point in which to create content that perfectly suits its intended audience and encourages Google to accurately interpret the content produced. Although they may not be identified as the cornerstone of great SEO, they play a pivotal role in helping businesses to generate the right kind of engagements, receive relevant traffic, and, if all goes well, leverage many more conversions as a result.
Semantic Indexing is a Prime Example of the Impact of AI on Digital Marketing
Digital marketing has been profoundly affected by new developments in artificial intelligence. One of the newest forms of AI technology is semantic indexing. Savvy marketers need to learn about the relevance of AI and know how to utilize it with semantic indexing.