CUSTOMER DATA DRIVES 5X ROI IN TICKET SALES IN LESS THAN A WEEK & OPENS UP NEW OFF-SEASON REVENUE OPPORTUNITIES
Sports teams and venues worldwide are in a race to create more personalized experiences for fans — both inside and outside stadiums. As more and more fans are choosing the comfort of their couches and high-definition and plasma TVs become bigger and more affordable, the need to wow audiences and bring them back into sporting venues is greater than ever before. Many sports teams are already gating in-venue Wi-Fi, mobile apps and website video content to collect data and really understand their fans so they can better target them with the right content, deals, promotions and videos. The goal is to maximize the entire experience for fans, from ticket purchase to post-game, and keeping fans engaged even on off-days and during off-season.
To grow their fan base and build loyalty, teams are now creating and publishing content 24/7. But creating the right content that fans care about can only happen when teams have a deep understanding of who their fans are and what they care about even outside the stadium. For example, teams could be selling tickets to some games to a mostly young male audience, but targeting older women and children for other games. Teams need to be able to understand and reach all these different audience segments to market more effectively to them.
But it's not just about selling tickets during baseball or football season. What about when it's off-season. How can teams continue to collect audience data and drive ROI during those slower months? Here's an example of a team that's already doing it, and doing it well.
HOW THE FLORIDA PANTHERS USE DATA TO DRIVE ROI YEAR-ROUND
The Florida Panthers are a professional ice hockey team based in Sunrise, Florida in the Miami/Fort Lauderdale area. They are members of the National Hockey League(NHL) and play their home games at the BB&T Center. The team is passionate about using data and technology to deepen fan engagement, build loyalty and find new revenue streams.
Umbel's intelligent platform helps the Panthers unify data from many siloed systems, third-party vendors and social media sites, so they can see who's buying tickets, attending games and interacting with their content. This enables the Panthers to get a "360-degree fan view," communicate one-to-one with them, sell thousands of tickets, find sponsorships and match the right experiences with the right fans.
COLLECTED & UNIFIED DATA ON 109,000+ FANS & TICKET BUYERS
Like many sports teams, the Panthers have customer data in multiple, siloed systems like TicketMaster, Facebook, Eloqua and other 3rd-party software. In just 3 days, Umbel aggregated all the disparate data into our platform, which now acts like a CRM for their marketing team. In addition to existing data (emails, zip codes, names etc.), their team wanted more granular data on their fans. It's impossible to collect hundreds of data points per customer with tools like surveys, so they used Umbel's CRM acquisition tool to build apps and run giveaways in minutes. Contests like a Memorial Day Giveaway helped instantly engage and collect data from their fans on social media, while maintaining user security and privacy.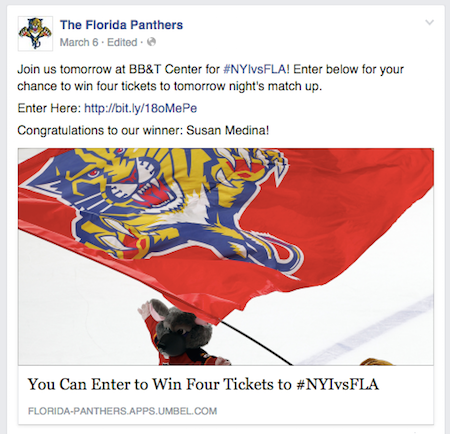 This new first-party data was combined with their existing data and enhanced with Acxiom data to provide in-depth digital profiles of 109,000+ fans & ticket buyers. The team was surprised by some of the data: for example that their fan base wasn't primarily male but actually 47% female.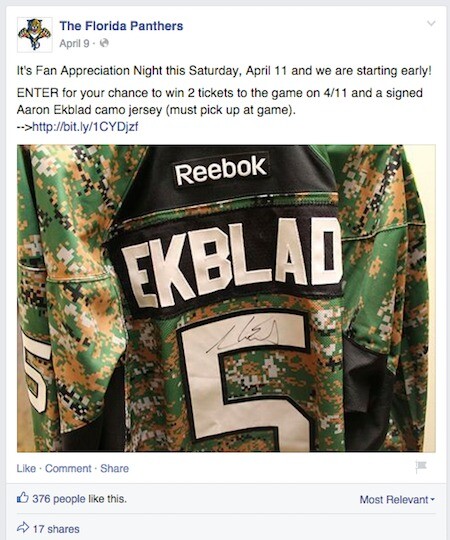 CUSTOMER DATA DRIVES 5X ROI IN TICKET SALES IN LESS THAN A WEEK
In less than a week, Umbel helped the Panthers' collect and unite data including transactional TicketMaster data, advanced demographic and brand affinity data and more. Their marketing team could then query and segment their customers based on zip code, household income, no. of children, brand affinities, past purchases etc. to find commonalities and trends, and target them with customized ads and seasonal offers.
Umbel's look-alike algorithms help the Panthers find new fans more efficiently than any other platform. In the first 7 days, targeted ads (via the Social Ads tool) drove 5x ROI in season ticket sales. In one month they reached a 7.5x cumulative ROI on ad spend, which far exceeded their goals. The Panthers continue to sell thousands of tickets with targeted ads powered by Umbel data.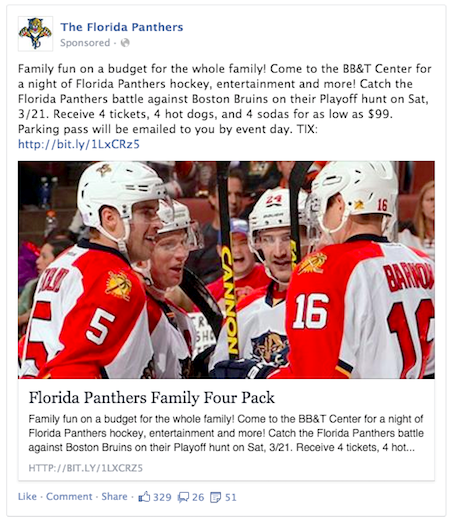 SEAMLESS UMBEL INTEGRATION & SET-UP IN JUST 3 DAYS
Most third-party software integrations can take weeks and even months, leaving money on the table till the data flow is seamless. With Umbel, the Panthers were up and running in 3 days and in their first week they were already selling tickets. Umbel's in-house engineers and client service team worked closely with the Panthers' marketing and IT teams to integrate systems, import, collect and sync data, and set up campaigns to sell tickets. Panthers' VP of Marketing, Elizabeth Jenkins described it as the most seamless software integration of her career. 
"Umbel helps us understand, engage, grow and diversify our fan base. The set-up was incredibly fast and seamless, and our return on investment has significantly exceeded expectations." – Elizabeth Jenkins, VP of Marketing, Florida Panthers and BB&T Center
TWEET
HOW THE PANTHERS ARE USING DATA TO DRIVE ADDITIONAL REVENUE DURING OFF-SEASON
The Panthers are using Umbel data in many ways — even during off-season — to generate additional revenue. Some of these efforts include:
Signing, retaining & upselling sponsors by capitalizing on customer demographics and brand affinities data
Combining their sports & concerts marketing by selling tickets to other events that are being hosted at the BB&T Center like Disney on Ice shows
Gating all content on their website and fan newsletters to continue to collect customer data year-round