How much do you really know about your website visitors?
Google Analytics is an amazing resource – and a must-have – for all website owners; however, it's quite limited in its capabilities.
It's a great starting point but if you want more in-depth data about your visitors and the actions they take on your website, you need to look towards more complex web analytics tools: tools that can help you identify every single visitor on your website, the behaviour of your traffic and even its quality, as well as tools that can help you optimize the user experience so that you can convert more of your visitors into customers.
Having access to this data can then help you improve your overall marketing ROI, as well as help you optimize your marketing spend; for example:
Identify the best channels to leverage, based on the conversions and ROI they generate
Optimize your online advertising spend
Evaluate the quality of your traffic
Better understand your audience and visitors so that you can optimize your marketing strategies accordingly
In this blog post, discover 5 top advanced web analytics tools to help you get more out of your website:
Finteza

Finteza is an advanced web analytics tool built with webmasters in mind; its main purpose is to assist you in your project management efforts, in order to help you manage your marketing and advertising spend, as well as generate more sales from your marketing efforts.
It has several interesting features that both marketers and sales people will definitely appreciate; to start with, it can actually identify "bad" traffic: scammers, hackers and spammers: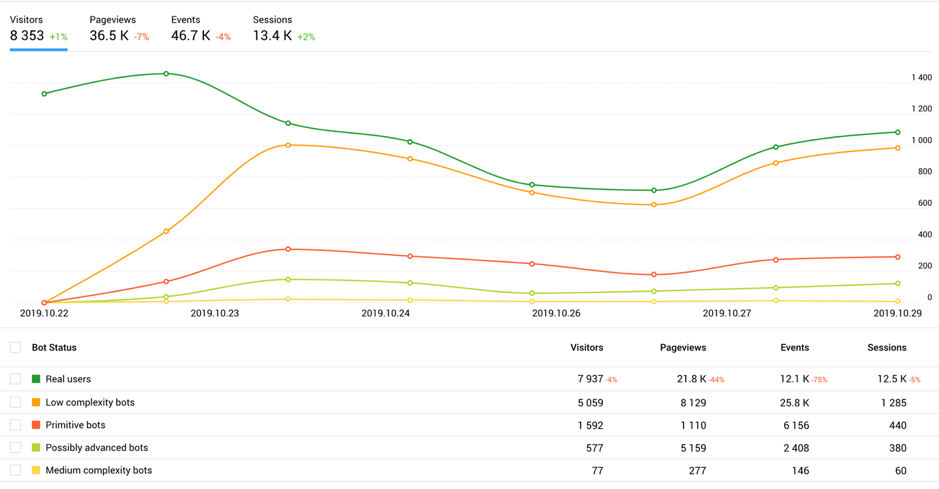 It does so with the help of advanced botnet and behaviour analysis, as well as through unique accounting algorithms.
What's more, it can further evaluate the quality of your traffic so that you can know which traffic sources are truly efficient and how you can best optimize your website conversion funnels.
And it's particularly useful when it comes to your advertising strategy: if you can see that certain advertising campaigns are generating a lot of low-quality or "bad" traffic, you can optimize your strategy to focus on the channels that actually generate high-quality traffic.
Another very cool feature for website owners who sell advertising on their site, is that it has a built-in advertising engine; you can use Finteza to sell ad spaces and accept payments, as well as manage banner rotation and give advertisers access to your advert zone statistics.
Additionally, you can create highly detailed multi-level sales funnels for any pages, traffic sources and UTM links (among others) in order to understand where you're losing leads and visitors and what you can do to rectify that.
Apart from all of these features, you also get very detailed traffic analytics for page analytics and traffic sources so that you can understand exactly how each page and each traffic source is truly performing.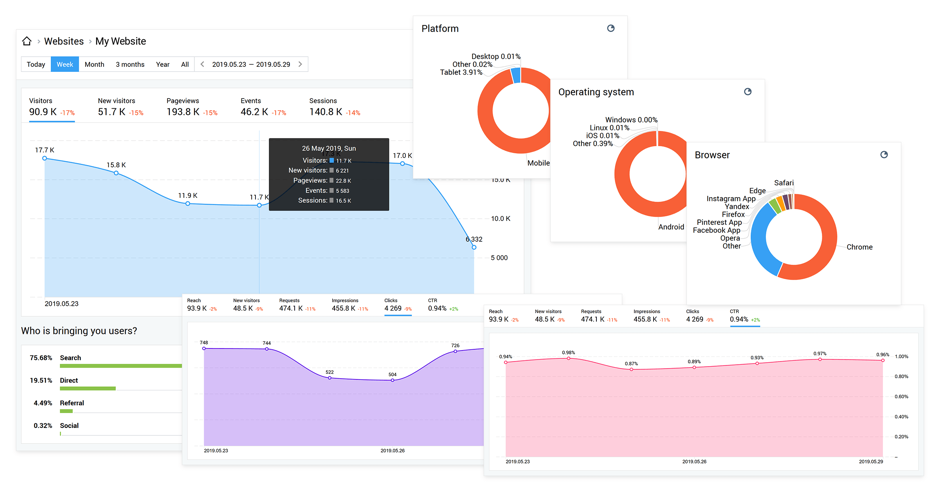 Smartlook
If you have a mobile app, Smartlook can be an extremely valuable tool for your business: not only does it offer website analytics, but also in-depth mobile app analytics for iOS and Android apps.
The way it works is simple: it records every user that comes on your website so that you can see exactly what they're doing on your website, so that you can gain a better understand of what they do, exactly, when visiting your website, what pages they see, how much they interact with it and most importantly, what makes them convert – or leave.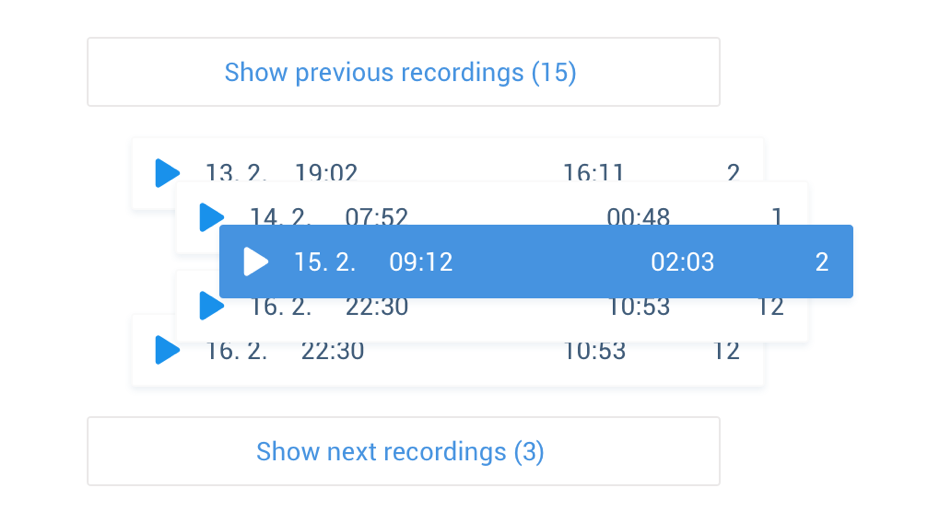 What's more, you can also identify users and even search for specific customers' or prospects' replays by looking up their email addresses: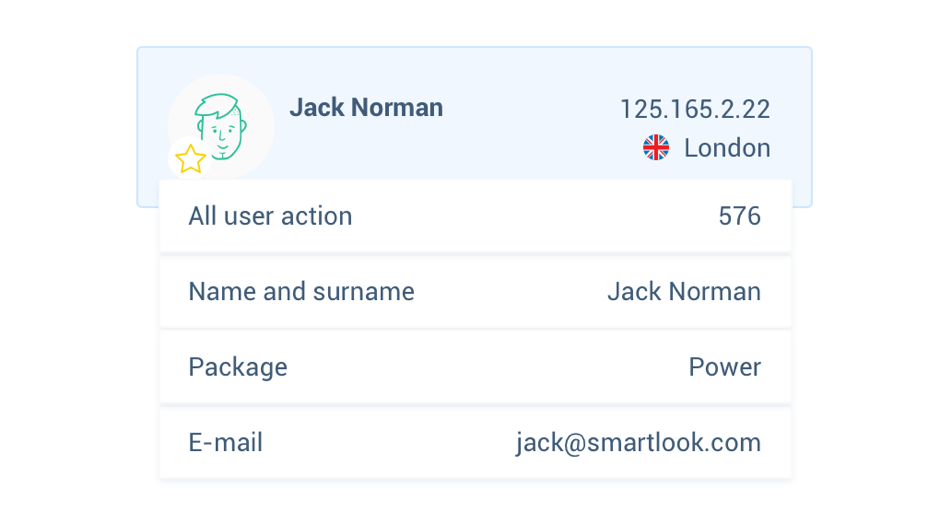 What's more, you can also create funnels so that you can see exactly when and why people are dropping off from your funnel and what you can do to improve conversions.
Other features include detailed website analytics (such as top exit pages and top visited pages), heatmaps and extensive filtering options to help you find specific recordings.
Mixpanel
Mixpanel is another powerful analytics tool built for websites and mobile apps; the tool can be used by a variety of teams – the product team, the marketing team, executives, and more – to assist them in their projects and help improve their results.
One of its main features is the advanced analysis of website user behaviour; with its help, teams can build reports that make it easier to monitor their KPIs, using in-depth behavioural analysis.
You can easily set up visualizations that lay out your data in an easy to understand format, as well as compare various time periods and track what specific users are doing on your website: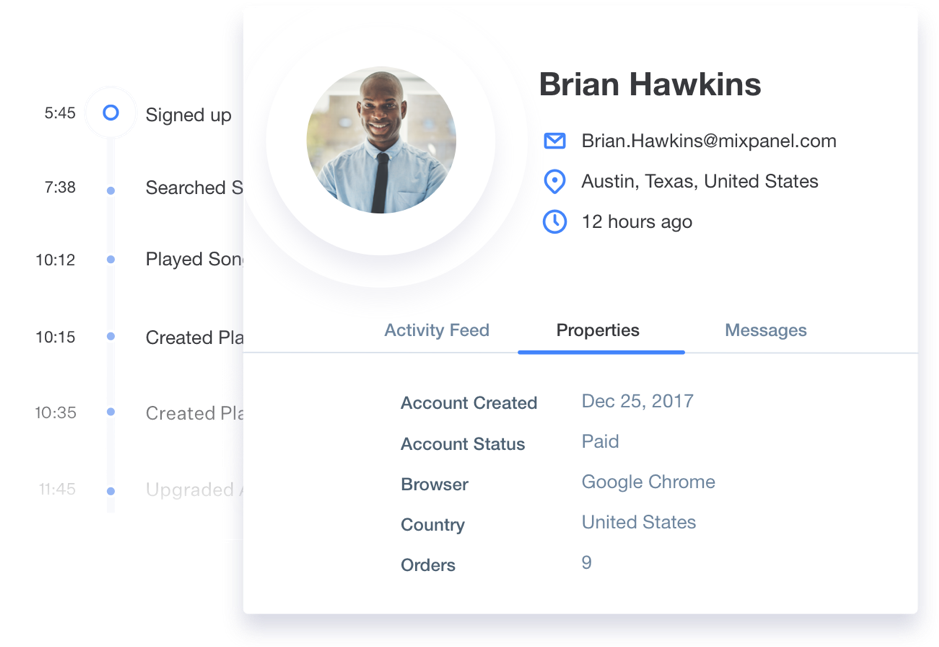 And Mixpanel then takes things a step further: using data science models, in can identify behavioural correlations so that you can essentially understand which user behaviours correlate with your sales or your other goals: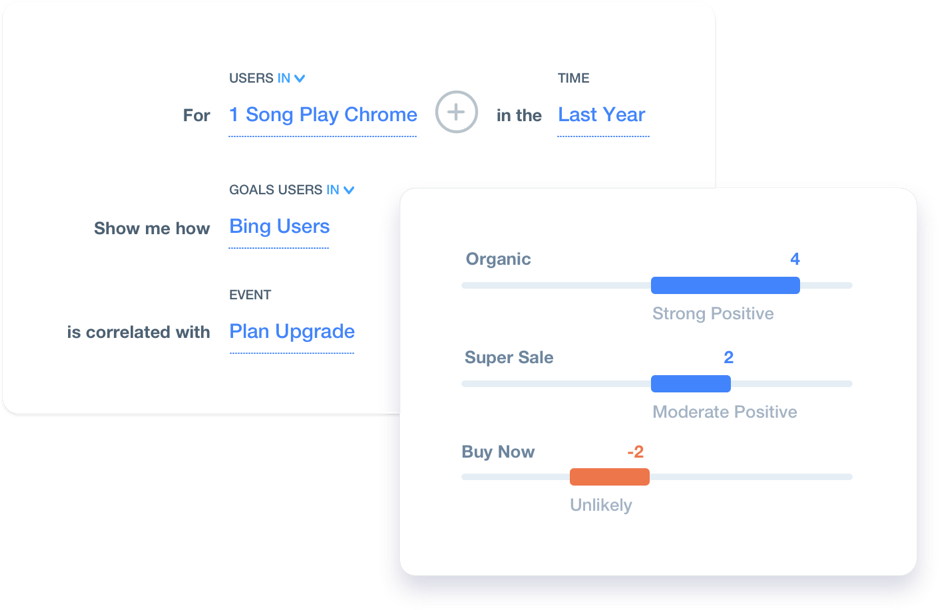 This can be of huge help when optimizing your sales funnels and your marketing strategies so that you can further improve your conversions and ROI.
CrazyEgg
CrazyEgg is a bit different to the other tools in this list, in the sense that it focuses on helping you improve your website conversions with the use of heatmaps, visual reports and individual session recordings.
By leveraging this tool, it will help you see exactly how your website visitors are interacting with your website, where they're getting stuck, where they exit your website, what paths they take to convert, and so on – basically, everything you need to know about their behaviour while on your site.
And all of this ultimately helps you improve your website's design and navigability, as well as show you how and where to place various elements on your pages (such as your calls to action, your opt-in forms and other elements that help your visitors convert) so that you can ultimately convert more visitors into customers.
As you start to notice certain patters in user behaviour, you can start making changes easily to see how they improve your results; however, you don't have to make these changes blindly. Rather, you can use CrazyEgg to easily set up A/B tests and see which variants generate the most traffic and conversions: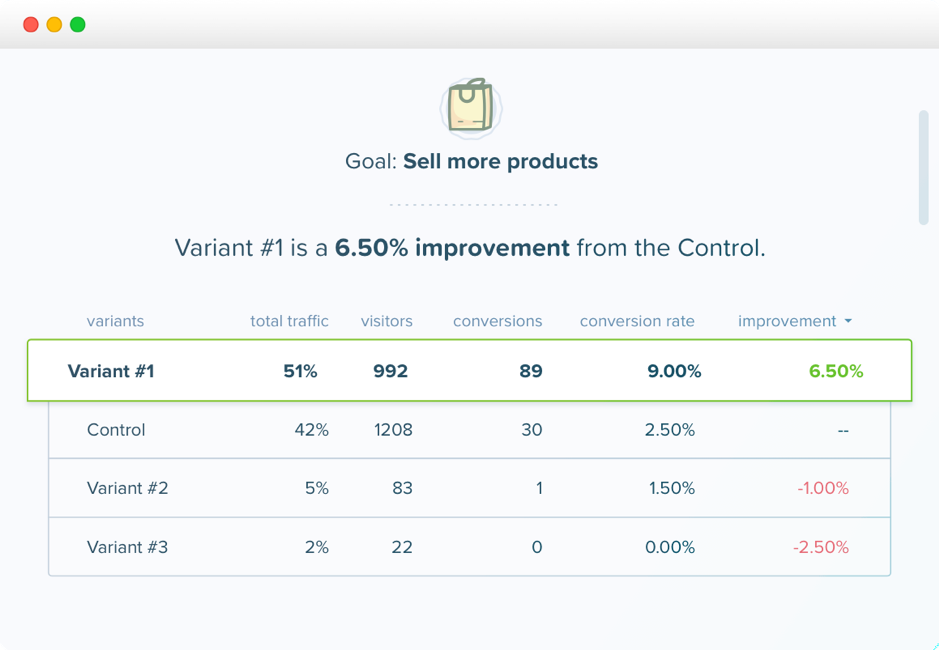 Plus, they even offer built-in editing tools so that you can easily make changes to your pages, such as modifying the text or changing colours and fonts: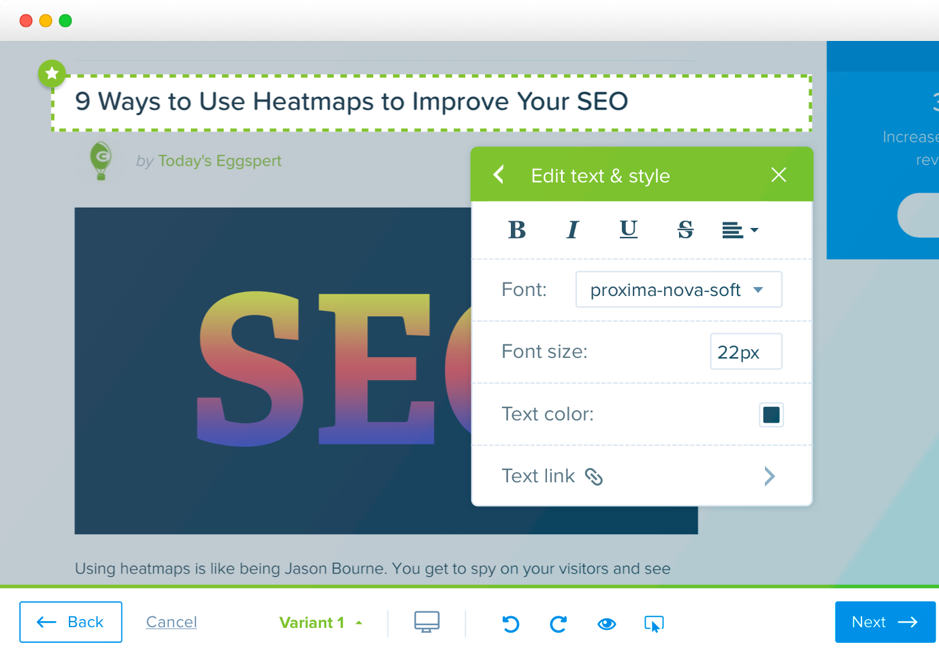 Conclusion
Your website data can be one of the most valuable assets you have access to as a marketer; by leveraging advanced web analytics tools, you can correctly identify the best channels to use in your marketing strategies, how to improve your website conversions and basically improve your overall marketing ROI considerably.
And perhaps most importantly, your analytics can lead you to make more sales: however, you need to use the right software (and go beyond the basic website traffic analytics such as traffic sources and locations) and continually leverage your analytics to keep improving the user experience, the conversion rate of your website and of course, your businesses' sales.