Big data technology is becoming a more pressing issue for companies around the world. However, many companies don't understand enough about data to utilize it effectively. A recent survey found that a stunning 47% of companies have only a limited data strategy.
One of the biggest reasons that companies don't have better data strategies is that employees aren't educated about the merits of big data. Even skilled programmers and back end developers often lack the knowledge needed to implement data strategies effectively. As a data science professional, it is up to you to know your stuff and deliver great value to your company. Your employer will depend on you to create a data strategy that leads to results, so you will want to make sure you are up to date on the latest developments in big data.
The good news is that there are a number of courses that can help employees learn about data. You don't necessarily need a data science degree to thrive in the big data field, but you do need to learn about the fundamentals. These courses can help.
One of the companies offering the best data science courses is 365 Data Science. They have recently started offering free courses for 21 days.
Consider Signing Up for 365 Data Science Courses This Year
365 Data Science is an online training platform to help people trying to learn more about data science. This platform has a ton of excellent courses that can help you create a promising data science career or bolster your company's data strategy.
They have recently started offering free courses to interested attendees. The unlimited access initiative presents a risk-free way to break into data science.
The online educational platform 365 Data Science launches the #21DaysFREE campaign and provides 100% free unlimited access to all content for three weeks. From November 1 to 21, you can take courses from renowned instructors and earn industry-recognized certificates.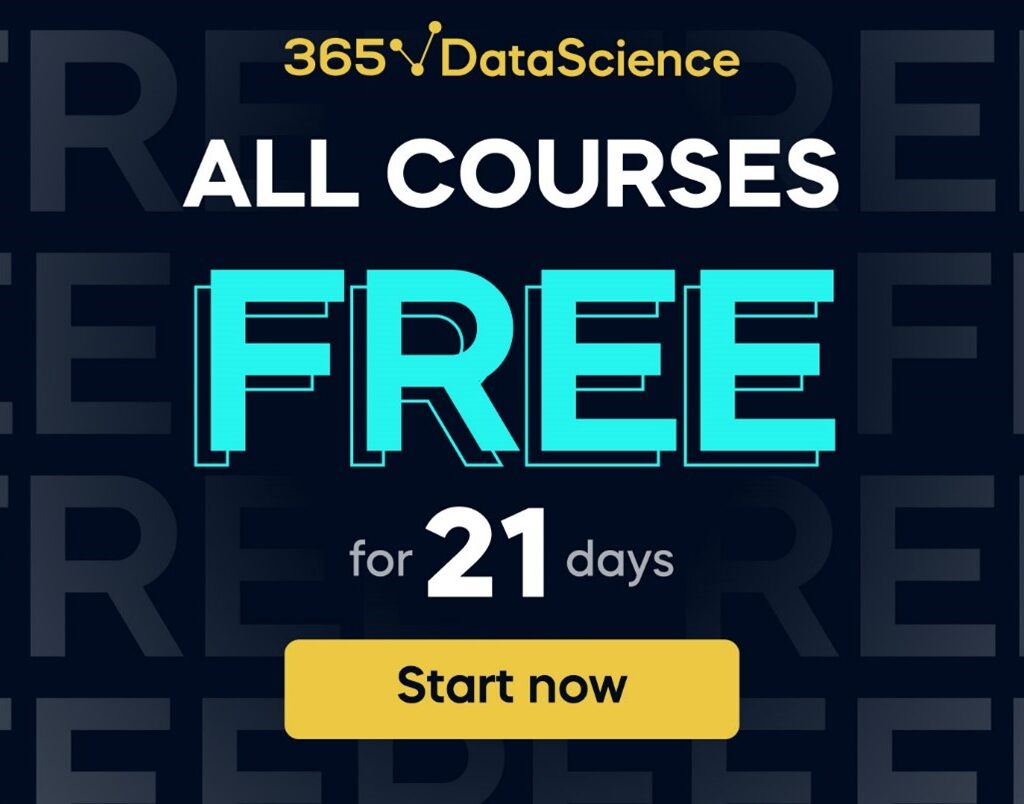 About the Platform
365 Data Science has helped over 2 million students worldwide to learn data science and analytics and expand their job prospects.[GU1] [SC2] [DT3] [GU4].
The program offers an all-encompassing framework that caters to the needs of beginner and advanced data science professionals. They learn by doing with a myriad of exercises and real-world examples. Moreover, 365's new gamified platform makes the learning journey engaging and motivating.
"Starting a career in data science requires devotion and determination. Our mission is to give everyone a chance to get familiar with the field and help them succeed professionally," says Ned Krastev, CEO of 365 Data Science.
365's learning platform provides the opportunity to get familiar with the industry through courses like Introduction to Data and Data Science, Data Strategy, and Product Management for Data Science.
Feel Free to Sign Up to Learn More About Data Science!
You should never stop educating yourself if you want to enjoy a thriving career in data science. Whether you are an experienced data scientist or someone recently entering the field, you will want to take courses to hone your skills. 365 Data Science has a ton of excellent resources to help you out.
Join the program and start for free here.