Customers around the world are expected to spend over $11 billion on data recovery tools next year. One of the reasons that the market for these services is growing so much is due to the growing range of disasters causing data loss.
Disasters can cause all kinds of long-term problems for countless organizations. One of the biggest issues that a natural disaster or workplace tragedy can lead to is data loss.
If your computer has suffered from data loss after a disaster, then you need to have a plan in place to restore it. The good news is that there are a lot of reliable data restoration tools, which can work after even a horrific accident.
Data Restoration Tools Are Important After a Major Disaster
Any active computer user is familiar with such problems as accidentally deleted files or hard drive crashes that lead to data loss. There are a number of major disasters that can lead to these types of problems and destroy some of your vulnerable data. No matter what type of information you lose – documents, photos, or essential software, you want to get all your files back.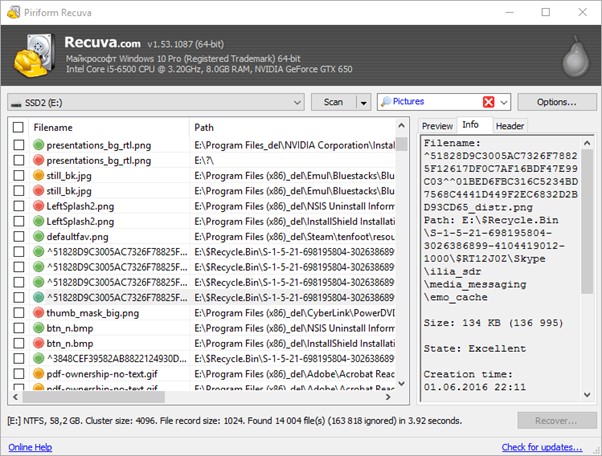 If you have ever tried doing a Google search for "data recovery tools", you are familiar with Recuva. It won't be an exaggeration to say that this software symbolizes data recovery. You had this program on your school or college computer. Modern users state that they face various problems when using Recuva. This can do a lot to help restore data that has been lost after an accident or disaster.
The most common issues when running Recuva to restore data include the following points:
The program is unable to open data.
Just imagine a situation. You launch the recovery tool, the scanning process is finished, you see the file you need, click on it – and nothing happens. This is because Recuva has not been updated for several years, and it doesn't support some formats.
The app is unable to review restored data.
The same is true about reviewing files. Thus, you can't understand what files you have to undelete.
The data scanning process is too long.
Nobody wants to wait for ages to recover deleted data. Yet, the process is time-consuming. It may be somewhat annoying.
 It's high time to look for efficient Recuva alternatives. Luckily, these days the number of possible variations is enormous. The following full-fledged Disk Drill review is to demonstrate to you that nowadays, Recuva is not the best solution for modern users anymore. It's possible to get more perks when using Disk Drill. Do you want to know more? Keep reading!
Why Is Disk Drill a Good Data Restoration Alternative to Recuva?
There are lots of available software like Recuva if your data has been lost during a disaster. It's not easy to make the right choice. Disk Drill stands out among its competitors, thanks to the following features:
The interface of the program is intuitive. It doesn't matter whether you work with Windows or iOS. You are to face no difficulties. Moreover, you are to contact customer support managers if something goes wrong. You may count on fast and competent assistance.
You can run an app on both Mac and Windows devices.
There are good versions for both operating systems. They are of top quality and regularly updated.
It supports copious formats.
The primary reason why it's a good idea to prefer Disk Drill is the possibility to work with copious formats without any restrictions.
The speed of work is relatively quick.
Of course, if you have to scan and retrieve the whole hard drive of your Macbook, it may take several hours. Yet, if it's necessary to undelete a couple of photos from your smartphone or a report from a UDB drive, it'll take only a few minutes.
The prices are reasonable.
There is one significant advantage of Recuva you can't but appreciate. This application is free for everyone. You can explore all its features without any payments. For example, disk Drill allows you to recover 500 MB for free. Then, you are to buy a subscription. It should be noticed that prices are pretty affordable.
Moreover, it's necessary to highlight that Recuva does not work on Mac devices of newer generations. Although it's still possible to retrieve data from old models of iPods or iPhones, you are unlikely to be satisfied with the results.
Look for Alternatives When You Need to Recover Data After a Disaster
There have been a number of major changes in the data recovery industry in recent years. So, nowadays, Recuva is not an indisputable leader among data recovery tools. Technologies are developing so fast. More new samples appear. They are to meet the needs and requirements of the time. Of course, you can still use Recuva or choose a more practical alternative – there are many available solutions.