Over 700 attendees were welcomed to last week's SAP Forum event in Birmingham by the UK and Ireland Managing Director, Tim Noble.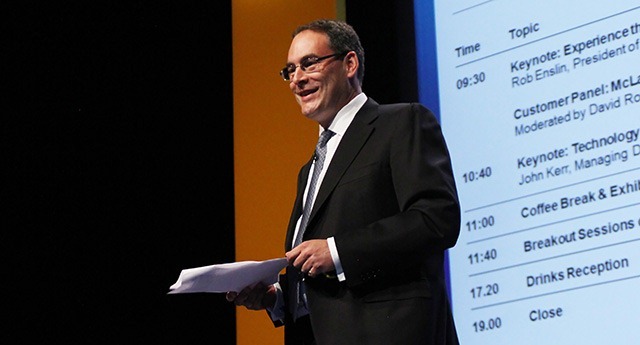 Over 700 attendees were welcomed to last week's SAP Forum event in Birmingham by the UK and Ireland Managing Director, Tim Noble.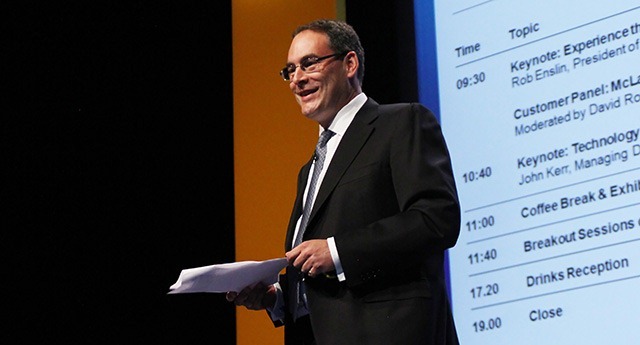 After quickly running through the packed agenda of over 160 presentations during the two-day event, he introduced SAP's President of Sales, Rob Enslin, to talk about the future of business.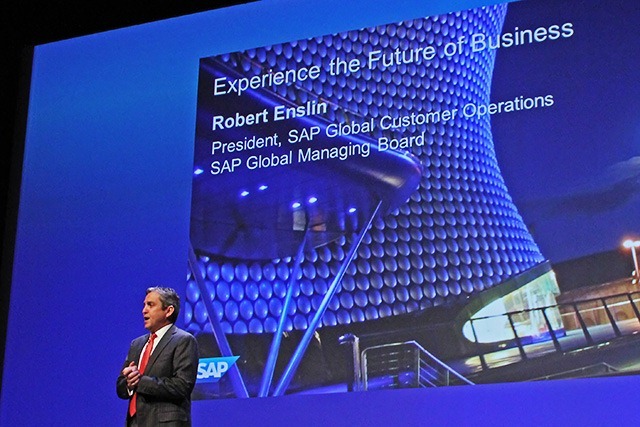 Enslin kicked off the session by reminding people just how far we've come over the last two decades, vividly recreating the early 1990s with an oh-so-familiar sound of a 14.4k modem connection.
He explained that keeping up with the rapid change of the modern world has lead to organizational stress:
"The world is at an inflection point. You have to adopt new business models you're uncomfortable with, at a pace you're uncomfortable with. There's increasing uncertainty about whether you are making the right choices – but you have to move. Change is happening dramatically fast. To survive that change, and to innovate and lead, you're going to need innovation from companies like SAP to help."
Enslin called SAP HANA "the biggest innovation in the business software industry in the last twenty years," that lets organizations "turn big data into big insight for big answers."
He gave several examples of how SAP is helping bring a fundamental shift in industry's approach to their markets – for example helping save lives by radically speeding up the analysis of patients genome from several days down to just 20 minutes. He emphasized that SAP HANA is not only for large organizations, with over 450 startups using the technology, typically in the cloud:
"The software that reinvented business has been reinvented again."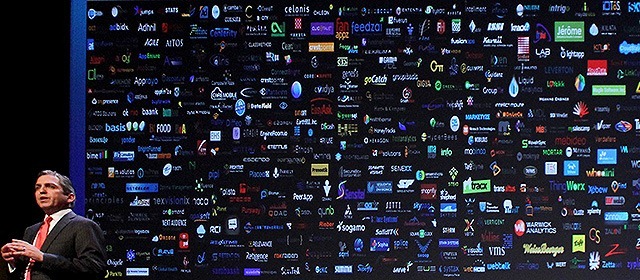 Enslin covered other key areas of innovation such SAP's fast-growing cloud offer, with over 50 million users and a €1Bn run rate, including SuccessFactors, SAP Jam, and Ariba.
Particular attention was given to talking about the need to engage a new generation of business users. SAP is taking a new approach, working with institutions such as the Stanford University design school to create new interfaces such as SAP Fiori. SAP's technical team staffing the demonstration area reported high interest in the new intuitive mobile application interfaces.
David Rowan, Editor of Wired Magazine UK, then hosted a panel that included representatives from McLaren racing, Halewood International, and Premier Foods.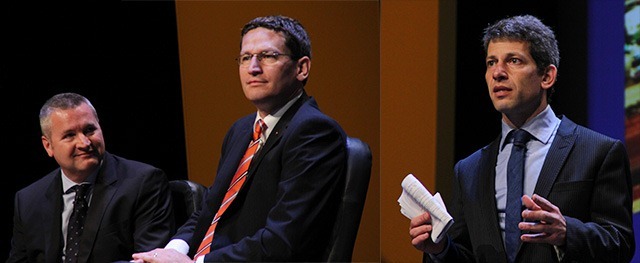 Halewood International is the UK's largest independent drinks manufacturer and distributor, whose well-known brands include Tsingtao Beer and Lambs Rum.
Premier Foods products are consumed by 98% of UK households, with beloved, venerable brands such as Mr Kipling cakes, Bisto, Oxo, and Hovis. (Interestingly, the company is also reviving the Lyon's Cake brand, which is the last vestige of the company J. Lyons & Co, the creator of both the first business computer in the world and the first business intelligence application, "bakery valuations," in 1951. )
Stuart Birrell, CIO of the McLaren Group described how the company is using SAP HANA to improve race performance in real time. He explained that the biggest opportunity is to make it easier for the engineers to ask new questions in new ways, but emphasized that it's not only about technology:
"Innovation doesn't happen by accident – it has to be in your DNA."
Trevor Barrett of Premier Foods talked about the new opportunities in the retail industry, including trade promotion optimization through better collaboration between manufacturers, retailers, and customers. The company's staff are constantly on the move, and an audit of key frustration areas indicated that new mobile technologies were a big opportunity.
Maureen Allison of Halewood International explained that social media has completely changed the way the company interacts with consumers:
"A few years ago, there were many layers between us and the people actually consuming the drink. Now there's two-way communication and it's become an integral part of all new product development and marketing. What we're looking at now is how we harness that data and use it to make business decisions"
John Kerr of Deloitte finished up the morning keynote sessions with a presentation giving examples of business transformation, including supply chain analytics with an airline manufacturer and social media analytics for Sony Media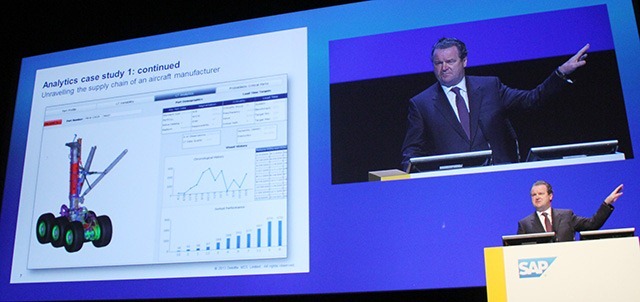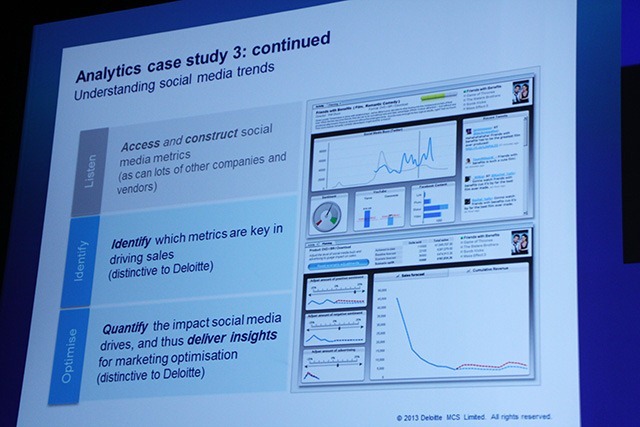 Kerr concluded his presentation by saying:
"SAP HANA is real — I speak as a user as well as an advisor. It's helping businesses get ahead and seize the next wave of transformation."