Data breaches are becoming increasingly common each year. The costs of data breaches are becoming worse, which can easily cripple many companies. An estimated 60% of companies that fall victim to data breaches have to shut down within six months. As a result, 10% of all companies file for bankruptcy due to data breaches.
Companies are not wasting any resources trying to mitigate the growing risk of data breaches. They are hiring security experts that can fortify their security to stop cybercriminals in their tracks. If you want to do your part to fight data breaches, you should consider getting a network security certification and join the front lines against these cybercriminals.
Getting a Network Security Certification Can Help You Thwart Data Breaches
The security of the network is critical to the overall security of any organization, especially since data breaches have become so common. There were 4,145 publicly recorded data breaches last year, which exposed more than 22 million records. This figure is going to increase as cybercriminals become bolder.
Unfortunately, fighting data breaches is easier said than done. Most organizations have large numbers of devices such as computers, laptops, servers, and other equipment that are all interconnected with one another and this network is always vulnerable to attacks. Communication between devices occurs on a regular basis, and the sensitive data that passes through them is usually shared among them.
It is, therefore, necessary to ensure the security of the network and the devices that are connected to it. This is one of the most important lines of defense against data breaches. To build a better infrastructure where enterprises face fewer threats and can better protect themselves from cybercriminals trying to steal their data, organizations must be constantly on the lookout for qualified individuals to join their teams.
To properly configure and secure a network, firms look for applicants that are experienced in debugging, configuring, troubleshooting, and securing these devices. Candidates that have received training are always in demand, and organizations is always looking to hire them to fight data breaches.
Certification is the first step in this direction because it demonstrates the worth of a candidate. To obtain the certification, a candidate must pass an exam that typically contains a large number of different questions and may also require completion of a practical exam. Several certifications are available that can be beneficial to those who want to advance their careers in the field of network security.
Let us talk about a couple of them.
CATO SASE Expert Level 1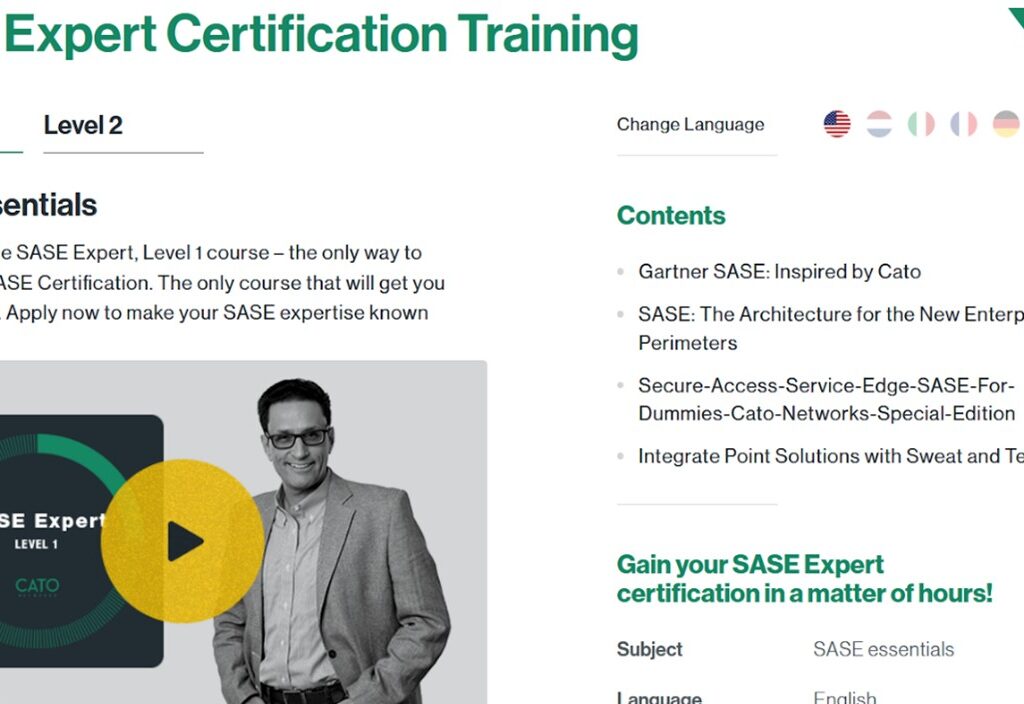 Gartner has developed a new enterprise networking technology category called Secure Access Service Edge (SASE) that brings together network operations and security point solutions to form a unified, global cloud service.
Because of SASE, which advances networking technology, many organizations are shifting their attention to SASE and recruiting individuals who are capable of handling and implementing it in their organization. Given that Cato Cloud was the first SASE platform, Cato Networks' SASE Expert Level 1 certification course has successfully provided a comprehensive understanding of SASE and its architecture, and it has done so in an exceptionally well-organized manner.
The CATO SASE expert Level 1 certification covers a wide range of topics, including how networks evolved from MPLS to SD-WAN to SASE, as well as the improvements that have been made, their essential distinctions and the advantages they provide, virtual private networks (VPNs), and other related subjects of security such as CASB, FWaaS and DNS. All of these guidelines can help security professionals learn to fight data breaches. In order to obtain the Cato certification, you must first apply to the Cato SASE course and then pass the certification exam with an 85 percent passing score.
GIAC Security Essentials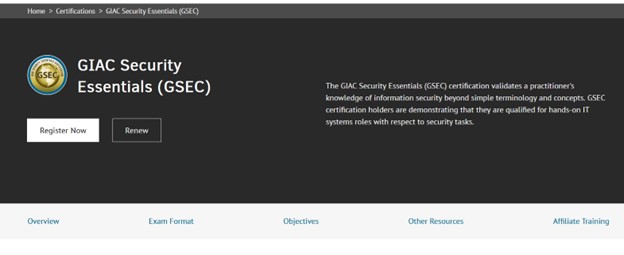 As the name implies, the GIAC Security Essentials certification is governed by the GIAC. The candidate who holds this certification demonstrates that they are competent in executing security-related actions and that they not only possess theoretical knowledge but also have hands-on experience in the field of data security. Candidates' understanding of information security and terminology beyond the basic level is verified and validated through this certification.
Practical job experience is quite beneficial for passing this exam, and there is a great deal of live training available for these qualifications. Those with a security experience or network understanding, such as security experts, pentester testers, forensic analysts, and information technology engineers, can pursue this certification.
The topics addressed by this certification include active defense, access control on devices, IT risk management, security policy development, endpoint security, Linux security, incident response, and incident handling, among others. This certification requires candidates to pass a web-based, proctored examination that comprises 106-180 questions and must be completed in 4-5 hours with a minimum score of 73 percent.
CCIE Security Certification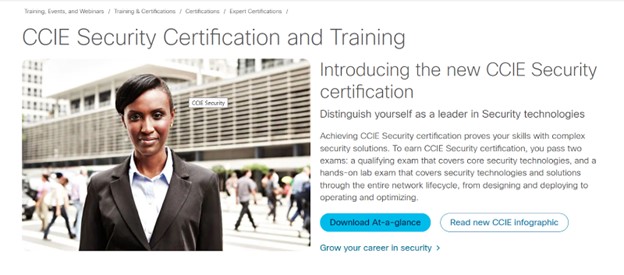 The CCIE Security Certification is governed by CISCO, and it is most commonly chosen by experienced networking professionals who wish to advance their careers to the level of network security professional. Network security professionals are capable of implementing, maintaining, configuring, securing, and troubleshooting the complex enterprise networking infrastructures that exist in organizations today. In addition, candidates who earn this certification are capable of creating a network for a business while keeping security in mind, which is a significant amount of responsibility.
As it demands both experience and knowledge, the candidate will need to dedicate a significant amount of time to passing this certification. They must also pass a practical examination, which is conducted in a lab, to verify their technical ability. This is an expert-level certification that covers a wide range of security topics, including wireless, service provider, routing and switching, data center, and collaborative work environments, among others.
The exam for this certification consists of 100 questions that must be completed in 120 minutes, and the candidate must score 80 percent or above in each part in order to achieve this certification. They must also pass a practical lab to receive this certification.
CompTIA Network+

The CompTIA Network+ certification is apt for those capable of performing basic network troubleshooting and wishing to learn more about the security perspective, for people who wish to learn about networks from a security standpoint,. To design a network infrastructure, applicants must have a fundamental understanding of networks and related technologies, including correct installation or configuration of devices, creating topologies, and comprehension of network protocols. 
According to the new guidelines, this certification covers five main areas of network security, including network concept, network infrastructure, network security, network troubleshooting, and network tools, among others.
Although this certification covers the exterior security of infrastructure, it does not cover the internal or operational security of infrastructure. This certification consists of a series of 90 questions, which can be either multiple choice or performance based, and the applicant must finish it in 90 minutes to be eligible for the certification. The passing score for this certification is 80 percent, which is the minimum requirement.
The Right Certifications Can Help Fight Data Breaches
Today, we learned some network security certifications for different levels of experienced candidates. Experts with these credentials will be able to help fight data breaches. Certification helps candidates grow their career, learn something new, make themselves unique and sustainable in the highly demanding market of security. There can be more certifications, but picking the right one depends on individuals choice, interest, and experience.
Before pursuing any certification make sure to carefully consider your interest first. Because, if you have interest, you will put your effort into gaining that certification and organizations always prefer skilled professionals. Lastly, certifications are very helpful in negotiating for competitive compensation.