Machine learning is tremendously beneficial for many e-commerce companies. Marketing expert and founder of Crazy Egg, Neil Patel, has discussed the benefits of machine learning in e-commerce.
They are using machine learning and predictive analytics to forecast market trends, which can be very useful as they strive to grow. One of the biggest applications of machine learning in e-commerce is with identifying market trends. Companies can use machine learning to determine the Amazon FBA products that will be most in demand, which will help them get the highest ROI.
Machine Learning is the Key to Choosing FBA Products
The benefits of machine learning in marketing are tremendous. One analysis suggests it will create an additional $2.6 trillion in revenue for marketers.
The benefits of machine learning will be biggest for small e-commerce brands, especially those using FBA business models. Granify says that they can use machine learning for many purposes, including customer segmentation and personalization. One overlooked benefit is by choosing the right products with big data technology.
There are a lot of things to worry about when you start your own Amazon FBA business. You need to know what to get, how to get it, what to sell it for, whether it will make you money or is this just a gamble? How do you know what's worth your time and energy? How do you know you'll get customers? Simple – you look at your competitors.
You can use machine learning algorithms with competitor data to identify trends. Where do you get started?
You can begin by looking at what they're doing wrong. In this post, I'm going to teach you how to leverage your competition's mistakes into your own success with machine learning. I'll cover how to pick the best Amazon FBA products – although for more information on the best ways to pick products, I suggest you check out Nine University.
How to Pick the Best Amazon FBA Products (By Using Your Competitors!)
You decided you wanted to pursue Fulfilled By Amazon (FBA) selling. You've signed up for a course to teach you what you need to know (such as Nine University). You've found a great market and an amazing product. You've done a victory dance (what, just me?). You're ready to go ahead and start contacting suppliers! Or are you?
Mistakes happen when you move too quickly, even with the best machine learning platform. Everyone wants to get their product up and selling as soon as possible, and while that's understandable, there are a few things you should do before you start ordering samples and paying money to start production.
The first thing you need to do is simple – study your competition! This doesn't mean scrolling through the bad reviews of one competitor you're up against. This means studying all the top ten products in that category, and any other products similar to yours.
Don't just skim through the reviews – read them from the consumer's standpoint. Look at it as if you were the person wanting to buy this item. Look at what people like and dislike about each item. Make notes. Go through every results page of your keywords on Amazon, just to be sure there aren't a ton of new sellers trying to sell the same thing you're interested in.
After you've studied the competition, you can start to consider how to become the top seller for that product. Were you planning to source the exact same product and offer it at a lower rate?
By studying the competition, you're putting yourself in a position to offer a better product.
Simply offering the same item at a lower price isn't enough. It leaves you open to be undercut by other sellers in the future. Changing the color on an item may not work either. The top seller is likely the top seller for a reason. The colors they're offering are clearly successful. Unless you see comments or reviews wishing this item was, say, yellow instead of blue, don't think you can just introduce the same item in a new color and have the demand be there. That's a risky move that may not work out for you.
This isn't about you. This is about the consumer, and what they want.
Improving Your Product
When you're trying to make your product better, consider the following things:
Look at the one-, two-, and three-star reviews. What are the complaints or negatives presented in those? Can you fix them?
Can you bundle something together with your product and sell it for a higher price?
Do you need to change the material?
Are consumers requesting the product in a different size? Are there complaints it's too large or too small?
Is there a unique feature you can add?
You want to be able to say to yourself, "Yes, my product is better than any of my competitors." It's your job to figure out the best way to do this.
Here are a few examples of negative reviews that could be fixed.
The first is a review of headbands meant for a baby girl. The review says "Seems like I'm having the exact same problem as everyone else. My bow came untied and have no idea how to tie it back up. We need instructions."

How can you fix this? You could work with a supplier to make sure the bows were sewn into place or otherwise staying in one place, or you could include an instruction sheet on how to tie the bow. Since the reviewer states "the same problem as everyone else," this is clearly a big issue – and if you can fix it, it gives you a big advantage.
Here's another negative review for a similar headband. "They are very loosely made. It looks like someone just takes [sic] a piece of fabric and tied a sloppy bow. The colors are pretty. They are too big for my four month old."

So how can this be fixed? Seeing if the supplier could make them in a smaller size might help.
Here's negative reviews about the color of a bench. One complains that instead of being off-white and gray, the product was beige and taupe. The other states that what was described as black and dark brown was more of a medium brown. This is probably more an issue with poor product photography or an inaccurate description, but clearly there is a market for a bench like this in the colors people mentioned.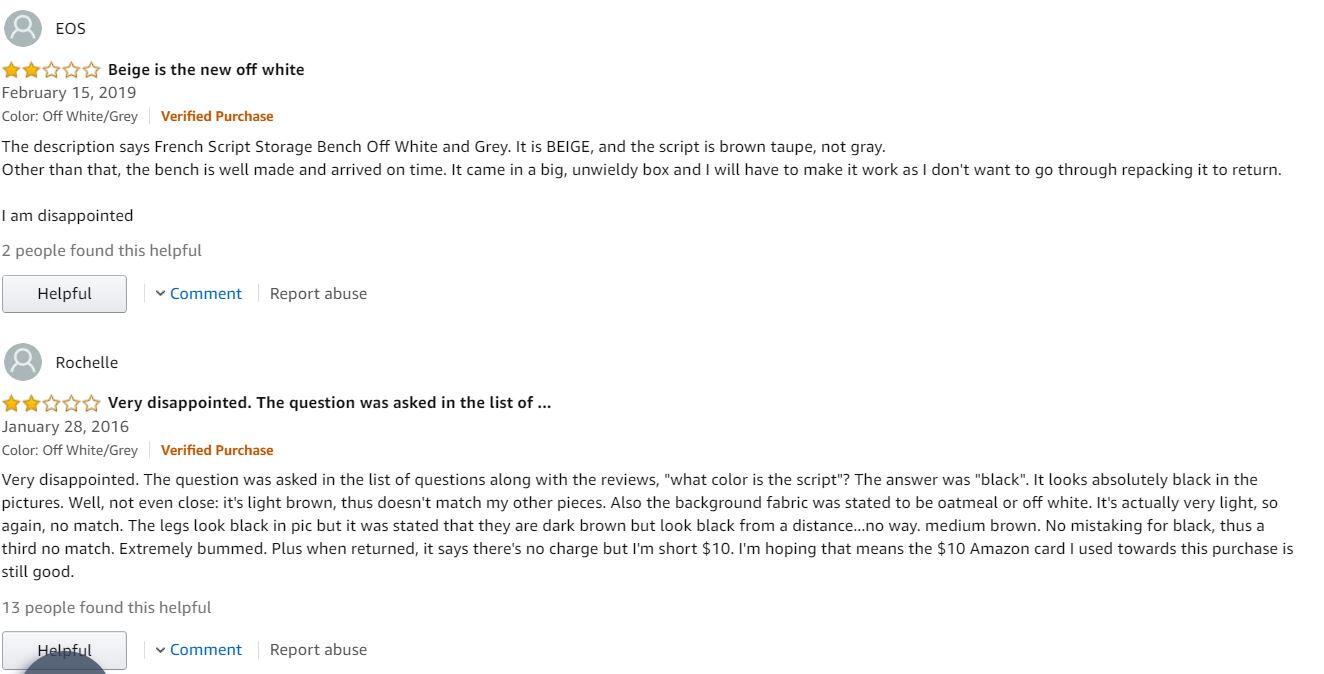 Here's a quality complaint issue. Is there something you could do to fix these repetitive issues for this diaper bag? The reviewer states the handles ripped after one use, and she stopped using it after three uses.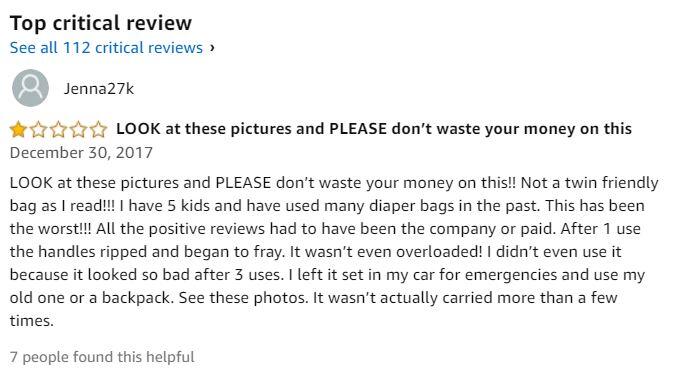 This one-star review contains a lot of valuable information about this photography tent. The reviewer complains that the size is inadequate, the backgrounds are too narrow, it's unstable, the lights are inadequate, it doesn't work for anything other than a smartphone – all of this is fixable. There's clearly a market for a quality product. This is invaluable to you.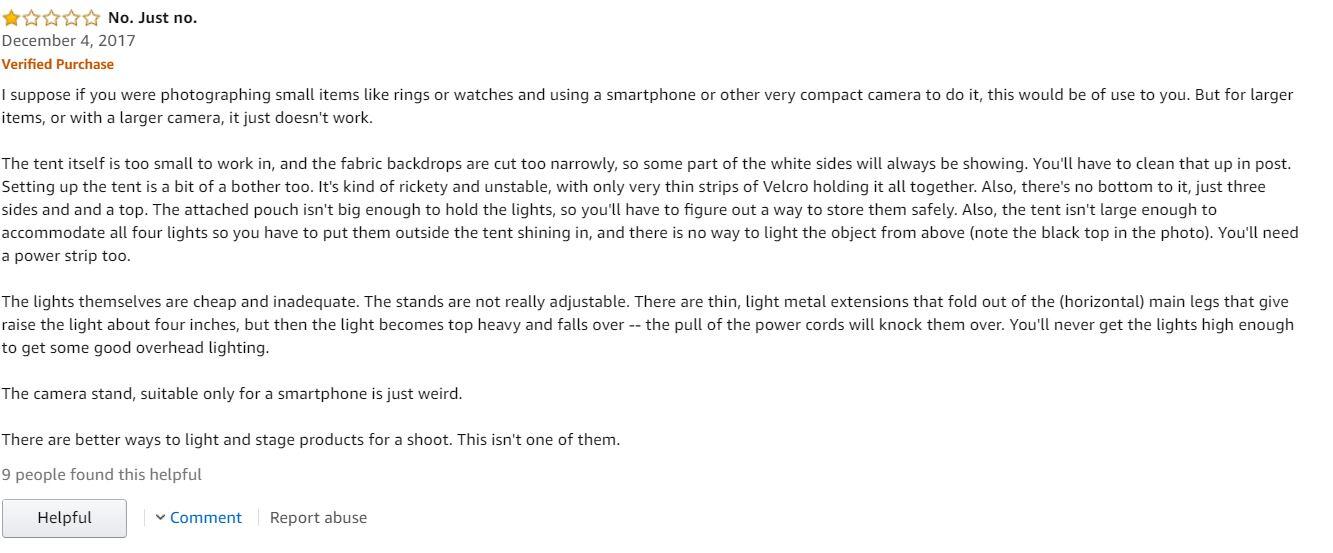 Another way to evaluate the competition
Once you've started contacting suppliers, and it looks like you'll be able to achieve your target ROI, take it one step further – consider purchasing your top competitor's product. That way, you have a physical top-selling product to compare with your own samples. Once you have your product and the top-selling product side-by-side, you can say "What I have to offer is definitely better" with certainty.
I hope this helps you figure out how to pick the best Amazon FBA products for you. If you're struggling to figure out how to sell on Amazon FBA, check out Nine University. Nine University provides the most up-to-date FBA training to students around the globe. If you want to FastTrack your path to success, check out NineUniversity.com and see how they can help you find success selling on Amazon FBA.