Klout CEO Gets Sauteed at LeWeb London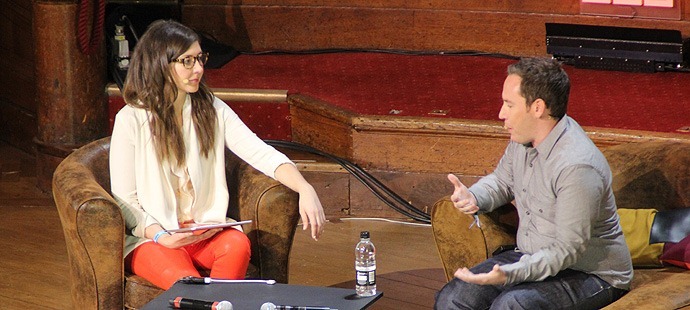 At today's LeWeb London conference, Alexia Tsotsis of TechCrunch interviewed Joe Fernandez, Co-Founder & CEO of Klout.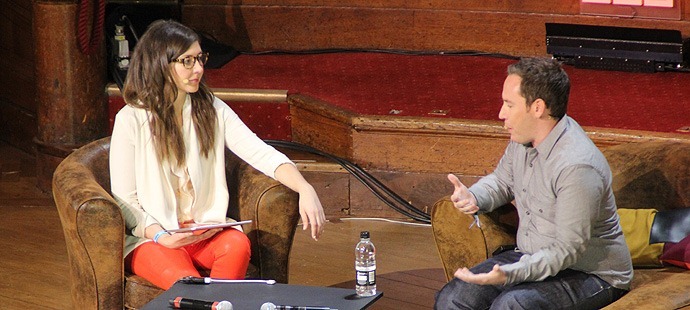 At today's LeWeb London conference, Alexia Tsotsis of TechCrunch interviewed Joe Fernandez, Co-Founder & CEO of Klout.
The company rates people's online social influence, and some real-world organizations are now using the rating to determine how to treat their customers, with perks for those with the highest status in the hope that they will praise the experience. Attendee Sertaç Doganay revealed, for example, that he had been invited to the LeWeb because of his Klout score of over 70.
Fernandez explained that the company's goal is to "help people be recognized for what they are influential about," and he claimed that it is providing a valuable service in a fast-changing world.
"Think back ten years. Competence on PC used to be a critical life skill. Then it was being comfortable on the internet. Now being effective on social media is a critical skill, and we're helping people benchmark their effectiveness".
As might have been expected from the author of an article called "Nobody Gives A Damn About Your Klout Score," Tsotsis didn't give Klout an easy ride. She subjected Fernandez to a slow roast of pointed questions that attendee Adam Tinworth called "the hardest grilling I've seen at a LeWeb conference in over five years."
The dual started with Fernandez warily circling the question about whether a Klout score actually represents anything useful. "Is it just BS?" asked Tsotsis. "Are you just a PT Barnum, with a random number?"
Fernandez replied: "I think about it like this: a Klout score is the tip of the iceberg. It's easy to understand, very consumable, but the challenge is that it doesn't tell the whole story. You also have to include what people are influential about, what geographic region, etc."
But the more Fernandez talked about the multidimensional nature of influence, the more he seemed to be saying that people shouldn't take their Klout scores too seriously, which prompted some unsolicited advice from Andrew J Scott: "Word to the wise: BEFORE going on stage make a list of questions you'd hate to be asked. Then work out how to answer them."
Tsotsis discussed the "KloutApocalypse" episode last year, when Klout made some big changes to their algorithm that appeared arbitrary to many users. This generated a lot of user anger and Tsotsis read some of the plaintive feedback out on stage. She questioned whether this power should be in the hands of a third party at all: "Isn't it way to much control over people's sense of self-worth?."
Fernandez replied he thought that it was inevitable for some third party to do it, insisting that social rating is a valuable service that requires somebody who can draw data from multiple sources. In reply to the question about power, he used a line could have come straight out of Superman movie: "We have comes great responsibility. We have to be accurate and transparent, and we need to give people appropriate controls, and we need to continue to work on that."
Tsotsis' barbs continued, delivered in a deceptively open tone of voice. The question "Who doesn't think its stupid when you +K people?" resulted in a rumble of recognition in the audience. Joe positioning the ability to give a +K as a "form of gratitude."
Several people clearly thought that Klout "had it coming" for the controversial effects they have had on social media. Jeremy Wilson: "Alexia appears to relish slowly sautéing Klout. I'd be doing the same."
I think it's fair to say that Klout didn't win the audience over, with reactions on twitter such as "before this interview, I thought Klout was bullshit. But now I think I seriously underestimated just how much bullshit."
But the audience didn't necessarily enjoy the spectacle. Brian Herron echoed other commenters with his reaction: "OUCH! She's really getting digs in. This is slightly uncomfortable to watch", and another referred to the interview as "buttock-clenchingly awkward."
Fernandez soldiered on, explaining that "the history of Klout has been me and the team maybe not being smart enough to realize how challenging it would be."
He addressed Alexia's skepticism directly: "You hate Klout. That just makes me want to work harder, to keep building. After the KloutApocalypse I was worried that people would start bailing from the team, but instead it helped us bond. We love the challenge of the naysayers."
Fernandez finished by giving hints about extensions of Klout in the future: "There are big changes coming, tying in the real world – I don't want to spoil the surprise, but we've come up with the start of an interesting way to do that."
By the end of the interview, people were clearly starting to feel sorry for Fernandez, and there were calls for "more balance." Joana Picq may have summed up the general opinion with her tweet: "Joe Fernandez of Klout lacks charisma but has a huge amount of humility to manage attacks with positive and constructive attitude."
You must log in to post a comment.