Providing excellent customer service needs to be a priority for every business. Think of your customer service department as the personality of your brand. It is also the reason why people will choose your products and services on a repeated basis. It is quite simple really, with no customers, there is no company. The path that consumers travel on to make a purchase, is called the "customer journey." It is an important part of your company's customer service experience. You want your customers to think, "Wow! That was super easy!" or "That was a great experience." A great customer journey will eliminate buyer's remorse, improve your retention rates, and eliminate any errors and complaints. Econsultancy and Adobe asked B2B companies to report on what the most exciting opportunity for growth in 2020 is and the leading answer was, "customer experience."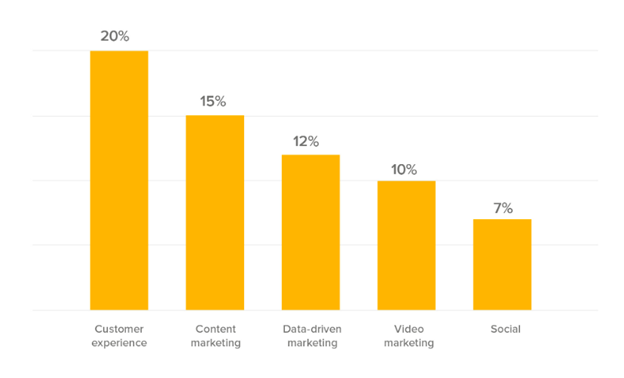 source: https://www.superoffice.com However, there are many challenges to provide the kind of customer experience that makes people want to buy from you and stay with you. This is slowly changing with the emergence of AI and big data to solve these challenges. In this post, we're going to take a closer look at AI and big data and how they can transform the customer journey.
What is AI?
AI stands for artificial intelligence. Technopedia defines it as the development of intelligent machines that have the capacity to work and react in a human manner. AI technology is currently focused on:
Speech recognition
Planning
Learning
Problem-solving
AI is important on many frontiers. It allows leaders and innovators to explore and reach new levels of competitive advantages and save cost and time for both the company and the client. AI and big data are helping large companies already in optimizing many areas with smoother delivery and improved productivity. They have also helped to upgrade the bottom line in all areas of operations, including customer service. Leaders in business perceive AI as follows:

source: https://www.memsql.com/ AI has the following benefits:

source: https://www.memsql.com/
What is Big Data?
Big data describes large amounts of structured or unstructured data that is collected by a business during daily activities. Although the amount of data is important, big data as a term is more focused on the organization of data for further analysis. This analysis is used to collect insights for the company with the aim to make better, and more strategic decisions. Big data has the following impact on savings and profits:

source: https://www.iviewsystems.com/ Businesses use big data in the following ways:

source: https://www.iviewsystems.com/ Benefits of Big Data:

source: http://www.chicagoanalyticsgroup.com/index.html
How Do AI and Big Data Help in the Customer Journey?
When a company plans the customer journey, they create an experience that ideally is unique to the brand. To successfully interact with customers or website visitors, it's important to know their intentions behind their behavior. In other words, what is your visitor trying to accomplish? Sometimes, what the visitor says and what they want are two different things. Now, with AI, companies have the power to find out the intentions of their visitors. This is a huge advancement in technology. It can be compared to a mind reader in a sense.
11 Ways to Use AI Tools That Can Help Improve the Customer Journey
Virtual assistants that automate the customer service process
Agent-facing bots for more authentic and faster interactions
Chatbots for conversational ecommerce and troubleshooting
Tools for sentiment analysis to collect information on your clients' emotional reactions
Automated routing to streamline any potential issues
Emotion AI for better customer service
AI systems for cross-selling as well as up-selling
Facial recognition to facilitate faster payments
Robotic process automation AI to reduce business response time (great for large corporations)
AI for identifying anomalies and reducing fraud
Many forward-thinking companies have already started deploying AI tools. For example, Amazon is already launching an AI system for increasing sales. In more detail, the system knows (by analyzing your buying habits) when you will be running out of a consumable product. It automatically places the order for you. AI uses machine learning to understand the data and context in order to predict (or identify) certain customer actions and questions. AI is used by companies that have recognized the value of anticipating the customers' needs, therefore reducing any additional effort from the client.
How to Integrate AI Technology Into Your Company
Attempting to develop your own AI technology from scratch can be frustrating and confusing. Choose an existing AI vendor and consult with them to identify the areas where AI can begin helping you optimize the customer's journey. There are a lot of benefits of using AI to improve customer experience. It can help you with the following:
Smart email suggestions
Social media automated responses (chatbots)
Auto-ticket creation based on conversations for a quick resolution to an issue
Automated routing and resource management
Chatbot commerce
Smart bots for common FAQs
Smart bots that can remember users and continue conversations with them in a natural manner
What Are Some Big Data Tools That Can Help Improve the Customer Journey?
Analytics is the answer here. Big data has the power to transform the relationship between a customer and a company. When big data is used responsibly, it helps a company to see the experience from the customer's point of view, leading to a better understanding of customers and their needs. This process minimizes any gaps that can disconnect the customer from the customer journey. The ultimate results of responsibly using big data is better engagement, personalized targeting, and clear communication. Big data can have a positive impact on your company. For example, if the customer journey is cleaner and optimized, then your company will experience:
Less complaints
Fewer calls
Better ROI on marketing activities
Stronger loyalty
More sales
Prediction of future trends
Conclusion
AI and big data are at the forefront of technology now. They are already predicting trends and can help improve everything from customer experiences to medical research. The big takeaways are that AI and big data will help companies:
Engage with their customers better, and guide those customers to take the steps needed to complete transactions faster and more efficiently.
Be available for communication 24/7 via AI chatbots that can recognize a returning client and carry out natural conversations.
Find pain points in the customer journey, fix them, and create a cleaner online atmosphere for faster transactions.
Automate and personalize the customer experience, again facilitating better customer experiences, and quicker conversions.
Are you using AI and big data in your customer journey? Share your experiences and insights with us in the comments.