Data analytics is revolutionizing the future of ecommerce. A growing number of ecommerce platforms have expressed the benefits of data analytics technology and incorporated them into their solutions.
How much of a role will big data play in ecommerce? Experts forecast that ecommerce providers will spend $6.2 billion on big data by 2025. This is a 150% increase over a seven-year period.
But how should ecommerce platforms use big data effectively? You can learn more below.
Essential Benefits of Big Data in Ecommerce Applications
Forrester estimates that in the US, B2B eCommerce will reach $1.8 trillion by 2023 and constitute 17% of all B2B sales. This year, B2B eCommerce is expected to double the value of B2C eCommerce.
With so much at stake, it's surprising that many B2B sellers are slow adding an online sales channel. One barrier to entry has been the inability of the most common B2C eCommerce platforms to handle the complexities of B2B selling. Picking the right eCommerce solution is mission-critical.
To help decide what solution will work best for you, we've put together the information you need to create a user-friendly online experience that works for you and your customers.
Why the Solution You Use Matters
B2B companies have been on the internet for years. Early adopters published websites with company information and the forward thinkers had portals for customers to check on orders and interact with their sales rep. But in 2020, it's not enough to just be on the internet or provide a way for customers to check on orders.
Today's buyers are looking for the immersive experience they get from B2C websites in addition to the functionality they require as a business buyer. That's a tall order and the solution you pick must deliver.
Your eCommerce solution must provide B2B functions, such as user-based permissions and automated RFQ processes, as well as a frictionless customer experience that's completely personalized. In 2020, you can't rely on products and prices, you must provide a great customer experience as well. Otherwise, you might as well have a circa 2005 static website.
And the solution you adopt must have a back-end that's as user friendly and mobile-responsive as the front-end.

The flexibility of the solution also matters, as if you are selling auto parts and accessories, for example, you should either go for an auto parts eCommerce platform specifically tailored to your industry or choose a more versatile solution that can be easily customized to your specific needs.
What to Look for in a Solution
While every business has different needs, the solution you pick must cover the B2B basics. Stay away from B2C solutions that are repurposed for B2B. They will require workarounds and extensive customization to handle the requirements of B2B. When identifying the solutions to research in-depth, look for these bare minimums:
Responsive design
There are over 3 billion smartphones in the world. In the US, adults spend almost 3 hours on their smartphones each day. And you know they aren't making calls. They're doing product research, reading reviews, and looking for solutions to their problems. Make sure the solution renders on all mobile devices such as phones, tablets, and phablets.
If you don't provide a responsive experience, you won't even make it on the search radar. Google uses responsive design as a strong indicator in search rankings.
Ability to handle multimedia
Product descriptions and pictures are great, but today's customer wants more. They want to watch videos too. The platform must handle audio and video as well as serving up high-resolution graphics and downloadable PDFs.
Rich customer experience
This infographic says it all.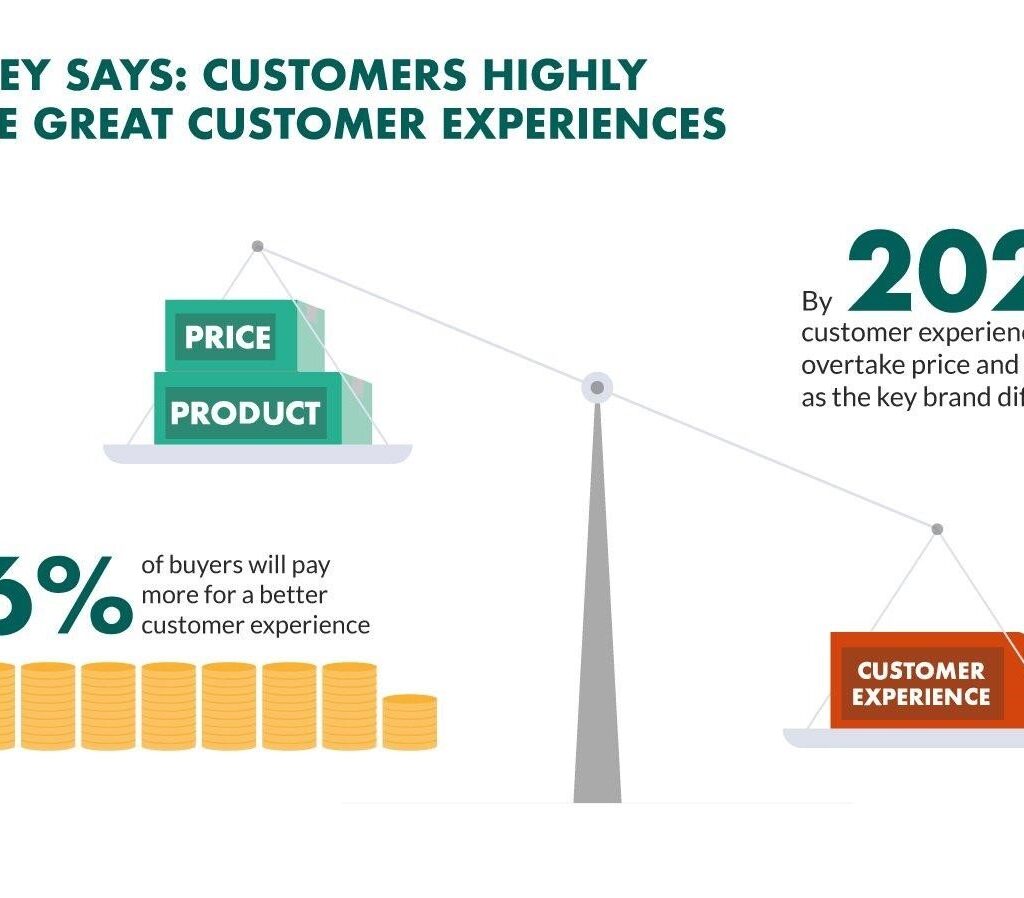 Customers value a better customer experience so much they are willing to pay a premium for it. And customer experience is now more important than your product or your price.
What makes a great customer experience? Ask your customers! Most want a self-serve model that allows them to find all the information they need to make a purchase decision. Make sure customers can access their account information (such as orders) and even define their own user roles. Look for support for online chat or AI-powered chatbots.
Custom product catalogs
Business buyers tend to purchase the same products over and over again. Create custom catalogs with the products they want to buy at their individually negotiated prices and quantities. This custom catalog functionality should be augmented with upselling and cross-selling capabilities to maximize order value and revenue.
Robust pricing engine
Your solution should include a robust pricing engine to ensure that every order is priced properly. A pricing engine can apply algorithms populated with user data to automatically price according to the customer, item, and quantity.
Automated RFQ and QTC processes
If you want to convert searchers to new customers, you must offer an automated RFQ and QTC processes. Part of that great customer experience is the ability to access information. Combine a robust pricing engine with a digital RFQ or QTC process and you can automate for almost instant response to inquiries. This functionality not only will reduce manual calculation errors, but it will provide valuable data for business analysis.
Types of B2B eCommerce solutions
When you start researching solutions, you'll find they fall into two broad categories: SaaS and open source.
SaaS
Software as a Solution (SaaS) products are often referred to as cloud-based solutions. The licensing agreement is similar to a lease. You don't install the software; it resides on the licensing company's servers. You access the application and data via the internet using any popular browser. The licensing company performs all updates and provides security. This arrangement makes maintenance easier, but it limits the customizations you can perform because the code itself can't be accessed or edited.
The amount you pay for a SaaS eCommerce platform may depend on the number of users, the amount of data you need to store, and how many transactions occur on a monthly or yearly basis.
These solutions usually integrate well within a family of solutions (such as SalesForce or NetSuite) but may not integrate well with other ERPs, PIMs, WMSs, or other common business applications.
Open Source
Open-source software allows anyone to view and change the code. So, if you need a functionality that doesn't come out of the box, you can build it yourself or if someone else has already built it you can install it as an add-on or widget. OroCommerce and Magento are examples of open-source software.
You need to either host the application on your own servers or pay someone to host the application and your data. You'll also need to provide application and data security. However, when it comes to security, open-source code has an advantage over SaaS. Because the code is open for view, users in the community are usually quick to find and fix flaws and notify other community members.
The amount you pay for open source code can range from free to a yearly license fee.
Because the code is available for view, these solutions usually have a wide array of APIs to integrate with common ERPs, PIMs WMSs, and other business solutions.
Factors to Consider
Once you've decided whether you want to use a SaaS or open-source product you need to start evaluating your options against your needs. Map out the customer experience you want to provide and then identify the functionality you'll need to provide that experience well. Now consider the following factors:
What comes out of the box?
Once you have a feeling for the functionality you need, see how much will come out of the box. All software will require some degree of customization, but to control costs and speed time to ROI you want to minimize the amount of customization that's necessary. SaaS solutions may get you up and running faster but may be more limited in their functionality. And with SaaS, if it doesn't come out of the box, adding it on may be difficult or impossible.
How easy is it to customize?
Open source code is going to give you to most creative freedom in designing your site. But with all that freedom comes responsibility. If you don't have in-house IT talent that's up to the job, you may need to contract with a partner to have the work done.
If your business model is unique or you need maximum flexibility, make sure your solution is easily customizable.
What About Data Security or Regulatory Compliance?
Gathering data on users and processing payments requires attention to security and compliance. For example, GDPR and CCPA require companies to take specific actions to secure permission to collect data and the protection of data collected. Run afoul of these types of regulations and incur hefty fines.
Payment processing requires several layers of security and PCI compliance in addition to data security. No matter what country you are in and what payment options you will offer, you need to ensure that the solution you select will keep you in compliance. For the most part, SaaS providers take care of data security and regulatory compliance for you. With open source solutions, you'll need to ask.
What is the Ecosystem?
The ecosystem refers to the community and support available to you. Is paid support available? Is all support paid support?
How many partners are available to help you get up and running? Are there themes, plug-ins, and add-ons available if you need them?
What is the size of the user community?
The answers to these questions will give you an idea of the size of the solution's ecosystem and where you may be able to find help when you need it. The ecosystem for an open-source solution may be larger, but a SaaS solution may provide more extensive paid support.
Integration
How well the solution integrates with your existing architecture is important. You don't want to end up manually entering orders into your ERP or WMS. If you use a PIM, it's important that this data flow freely into your website.
Data drives decisions, and you've got to have reliable data. That's only going to happen when your eCommerce solution integrates with your other back-end applications.
Costs
There's more to the total cost of ownership than the cost of licensing. Remember to consider costs associated with implementation, consultants, maintenance, hosting, and data security costs. Then consider costs to upgrade and update too. Costs can vary depending on the number of transactions or the number of SKUs in your database. Make sure you understand the total of all costs.
Selecting the Right Solution
Picking the right eCommerce solution takes time. You've got to understand what experience you want to offer your customers and what technology it will take to make it possible.
It's better to measure solutions against a yardstick of your business needs than to use the solution as the yardstick and measure against your needs.