Did you know that the market for financial analytics services is worth over $25 billion? This figure is growing every year, as more financial organizations are discovering the benefits data analytics technology offers.
Data analytics has become a crucial part of the modern financial industry. Financial professionals are using data analytics tools to make more informed decisions.
However, financial executives aren't the only ones leveraging data to improve their financial decision-making. Many individual traders are also finding ways to take advantage of financial analytics to get a higher ROI from their investing decisions.
We recently interviewed a trader that uses financial analytics to make better trading decisions. They have been a successful algorithmic trader for the past 17 months. This trader never imagined that their life would be completely transformed by becoming an algorithmic trader. They had to learn about the nuances of data analytics to get the highest ROI from their trades.
This trader wanted to share how they became a successful investor and how anyone can do the same if they dedicate themselves to being a successful algorithmic trader by making the most of data analytics.
What is algorithmic trading and what role does data analytics play?
Multiple commodities and financial instruments are traded on financial platforms every moment of the day. This is one of the reasons that the market is considered to be highly efficient.
Traders make money by betting on how prices move in these markets. But traders often fall prey to their psychology and fail to stick with their strategy. To overcome this, traders can use trading bots to execute algorithmic (rule-based) strategies. This ensures that they stick with their strategies and generate consistent profits. This automated trading with rule-based trading bots is algorithmic trading.
This wouldn't have been possible without data analytics. These bots use historic data to get a better understanding of the behavior of the markets. They rely on complex AI algorithms that can employ technical analysis principles, as well as other factors that influence the direction of financial markets.
Can analytics-driven bots help make up for the lack of a strategy?
When the trader we interviewed started out, they were new to the whole trading world. Josh was their only guide and they did not have sufficient knowledge to navigate the markets. Josh knew this and suggested their protégé try algorithmic trading with existing robot traders. He also uses such robots frequently, even though he is an experienced trader.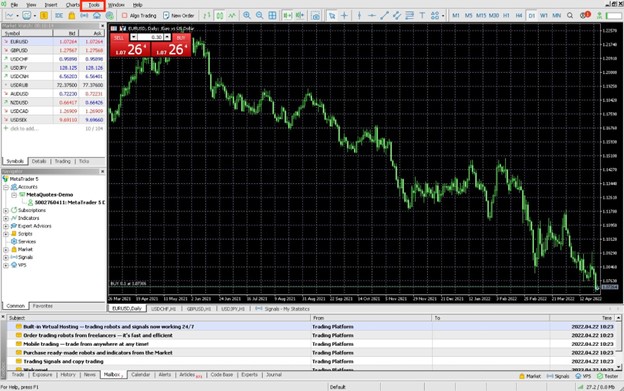 The truth is that these robots help both experienced and novice traders make more profitable decisions. They can automate their trades and use historical data to identify the best times to place them and the best securities to buy and sell.
How do data-savvy investors take advantage of these trading bots?
First, you need to enable algorithmic trading on MetaTrader 5. For that, click on Tools in the menu bar and click Options. In the pop-up window, choose the Expert Advisors tab. Click the checkbox against Allow algorithmic trading and choose the sub-options as per your needs. This enables algorithmic trading for your account. The trader we spoke did the same when they were setting up my account. In MetaTrader 5, algorithmic trading robots are called Expert Advisors.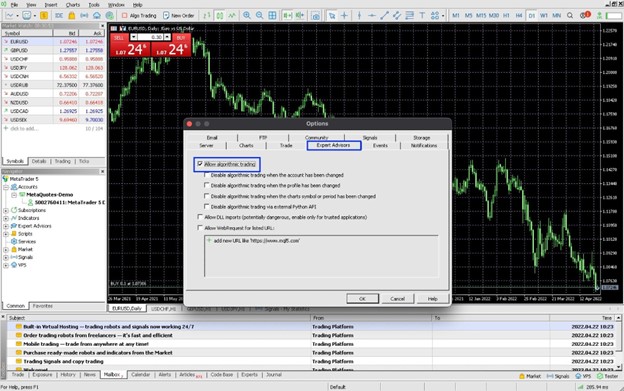 Once that was set up, the trader went to the MQL5 Marketplace to look for a suitable algorithmic trading bot. Clicking on Experts in the sidebar, under MetaTrader 5, lists out all expert advisors sorted according to popularity. Since the trader was just starting out, they opted only for free expert advisors by clicking the Free tab. You can choose any of the free or paid expert advisors after reading the description and other information provided. You can also sort expert advisors according to type by selecting the appropriate ones in the left sidebar.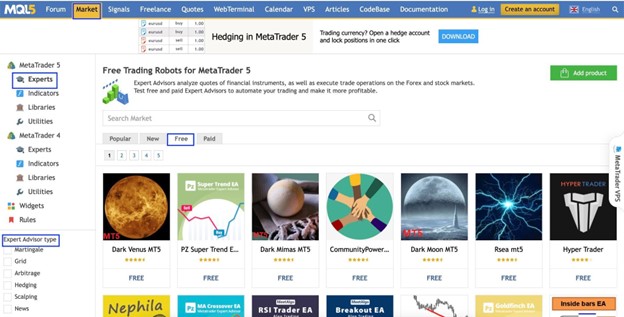 You can use the web portal to browse the various expert advisors in detail and at leisure. But you can do the same from the MetaTrader 5 terminal itself. Click on Tools in the menu bar and click on MQL5 Market. You can choose any of the expert advisors and read the overview, screenshots, and reviews. You can also download it from the terminal. You just need to have a registered account to download any application. There is also an option to get developers to develop custom trading bots to suit your needs. This can be done by creating an order in the freelance section of the MQL5.community. Let us see how to use Dark Venus MT5, a free algorithmic trading bot, for a demonstration.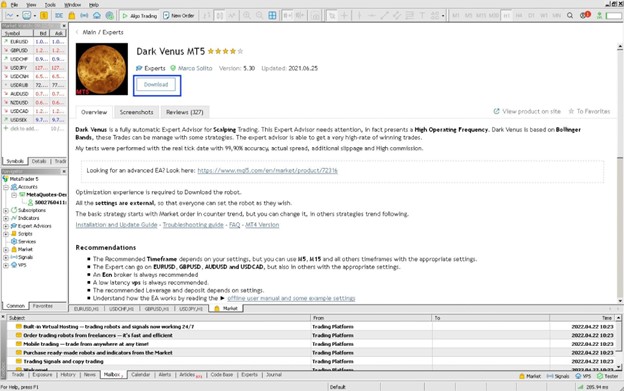 Testing the bot
You can test any trading bot downloaded from the platform with a demo account. You need not put any money down to test the strategies. There's also the option to test even the paid bots before you make a purchase decision. You can select the trading bot you downloaded from the left sidebar of the terminal, in the Navigator section.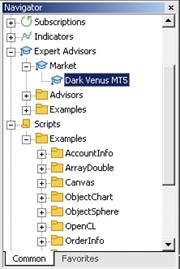 Right click on the bot and click on the Test option to start testing. You can vary the different variables and parameters on the strategy tester. Click Start to test the bot. You can choose to backtest the chosen strategy with historical data. If your desktop is not capable of testing or you want to free up processing power, you can test the strategy using MQL5 Сloud Network.

Once you are The expert advisor will start algorithmic trading on your behalf with the instrument of your choice. The profit/loss of the trades will be displayed on the chart you selected. You can stop the bot and take profits when you feel like it. You are in complete control of the instruments the bot trades on, when to trade, how long to trade, and when to take profit or loss.
Data Analytics Creates Great Opportunities for Traders to Maximize their Profits
There are a lot of compelling reasons to use data analytics when you are investing in the stock market. A number of data-driven tools help investors make the most of their trading strategy.
The trader we interviewed started algorithmic trading when they were a novice with markets. Now they have learnt and understood a great deal about the various markets across the world. With that insight they choose appropriate algorithmic trading bots (expert advisors) for various markets. The trader choose from the various expert advisors in the MQL5 marketplace. Sometimes, they create custom bots using the freelance feature of the platform. With these in place, they are consistently earning mid 5-figures every month. My aim is to increase that to a 6-figure monthly income within another year.
For you, it is easy to start algorithmic trading today. But what generates consistent profits is sticking to trading with the conviction to stay the course. If you get disheartened by short-term losses, you will lose out on future profits. Algorithmic trading eventually works with persistence and perseverance.