A robust Artificial Intelligence or AI-based virtual assistant can supercharge your lead conversion process and optimize your marketing and sales teams' performance.

Conversica is one such solution, providing Intelligent Virtual Assistants (IVA) for customer engagement that help companies attract, obtain, and grow a customer base at scale.
However, while Conversica offers excellent AI assistant features and functionalities, there are pros and cons to using the solution that might not fully address your marketing team's needs.
If you're looking for other AI conversational marketing platforms besides Conversica, then this guide is for you.

Read on to know more about two Conversica alternatives: Exceed.ai and Drift and how they work to help you assess which one best suits your marketing team's needs with AI.
Exceed.ai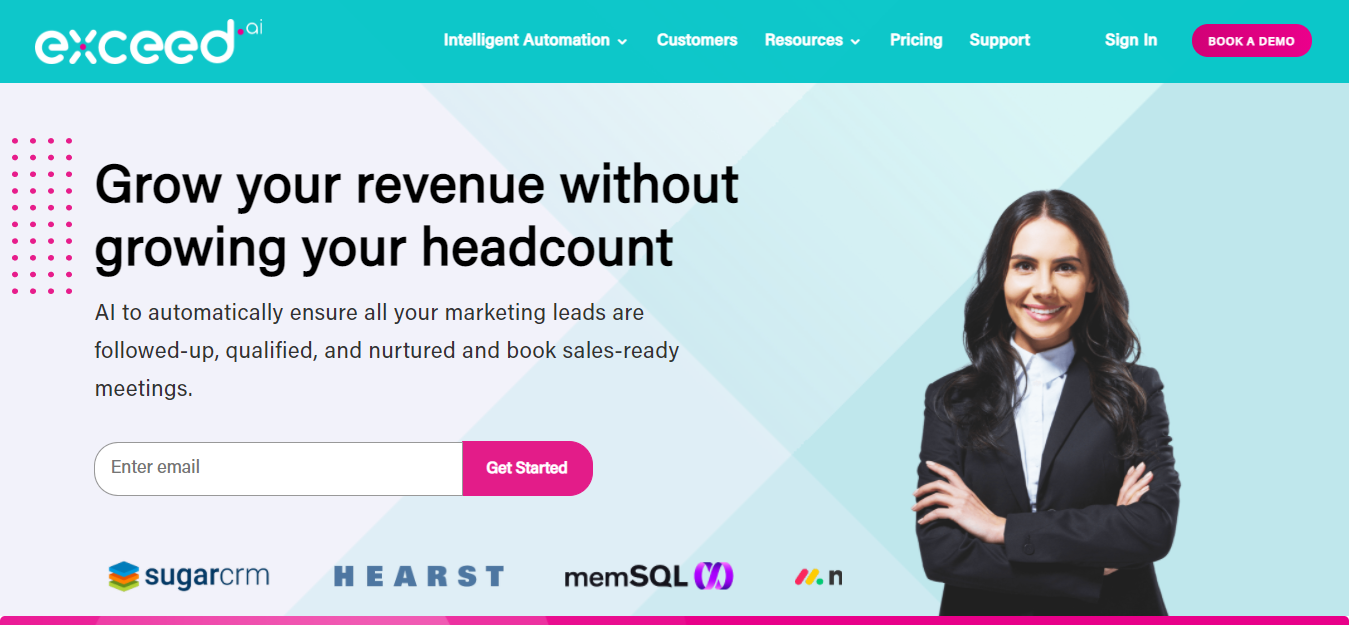 Exceed.ai is an AI-based conversational marketing platform and virtual assistant that helps sales and marketing teams move leads through the pipeline.

Exceed.ai's AI assistant works 24/7. It operates along with your human marketers and sales reps to engage, nurture, and qualify your leads through two-way conversations via website chat and email.
Once the AI assistant qualifies your leads, it then hands off the prospects to your team members by automatically booking appointments with sales reps based on their availability to close the sale.
The AI assistant does the heavy lifting for your marketing team by:
Using the chatbot to acquire more leads
Following up with your leads through automated emails
Putting your qualifying and meeting scheduling tasks and workflows on autopilot
Optimizing your lead engagement via insights and robust testing tools
The AI assistant gathers lead information for your Customer Relationship Management (CRM) and marketing automation platform throughout the conversations.
It can automatically update data such as the status of newly-qualified leads and when prospects leave the company, change jobs, or ask to be contacted later.
How Exceed.ai works
Exceed.ai's AI assistant for marketing works by seamlessly integrating with your marketing databases and platforms, such as Salesforce, Marketo, and HubSpot. Then, it automatically engages your leads using human-like conversations.
The AI assistant understands lead responses when they have queries, objections, or show interest (among others) and delivers personalized, contextual, and automated follow-ups and replies.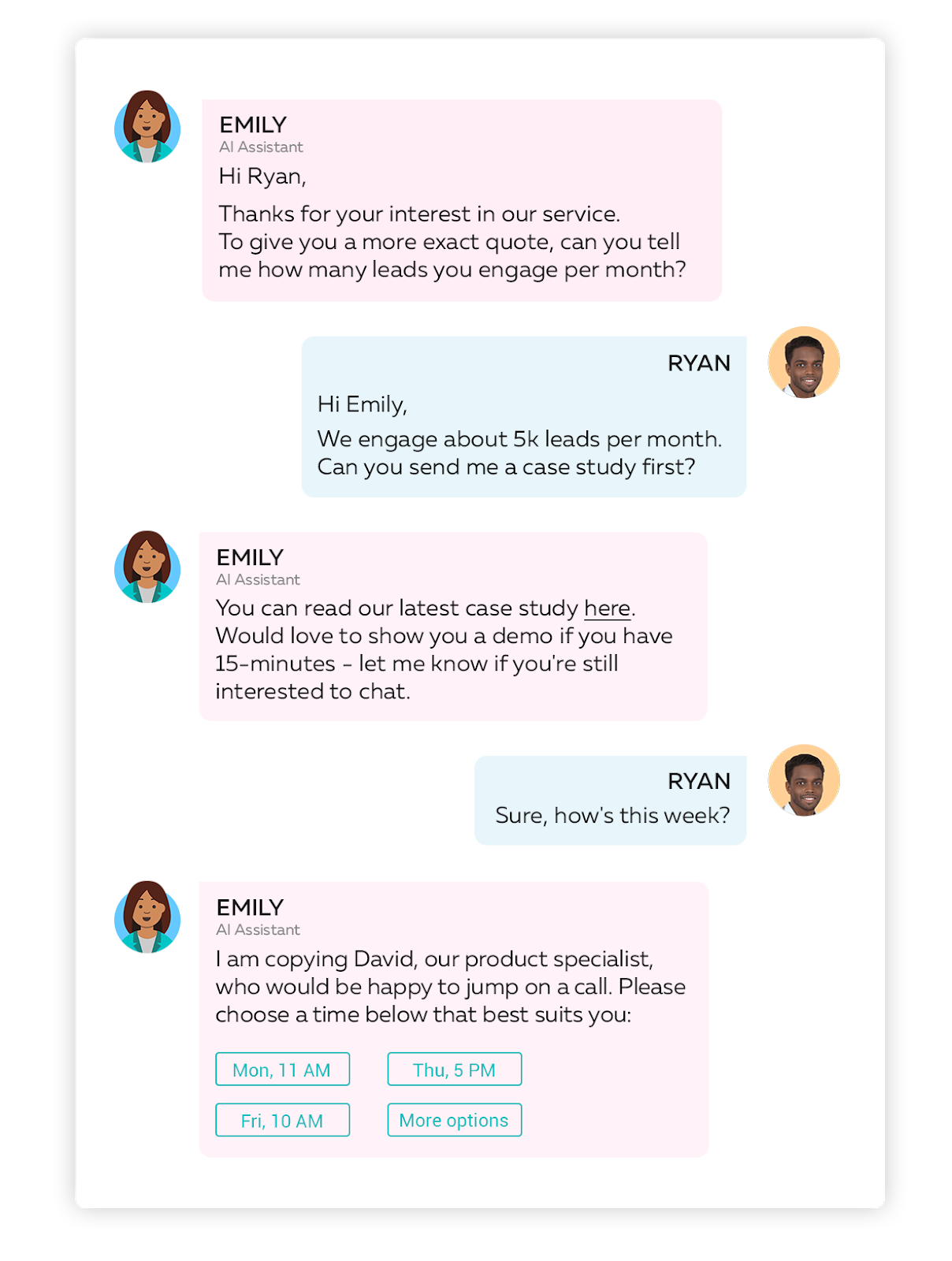 The Exceed.ai virtual assistant qualifies your leads by asking a set of qualifying questions based on the criteria you configure.
Once your prospects become sales-ready, the AI assistant automatically schedules meetings with your sales reps.
With Exceed.ai's conversational marketing AI assistant, you get the tools and features to help turn more of your leads into paying customers.
Exceed.ai also offers unique features, including tools and functionalities that let you:
Enrich your contact data
Customize your email copy
Obtain leads through a chatbot
Deliver persona-based conversations
Build unique playbooks (or campaigns) known as Sequences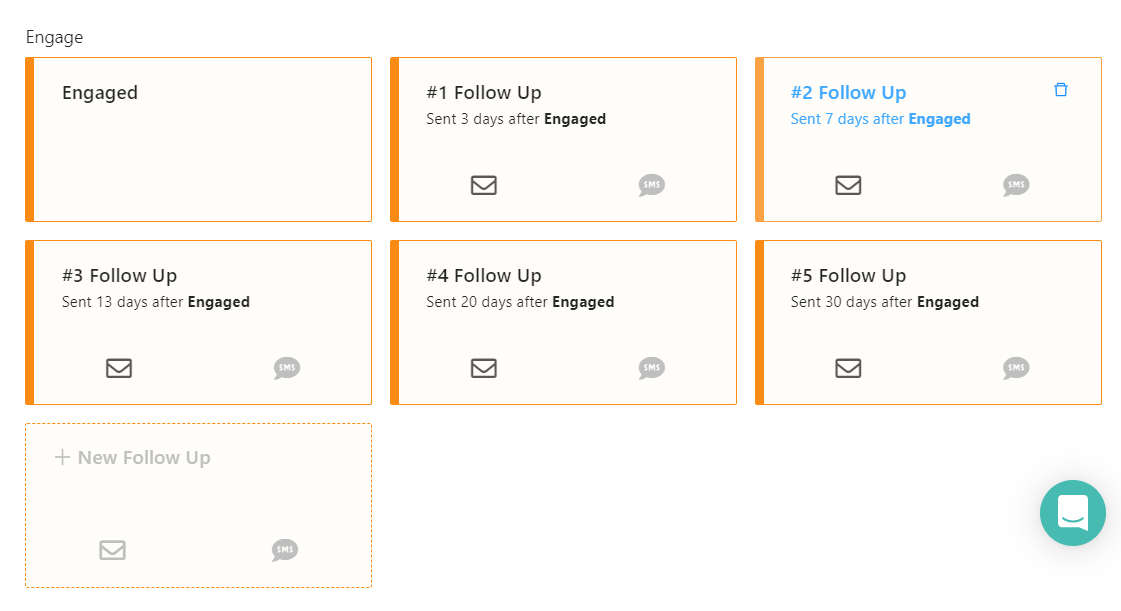 Exceed.ai is highly scalable and flexible, allowing you to apply it to various and unlimited use cases. You also get full control of your email and chat sequences and copy to optimize your pipeline.
Pros
Some of the benefits of using Exceed.ai over other competitors and similar tools include:
A website chatbot or live chat
Automatic calendar scheduling
Offers a cost-efficient solution through a suite of services, from chatbots to email follow-ups that you'll need to buy separately with other AI assistant solutions.
Extensive integrations, including HubSpot, Salesforce, Slack, and Marketo (among others).
Cons
Like any software, there can be a few hiccups using Exceed.ai, but the platform's benefits far outweigh the disadvantages. Some of the cons of using the solution are:
The setup process requires a bit of diligence since Exceed's system is highly flexible. Adding new objection handling capabilities requires collecting data which takes some time, but it works like a charm as soon as you get it up and running.
A few bugs, but according to several users on G2.com, the Exceed.ai team was quick to respond and fix the issues.
Drift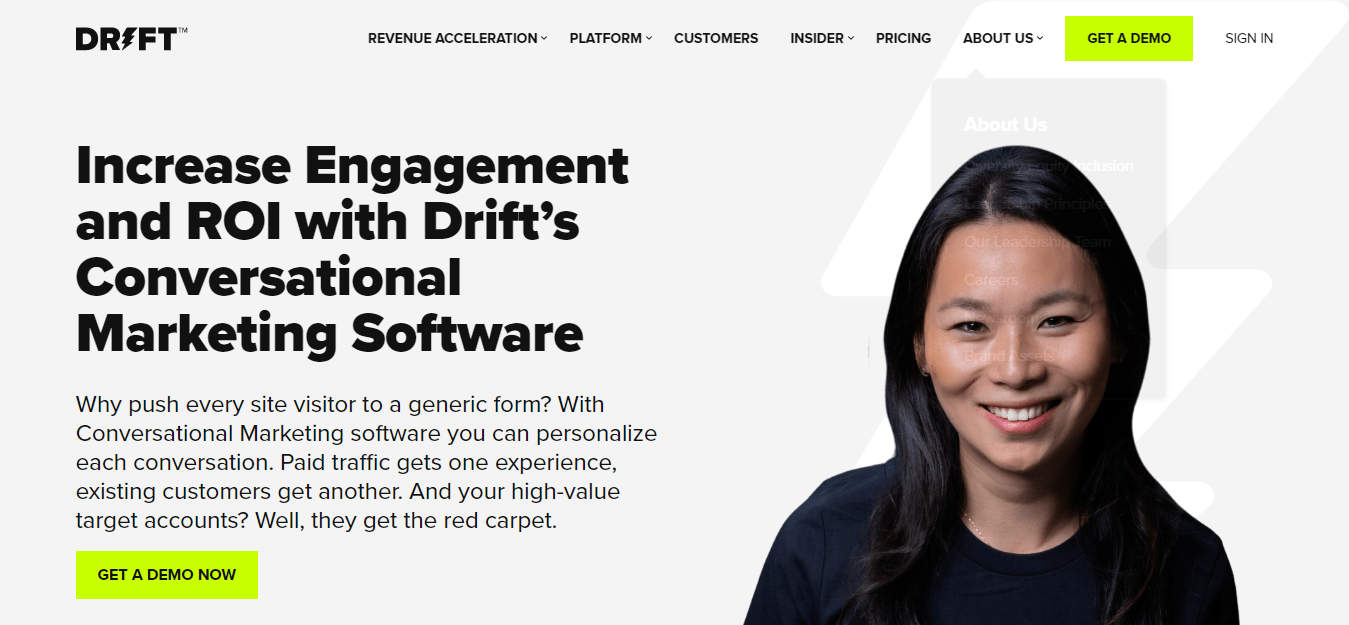 Drift is a cloud-based solution that helps automate sales and marketing processes by letting you add chat windows to your website to improve the customer experience and increase loyalty.
Drift facilitates seamless and real-time conversations with your website visitors to help you generate leads and increase your marketing and sales opportunities.
The solution offers several features, including AI chatbots and virtual selling assistants that help streamline and automate your lead conversion and sales and marketing processes.
How Drift works
Drift's AI chatbots simulate the performance and behavior of your best Sales Development Representatives (SDRs) at a scale. This allows you to engage and qualify your website visitors, regardless of when they land on your site.
The automated chatbot engages and qualifies your leads in real time. This ensures you provide ready engagement and interactions whenever convenient for your leads, speeding up your deal cycle.
The conversational AI is trained on around 6 billion conversations, allowing it to identify patterns that can engage and convert your site visitors into your qualified pipeline.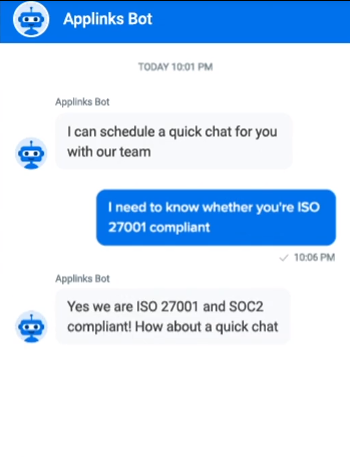 It answers customer queries promptly and appropriately, learning from past conversations over time to determine what works and doesn't work. This helps you adjust your marketing and sales messaging, strategies, and assets.
Instead of hiring more marketing team members and SDRs, you get Drift's engagement and qualification technology.
The AI chatbot hands over your highly qualified website visitors to your account executives, allowing them to convert leads into your pipeline and close sales faster, accelerating your revenue.
Drift's virtual selling assistants can engage your website visitors using human-interactions and conversation to identify qualified and sales-ready leads.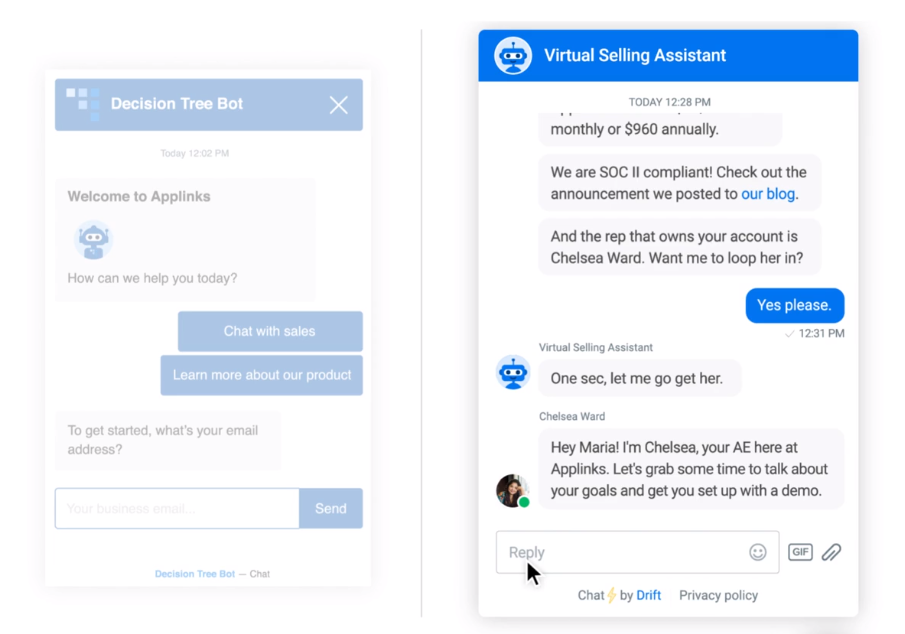 Drift's virtual selling assistant allows your teams to focus less on tedious, repetitive tasks and direct their attention to your more relevant and profitable prospects and revenue-generating work, increasing your closed-won opportunities.
Other Drift features include:
Third-party integrations such as Pardot, Google Analytics, Outreach, and other platforms and software.
Mobile versions of the app for iOS and Android, allowing your teams to manage business activities remotely.
Provides support through an online helpdesk and documentation.
With Drift's AI chatbot and virtual selling assistant, you can engage more potential customers, get higher quality leads, improve sales productivity, and quicker time to revenue.
Pros
Several benefits of Drift include:
A simple enough process of building your chat flow once you get the hang of it, allowing you to "create" new chatbots quickly.
The features and setup aren't too overwhelming. You get the features you want depending on your needs.
Provides a simple chat window that catches people's attention that helps with lead engagement.
Cons
Below are a few disadvantages of using Drift.
The User Interface (UI) can seem over-simplistic, making it challenging to find the tools and features you need efficiently.
The pricing structure gets overly complex, making it difficult to determine the exact amount you pay to get your desired set of features.
The final verdict
Overall, Exceed.ai takes the cake as a better alternative than Conversica because it offers a more robust solution and AI assistant for sales and marketing teams.
Functionalities, features, and cost-wise, Exceed.ai can exceed your expectations when improving the lead engagement, nurturing, and qualifying process and optimizing your pipeline using AI-based solutions.