The global cryptocurrency community has been abuzz with rumors regarding popular messaging app Telegram's $1.2 billion Initial Coin Offering (ICO). The leaked white paper discusses Telegram's plans to build a decentralized ecosystem, spearhead several new Blockchain services and launch Telegram Open Network (TON) with its own cryptocurrency called Gram.
For Blockchain enthusiasts, it is important to understand the objective of the ICO, which sounds similar to the Initial Public Offering or the IPO.
ICO VS IPO
ICO
An ICO (known as Initial coin offering) is an offering where a company sells cryptocurrency tokens to the public with an objective of gaining capital or meeting a wide range of business objectives. In return, the investor receives digital currency tokens that can be used on the platform.
ICOs release a white paper as well as a breakdown of token cost, outline the needs of the project, and digital tokens the sale aims to raise.
IPO
Initial Public Offering (IPO) process lets companies sell securities to the public for the first time. For IPO, the company hires investment banks, known as underwriters who work and collaborate with the company to gain understanding of how much IPO will raise and types of securities that will be sold.
The investment banks develop a prospectus outlining business description, ownership structure, financial documents, and strategic initiatives. The stocks obtained via an IPO signify an ownership stake.
Telegram ICO: Next Wave for Decentralized Economy
The bitcoin market is growing at a remarkable pace. Many bitcoin users are insisting that the market change to reflect their needs. A growing number of people feel that new bitcoin exchanges should be developed to create a more fragmented industry. This will help serve different customer groups based on their financial needs and the level of scrutiny they are willing to tolerate.
New guides are available that teach how to create your own bitcoin exchange. This is shaping the future of the cryptocurrency industry in fascinating ways. Telegram is one of the newest and most compelling examples. The introduction of Telegram is making the industry more decentralized, which will be ideal for people that feel free market solutions will be beneficial for the future of the cryptocurrency market.
It was speculated extensively in January that Telegram is looking to raise $500 million in a pre-ICO sale and an additional $500 million in the actual ICO, making it the largest crypto ICO to date. With the leaked documents, it looks like Telegram is all geared up to build its own Blockchain platform.
A document submitted to SEC recently states that money was raised for TON Blockchain development as well as maintenance of Telegram Messenger. With this SEC filing, it is clear that Telegram's billion-dollar ICO has already reached its first phase with an initial $850 million.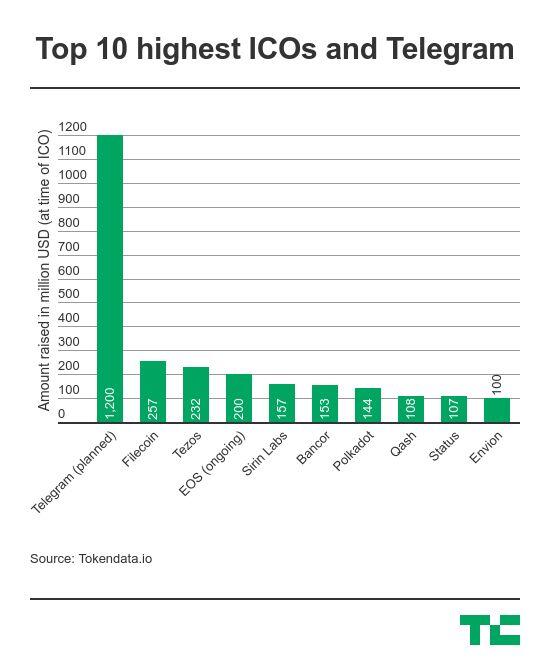 Here are the ways this ICO might change the crypto world.
Cryptocurrency for the masses: Telegram aspires to create a standard cryptocurrency which can be used by people in day-to-day life. This could replace VISA or Mastercard.
Enhance transaction speed and lower costs: Telegram promises speed and scalability for processing millions of transactions per second.
Gateway to decentralized apps and services: Telegram aspires to open up blockchain-based projects for the masses via the Google Play and the Apple App Store.
Telegram ICO: Hype or Reality?
With a loyal community of more than 200 million users sending billions of messages across the globe, Telegram has the capability to drive enormous traffic to their ICO. TON services will be unveiled in 2019 but Telegram is still to develop the technology behind it.
In its whitepaper, Telegram said the funds raised will be directed towards paying salaries, infrastructure and legal fees that will be directed towards the growth of existing Telegram services. Undoubtedly, Telegram will bank on its team's extensive experience in building user-friendly interfaces to create decentralized Blockchain platform.
Will their wallet become the world's most widely used cryptocurrency wallet, or is this ICO just another way of monetization? Only time will tell.