Artificial intelligence is radically changing the future of many businesses. They are using machine learning to solve a number of complex problems. However, it is important to make sure that you understand the potential role of AI and what business model to build around it.
The market for AI is projected to reach $267 billion in the next six years due to the countless benefits it provides. However, even the most brilliant idea built around AI technology can fail without a proper business model. It explains how the company creates value for itself while using AI to deliver products or services for customers. Without a good business model, you won't understand customer needs and how to build your startup. Not even the most sophisticated AI technology can make up for a subpar business model.
Every entrepreneur chooses a different model of how they make money depending on their goals. Let's consider the most popular business models for your startups, how to pick up the best one and incorporate AI into it.
Things to Know Before Choosing a Business Model for Your AI-Driven Startup
A startup business model is your blueprint for generating a profit. It includes information about the company's products or services, target audience, and any additional expenses you may face.
The business plan answers the following questions:
What value do you create for your customers? Some companies might be able to use AI to automate many of their services, while others require more active involvement and use AI to increase the value of their services.
How can you deliver this value?
How will you make money? Some monetization options can use AI maximize revenue through scalability, such as increasing traffic to websites monetized with ecommerce or advertising. Others need to use AI to improve the quality of the services that they provide.
It should be noticed that the business model is different from the revenue model, which explains how the company will generate revenue. You may have multiple income channels but typically has one business plan. You need to know what role AI will play.
For instance, Facebook lets people communicate with each other and collaborate with advertisers — it's a business model. Selling ads is a revenue model. The social media site uses AI to deliver ads to the most targeted customers and charge more per click.
Or take other examples. UberEats takes the order from customers and provides the delivery. Uber charges a fee and gives the rest to the restaurant — it's a business model. Collecting a fee for delivering the food — revenue model. AI helps them determine the best pricing based on population density, local income and other factors.
Even the most popular 'Uber for X' model (where X – any deliverable service) won't work for each company.
You have to think of the following things before choosing the business model for your AI-driven startup:
Target market
Potential customers
Competitors
Sources of income
Let's consider them in detail.
Target Market
After you've come up with a luminous idea, don't start to build your product right away, ask yourself: who are you creating the product/service for?
For example, Uber was founded on the idea of cheap and quality taxi service, while taxi markets in different countries provide high prices service and pay little attention to the customer. That allowed Uber to keep ahead of the competition and get more customers.
Moreover, moving from point A to point B is an ongoing need. People fell in love with the service and kept coming.
The more users Uber grabbed; the better service became. For example, the company gathers information from both riders and drivers to simplify payments for drivers, prevent fraudulent activity, and fix user bugs.
Potential Customers
Firstly, you have to make a customer profile to understand who will use your product or service. It's better to research to figure out the problem you want to solve with your product or service. There's no sense in solving unexisting problems or setting a high price that your audience won't afford.
Same thing if there's a good copy that people are satisfied with, and they won't just use your product or service.
For instance, before UberEats, people had to cook at home or eat at a restaurant. Now they have a chance to save time and energy with food delivery service. Moreover, not all restaurants have couriers.
So potential customers of food marketplaces are:
Time-pressured people
Parents
Tech-savvy millennials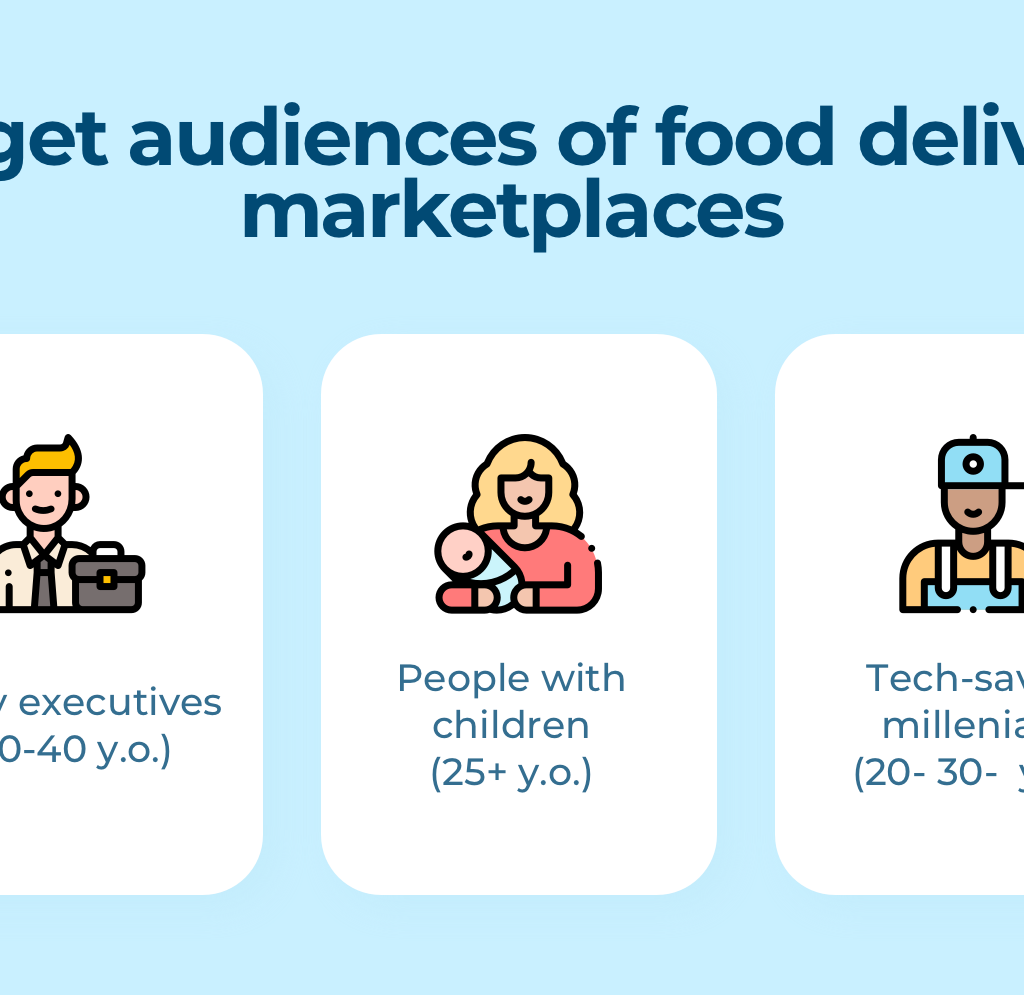 These people are too busy to cook or eat out, so it's much better for them to use food delivery service.
Competitors
Most likely, you already have competitors. Your task is to figure out who they are, what they're doing well, and what's most important — what they're doing wrong.
The best way to overtake competitors and drive user acquisition is to provide high-quality service. The more clients you have, the better service you should deliver.
Revenue Streams
Your big idea is already a source of revenue. If it's a video-sharing platform, you get money from advertisers. If it's a marketplace, you charge a fee from sellers.
Amazon is a good example of several revenue streams. The company has online stores, physical stores, a subscription service, AWS.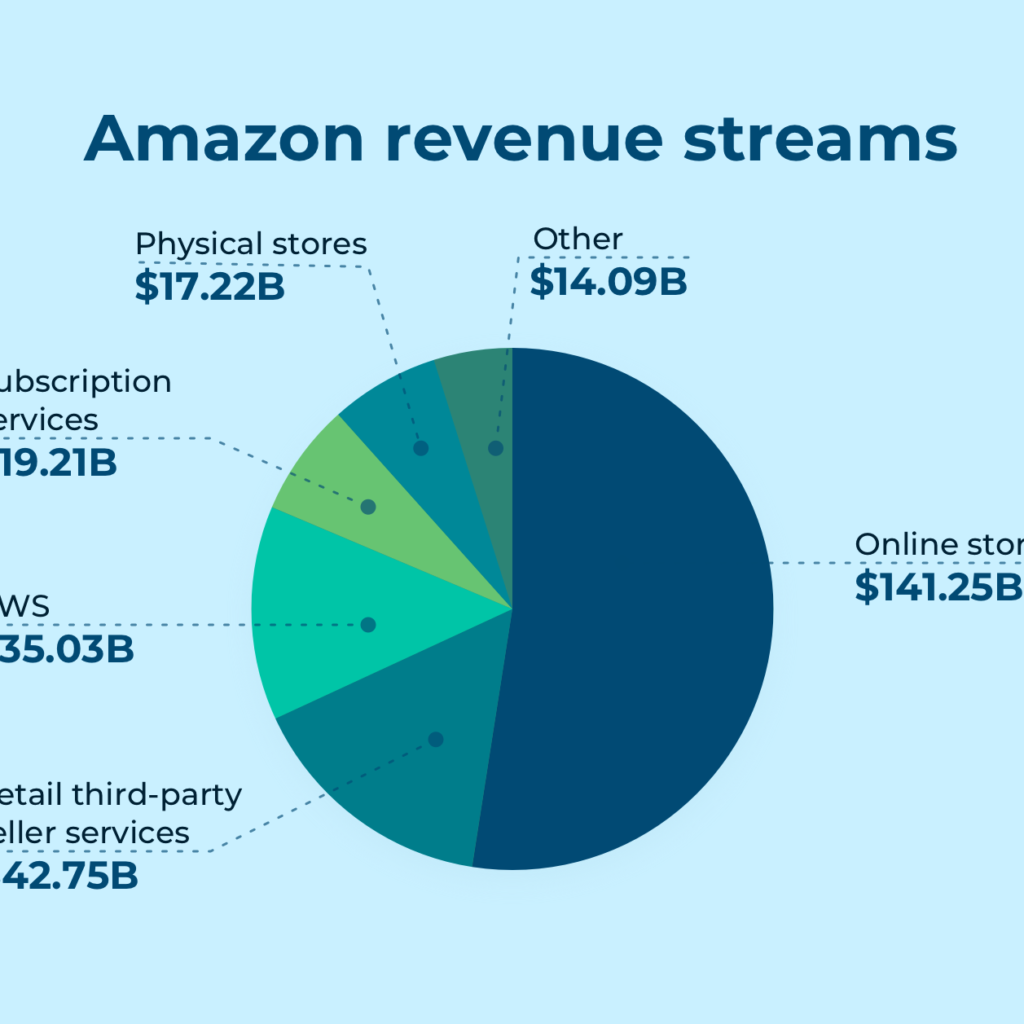 The best way to choose a revenue model for a startup is to look at the competitors and analyze their streams.
5 Popular Business Models for Your Startups
There are 55+ tested business model patterns you can choose from. Let's consider five in-demand business models you can be guided at creating software.
Freemium Model
Freemium model creates two classes of customers — free users and paid users — and provides different services for both of them. Free users get a basic service for free, while paid users get access to premium functions.
Freemium is a perfect business model for gaming startups. Most games provide limited playtime or hard levels that need upgrades. Commonly, gamers should pay $1.99 or less for each upgrade. For instance, Candy Crush Saga made about $600,000 per day using upgrades.
But don't mistake the freemium model with the subscription model. You can watch videos on YouTube for free if you're okay with ads. But if you don't pay for a monthly subscription on Netflix, you can't watch films there.
Subscription Model
The subscription-based model will provide you with consistent monthly income. It's a good choice if you're selling software or your customers want to have multiple options.
For example, Netflix, Amazon Prime and Adobe provide users with monthly subscriptions instead of one-time purchases. It's much easier for users to pay Netflix $8.99 per month rather than $108 or $192 for one payment.
Besides, the subscription model has many benefits for businesses too. They can forecast the next month's revenue, analyzing the number of subscribed users, and pay off the long-term business costs. But, to earn money, you need to have an extensive client base.
Reseller Model
In this case, you don't produce any products. You're cooperating with a partner company and earn money by advertising their products or services to your target audience.
For instance, Amazon and eBay work in this way. For individual sellers, net income is the difference between the selling price and the price they buy the stuff for. Amazon charges $39.99 of transaction from sellers + transaction fees.
Advertising Model
The advertising model is based on providing users with free services or products. You attract users through captivating content and sell access to your audience to advertisers. The more fans you engage, the higher your profits will be.
The advertising model is what turned Facebook and Google into such incredibly huge companies. They offer free service for users, but both these companies make a profit from online advertising.
Sharing Economy Model
The Sharing Economy Model is often referred to as a two-sided marketplace.
Uber is a great example of the on-demand model. Uber platform serves as a provider between drivers and riders. Uber does not have any of the assets, it cooperates with owners to provide a smooth way to use the platform for both users.
On-demand platforms get money from charging a commission from users and service providers:
Uber takes 25% on all tariff
Lyft charges 20% on fares + service commissions
Airbnb charges 3% from hosts + 6-12% from guests
Uber's model stands as a ground for many modern services. So, if you decide to run a transport business, creating an app like Uber is a great option to start. 
AI Requires You to Choose the Right Business Model
There are plenty of business models for startups you can select from. However, it's always a good idea to use a few models or create a new business model. Big tech companies like Google, Uber, Facebook have started with simple business plans, but now they all have several revenue sources.