The bottom-line similarities between moving IT operations to the cloud and shifting online invoicing to the cloud are many. Then there are a few esoteric issues that online invoicing solutions help solve, like curing boredom, relieving stress, and reducing errors.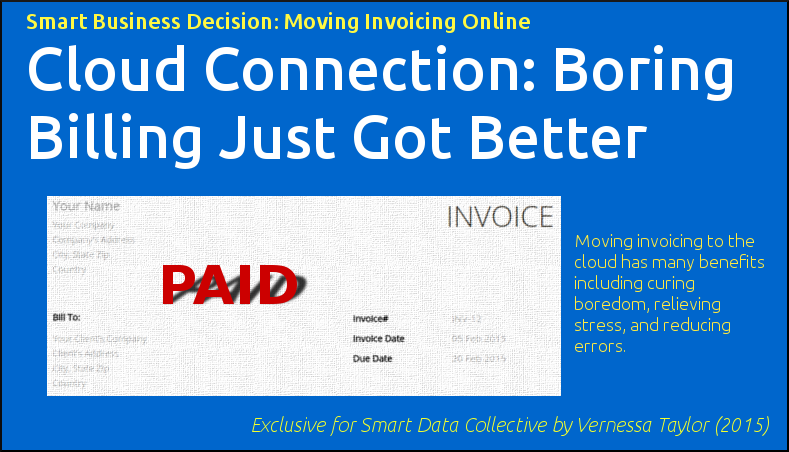 The bottom-line similarities between moving IT operations to the cloud and shifting online invoicing to the cloud are many. Then there are a few esoteric issues that online invoicing solutions help solve, like curing boredom, relieving stress, and reducing errors.
Why Billing From The Cloud Is A Smart Business Decision
The trend towards billing and invoicing online is a smart business decision, with many of the same advantages of moving IT operations to the cloud.
Shifting billing to the cloud lowers total cost of ownership (TCO) with respect to equipment maintenance, purchase and maintenance of software, and avoiding obsolescence. Due to its agile, just-in-time updates, opting for a cloud-based invoicing solution is a smart business decision for SMBs, SMEs, contractors, virtual assistants and consulting firms.
More providers in the field increases competition between them, ensuring a wider range of feature-rich offerings for small businesses. In-house training costs are reduced for both new hires and existing staff when updates or new versions roll out — mainly because providers take on more of the training burden. They maintain libraries of videos, self-help knowledgebases, and man 24/7 chat lines.
Centralized access that is not deskbound software or internal network-centric facilitates billing, information retrieval and data collection for widely dispersed teams, whether admin tasks are handled by a team member in London, Sydney, or San Fransisco. And technical hassles surface less often due to underlying platforms residing with the provider: they have the burden of data integrity, security, load balancing and failover, and making backups available to the small business.
These similarities to shifting IT operations to the cloud make billing and invoicing in the cloud attractive, cost effective, and reasonably secure.
Then there are a few esoteric reasons, like curing boredom, relieving stress, and reducing errors.
Billing: Boring. Stressful. Prone to Errors.
No doubt about it, billing can be boring, stressful and prone to errors. The good news is this: shifting from manual processes (think spreadsheets) or desk-bound software to online invoicing solutions can reduce the stress, help eliminate billing errors, and add a little spice to your invoicing routine. The next section discusses five features that start you on your way (and make you wonder how you ever did without them in your busy life).
A cure for boredom
The excitement rests in receiving the money, not preparing the invoices that ask for it. Whether you or an assistant is faced with invoicing your customers, you'll find these contributory factors sliding you towards boredom rather than ecstasy:
ho-hum drab user interface
manual processes like spreadsheets or Microsoft Word macros
billing software programs that keep you bound to your desk
unattractive invoices created from unimaginative templates
boiler-plate, awkwardly-worded cover emails for Thank Yous, payment receipts, and reminders
plain generic columnar reports
Most cloud-based invoicing solutions have eye-catching user interfaces and present you with attractive, useful reports. Enterprise-strength cloud billing suites like Due.com, SageOne, and CarefulCents allow you to create beautiful invoices; Apptivo, Zoho Invoice and Invoicera give you fine-tuned control over your customer-facing correspondence, including the cover emails, payment receipts, and reminders. Harvest integrates with numerous project management apps, giving you another avenue for displaying related reports.
Stress Busters
Before preparing invoices, there's a treasure trove of information to be collected, gathered, sorted, categorized, then applied to the right client, the right project, for the right period of time. Collecting what's due shouldn't be a harrowing experience but, unfortunately, it can lead to being stressed and continually stressing over the process. These factors contribute:
current program missing critical features
accounting for expenditures on the go
brow-beating employees, colleagues, contractors for timesheets
sending out paper invoices
Three features in online invoicing software immediately reduce stress: mobile apps, self-service customer portals, and the ability to easily send snail-mail invoices.
Mobile Apps
Mobile apps for the most popular smart devices encourage accurate accounting on the go. For recording project related expenses incurred over breakfast, during a tradeshow, and anywhere in between, one of the most desirable features of modern day SaaS apps is having a corresponding mobile app for iPhone, iPad, Android and Blackberry. Apptivo, FreeAgent, Zoho Invoice — all have mobile apps tightly integrated with their billing software.
Snail Mail
Some clients will always want a paper copy of the invoice, even if you send it by email as a PDF attachment. (To their credit, some of them will scan it into their document management system as part of their managed print program, then toss it. Others like their paper neatly organized into green or gray file cabinets.) In addition to FreshBooks, online billing providers like Invoices Made Easy and Send Invoice have you covered. For a nominal fee, they will be your Gal Friday, lick the stamp, seal the envelope, and drop invoices in the mail for the clients you select.
Customer Portals
"From a small business standpoint, implementing self-service provides a variety of welcome benefits, encompassing customer support, client satisfaction and cost savings. Customer portals satisfy these business trends at once. Customer Portals in Online Invoicing Apps"
The less time employees (or owners) spend researching and answering customer queries about invoices, project expenses, and estimates, the more stress is reduced. Access to a customer portal integrated into the online invoicing software also relieves customer frustration. Freshbooks, Zoho Invoice, and Ronin include a customer portal that can be switched ON or OFF according to the needs of your organization.
Reducing Errors
Human error is a fact of digital life. Sometimes introduced when manipulating the numbers but more often errors arise when complex (or mundane) treatments are applied, such as factoring in discounts, recording and billing against pre-payments or calculating international taxes (VAT, GST). Another area prone to error is reconciling estimates to actual work done; mismatches throw off accounting.
That's a dire picture indeed, not one you'll want to share on Instagram!
The following billing apps and invoicing programs integrate timesheets, expense management and project billing into their offerings:
FreeAgent
Zoho Invoice
Due.com
Freshbooks
Cloudbooks
Invoicera
They each cover tracking and assigning billable expenses on a per project basis, assigning expenses to projects, and selectively including expenses and timesheet entries on invoices. (Cloudbooks and Invoicera also deal deftly with recurring expenses.)
You will also find it easy to invoice customers in their currencies, apply international taxes, and convert estimates to invoices.
Shortlisting any of these is a smart business decision because these features help reduce errors.
Over to you
Billing doesn't have to be boring, stressful and prone to errors.
Moving internal billing to the cloud is a smart business decision. Advanced features in the newer programs as well as some that have matured over the last few years are making the benefits to SMBs hard to ignore. In addition to the bottom-line benefits discussed at the beginning of this article, online invoicing solutions encompass a strong feature-set that shoves any negatives aside and opens up a much more pleasant (and useful) method of collecting your fees, subscriptions, and reimbursable expenses.
How does your organization handle invoicing customers? Which online invoicing and billing solution are you using now? Share your experiences with us in the comment section.