Yes, it's AI again! Artificial Intelligence (AI) is always in the limelight from the last couple of years. Mostly it is considered as a blessing to the IT world. However, many experts have shown their doubtfulness too. No, you just can't say "Ok Boomer" here! Of course, they have greater reasons i.e. a threat to data security. So, AI is on whose side? Is it really a threat? Will data be compromised in making a future with AI? Or it is a pure blessing using which we can overcome the data security issues? That is what I'm going to cover here. But before I start, let's take a glimpse of how the global AI market looks like.
Here is another interesting stat.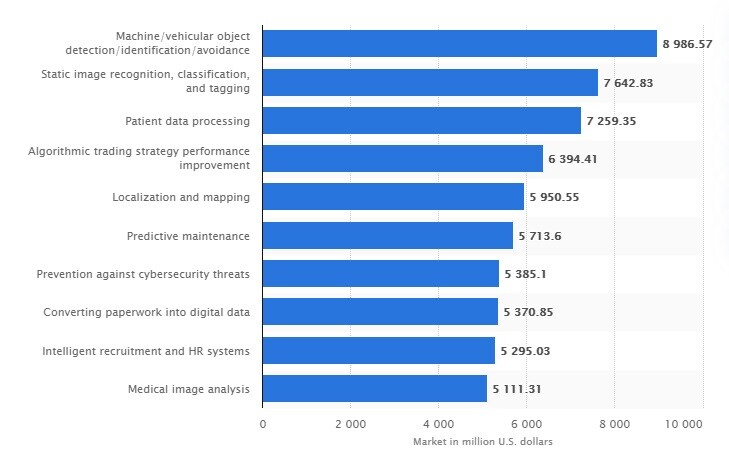 Also, here is a list of some other stats.
So, you can see that AI market looks very promising. And already it is creating a lot of buzz in the tech industry. But it is still considered as a double-edged sword. To understand why and how you have to understand the relationship between AI and data.
What is the Role of Data in All These?
Well, data is everything today! Today's economy is depended entirely on data. Different machine learning and AI systems consume a massive amount of data. And accordingly, AI analyzes it and learns the data patterns to find regularities and structure. Thus, AI learns to provide perfect predictions on the next possible step. Undoubtedly, it is a big help to automate various tedious and repetitive tasks. Also, industry-specific businesses are leveraging this power to chalk out stellar marketing strategies. However, in such a scenario, you can't forget about the dark web. It is like the "dementor". It too consumes these data but definitely not for a great cause. The more data it consumes the better for the hackers to create cybersecurity devastation. AI indeed helps to come up with stronger cybersecurity solutions. But hackers are also working with it and using it to devise smart and intelligent malware programs. Malicious cyber-attacks have become so common today. Of course, it is because the dark web is consuming all these data. As per a recent research report, "hackers can make up to £279.74 per PayPal log-in". Cybercriminals are always watching businesses. And they are looking for efficient and innovative ways to infiltrate with its defenses. So, you can see that data is everywhere.
What Type of Cybersecurity Threats Can AI Bring?
Data leakage has been a major issue for quite a while now. As per the report by AV-TEST Institute, over 856 million malware variants were created last year. The self-learning ability of AI systems is undoubtedly appreciative. But as they are advancing, they can be trained to become a threat to the systems as well. Here is a list of how AI can be misused.
1. Sharpening the Weapons for Cybercriminals
According to the CTO of McAfee, it is very unfortunate that AI provides cybercriminals with the right tools to enjoy a great ROI. Other than facilitating cyber attacks, it can even avert the traditional way of counter-attacks. Using machine learning models, AI-powered systems easily mimic humans. Thus, it can create fake and convincing messages that can be used to carry out phish attacks. Also, it can be used to spot rogue codes before a major deployment.
2. Bot Cybercriminals
Today, "chatbot" is not an unknown term at all. Also, chatbots are being used widely in diverse industry-specific businesses today. We can majorly see chatbots as our shopping assistants. Also, whenever we visit any website, chatbots reply to our common queries. But, their capability is beyond just answering our questions, or helping us in an online store. In 2016, A Facebook bot tricked more than 10,000 Facebook users. It acted to be the users' friend and convinced the affected users to install malware. Thus, thousands of Facebook accounts were hacked. Through phone support and online portals, AI-powered botnets can wear out human resources. Hackers can use ill-equipped chatbots for secure data transmissions as well.
3. Machine Learning Poisoning
Once the hackers can spot any vulnerability in the machine learning workflow, leveraging the power of AI, they can bemuse the ML models. AI algorithm learns from data pool – we already know that. Now, the cybercriminals only have to poison this data pool. And they will be able to go ahead with their ill intentions. Thus, AI is being put to wrong use. Hackers are constantly testing and enhancing their malware to become AI-proof which is dangerous. No wonder why AI has not yet become a mainstream tool to become smart in the global business market.
Malicious Use of Artificial Intelligence
Future of Humanity Institute published a report recently. The report highlighted three main areas where AI-powered virtual security threats are most likely to occur.
Digital Security

: Spear phishing is already pretty common in the cyberhacking. Now, with AI, these hacking methods are becoming fiercely powerful. By controlling the AI-powered systems, cybercriminals can attack the entire network much faster. And undoubtedly this is something to worry about!
Physical Security

: Controlling physical assets or drones with AI is now possible. So, hacking these systems and breaching physical security doesn't require much effort for cybercriminals.
Political Security

: If the hackers target any specific political group, with AI, they can easily fulfill their destructive goals. By leveraging the power of this futuristic technology, they can manipulate the surveillance systems. Also, they can analyze the data as well, which they can misuse.
Hacking a system is never an easy task. But with AI-enabled tools, the task becomes pretty easier. Thus, AI enhancements are being misused by cybercriminals.
How Can AI Be Our Latest Cybersecurity Sheriff?
So far, you have got to know the dark sides of AI. How it can be put to wrong use. But the undeniable fact is that AI can save us from these next-level cyber threats as well. Though this is not the only solution. But we can combine the AI tools with our traditional defense techniques to get the best outcome.
Integrating AI in Antivirus Products
The AI-enabled antiviruses utilize ML techniques to understand and learn how legitimate programs interact with an OS. So, whenever a malware program is introduced to a network, these smart antiviruses will instantly recognize it, block and delete it. Thus, it will stop the malware program to get any access to the system resources.
To understand the system users' behavior, many organizations use artificial intelligence. The main objective here is to understand and learn how the user interacts with the system. Thus, whenever an unusual behavior is detected, AI considers it as anomalies. It prevents malicious employees to steal others' login details and use it to commit ill activities. The moment any unusual activity pattern is recognized, AI-integrated systems either alert the admins or directly lock out the user.
To conduct phishing attacks, emailing is the most favorite method of hackers. They usually deliver malicious attachments and links via emails first. According to a report by Symantec, over 54.6% of received emails are either spam or may contain malevolent links or attachments. With AI, anti-phishing tools can be implemented.
Smart Tips to Implement AI Successfully in Cybersecurity
Well, for the successful implementation of AI in cybersecurity, you first have to know what factors are holding it back. Earlier this year, SANS Institute conducted a survey. The image below explains the survey report well. The feedback gathered from the respondents pointed out the following potential risks associated with implementing AI to handle cybersecurity threats.
Privacy at stake due to the type and amount of consumed data

Lack of visibility in AI-made decisions

Lack of sufficient training solutions

Lack of understanding the algorithm limitations

Excessive dependence on a single AI algorithm

Inadequate data and metadata protection
Now, the real challenge becomes to overcome all these potential risks. Here is a list of some effective tips that will ensure you can leverage the power of AI to the fullest and implement it in cybersecurity.
Artificial Intelligence still has to go a long way to match the savviness and skills of a human analysts. So, do not entirely depend on AI only. You will need your security experts as well.

You have to understand for which use case you need the help of AI. Is it malware prevention? Is it to detect threats? Or is it something else? Once you know it, you can accordingly implement AI for that segment only.

You have to understand the data along with its limitations. Not every use cases are the same. So, determine the data sources that are most suited for your specific use cases.

You should give enough time so that the AI platform can be trained properly.

Also, establish transparency and trust. And make sure to only make informed decisions about artificial intelligence technology.
Wrapping Up
If used properly, AI implementation can unfailingly bring a revolution in cybersecurity. Yes, it is true that we still do not have a permanent AI-based solution to fight cyber threats or cyber massacre. But there is no doubt that AI helps in
Securing conditional access and authentication

Creating precise biometric-based login techniques

Augmenting learning along with analysis through natural language processing

Identifying malicious activities and threats much before using advanced predictive analytics.
So, this is the time you should take cybersecurity threats seriously. And accordingly, you should invest in the right AI-powered solutions.