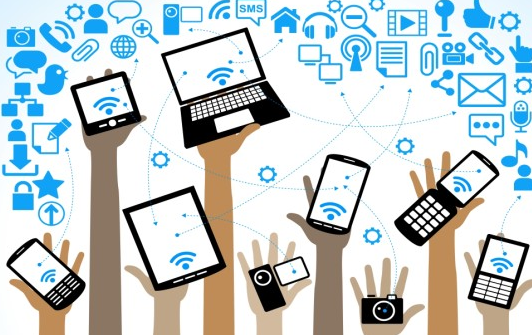 Regardless of company size, Bring-Your-Own-Device (BYOD) has become quite popular. According to Gartner, half of employers surveyed say they're going to require workers to supply their own devices at work by 2017.
Regardless of company size, Bring-Your-Own-Device (BYOD) has become quite popular. According to Gartner, half of employers surveyed say they're going to require workers to supply their own devices at work by 2017. Spiceworks did a similar study, finding about 61% of small to medium sized businesses were using a BYOD policy for employee devices. Businesses of all sizes are taking BYOD seriously, but are there differences in how large and small companies handle their policies?
 Gaining experience is important in learning how to implement and manage a mobile device policy. Small companies are increasingly supporting smartphones and tablets. Companies with fewer than 20 employees are leading – Spiceworks says 69% in a survey are supportive. By comparison, 16% of employers with more than 250 employees were as enthusiastic.
 According to this study, small companies appear to be more flexible in adopting BYOD. There are certain aspects, however, where they may lag behind their larger counterparts. Here are some examples.
 Mobile Device Management
 Larger corporations often have more resources available to implement Mobile Device Management (MDM) systems. For example, Spiceworks said 56% of respondents were not planning to use MDM mainly because the company does not see a big enough threat. Lost or stolen devices, or misuse by employees, are seen as substantial risks. On the other hand, 17% of the responding small businesses were engaging in active management and just 20% said they would within six months.
 The perks of MDM include barriers against data theft, intrusion, and unauthorized use and access. It also helps prevent malware infections.
 Larger businesses seem to be more understanding of the need for a proactive MDM system. They tend to possess more knowledge of the technology and the risks and face fewer budgetary hurdles. By comparison, many small companies lack knowledge, funds, and insight into the risks of connecting mobile devices to their network. Cloud-based MDM solutions are a growing alternative. The same Spiceworks study found 53% of respondents were going with a hosted device management solution.
Security
The risks are clearly great for any sized company. A BYOD policy can boost revenue and risk management into the millions of dollars. Corporations usually have multiple layers of security. For a small business, it doesn't take much to bring the company down. One single cyber-attack can be so costly the company won't be able to survive.
 Security, and the training that goes along with it, is costly for a small company. It might not be able to afford any of the tools necessary for adequate protection. Even if a company was going for savings, data breaches will make these seem like pennies. Such events can cause millions of dollars in damages for even the smallest businesses.
Data leakage is another security risk, besides cost. Mobile devices are prone to data theft without a good MDM system. Gartner highlights the fact mobile devices are designed to support data sharing, but lack file systems for applications. This makes it easier for data to be duplicated and sent to applications in the cloud. It is up to IT to be up on the latest technologies and uses. Obviously, larger companies have the upper hand in this area as they have a better security posture.
 Conclusion
Both large and small companies are using BYOD. The differences lie in the willingness to adopt comprehensive Mobile Device Management systems and security policies. These come with the obvious costs which smaller businesses must wrestle with. It often comes down to comparing the daily policy operating costs with those of the risks. When a breach happens, for example, a small business feels the pain and wishes having had the right system in place. Cloud MDM systems are becoming more affordable. These are providing smaller entities with the resources of larger organizations. Time will only tell whether small and medium sized business will become as accepting of mobile device security and management as larger organizations.